Rivals 3 Stripe Los Angeles: Top offensive performers
GLENDORA, Calif.– The lone West Coast Rivals 3 Stripe Camp presented by adidas brought out many of the West region's top offensive weapons, while several players from neighboring states also made their names known. Here is a look at the top 12 offensive performers from Sunday's event.
MORE: Recruiting notes | Camp Awards | Live from Los Angeles
Recruiting wrap: Murray has several offers with Washington, UCLA and Arizona among his early standouts.
Performance: Murray won a tightly contested battle for the offensive line MVP after going undefeated during the competition portion of the day. He has terrific technique and showed a strong base while stonewalling opposing defensive linemen. His offer list is already lengthy, but it deserves to grow even more after Sunday's showing.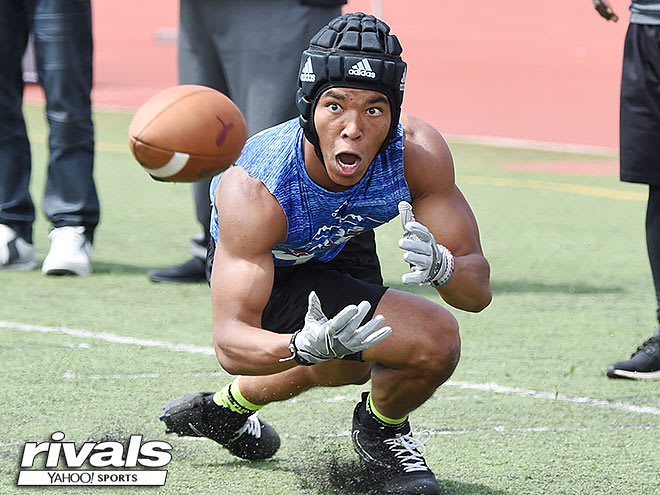 Recruiting wrap: St. Brown has one of the nation's top offer lists, with USC, Stanford, Notre Dame and several others in the mix.
Performance: St. Brown put on a dominant performance reminiscent of some of the best by a wide receiver at a regional Rivals Camp. He took rep after rep and won nearly every single one in impressive fashion. St. Brown's physicality and speed make him a tough cover, and his dominance was fun to watch.
Recruiting wrap: UCLA, Alabama, Utah and several others are in the mix for Sewell.
Performance: Sewell just narrowly missed MVP honors, but had one of the better offensive line performances of this year's camp series. He's still raw when it comes to technique, but his size and strength allow him to easily handle most of the defensive linemen he faces. Sewell earned an invitation to the Rivals Five-Star Challenge and it will be fun to watch him go head-to-head with some of the nation's top defensive linemen.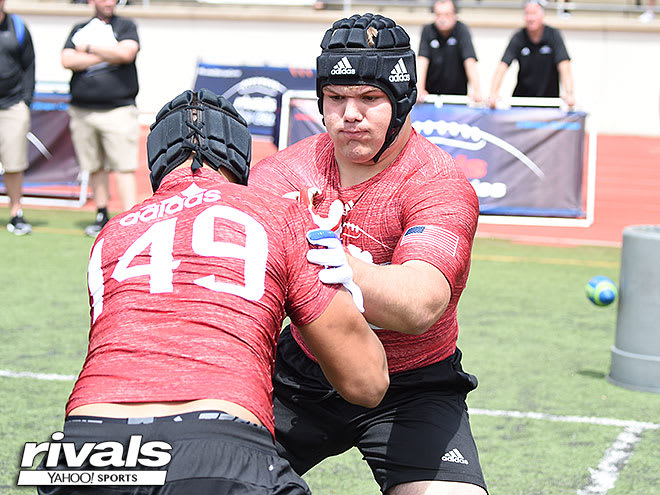 Recruiting wrap: USC, UCLA, Utah and several others are in the mix to land Dedich.
Performance: Dedich is one of the nation's top centers, and he played like it at Sunday's event. After losing his first rep of the day, he bounced back in impression fashion, dominating almost every defensive lineman he went against from there on out. Size is a concern for some schools when it comes to Decich, but his technique and proficiency as a pure center makes him a top prospect at the position.
Recruiting wrap: Robinson holds an early offer from Arizona.
Performance: There was nothing about Robinson's performance that would have suggested he was only a freshman. Measuring in at 5-foot-10 and 186 pounds, he already has a tremendous running back build. He showed good shake and the ability to get from zero to top speed in an instant during the cat-and-mouse drill, then was even more impressive in one-on-ones where he cemented his MVP day by reeling in a ridiculous one-handed catch.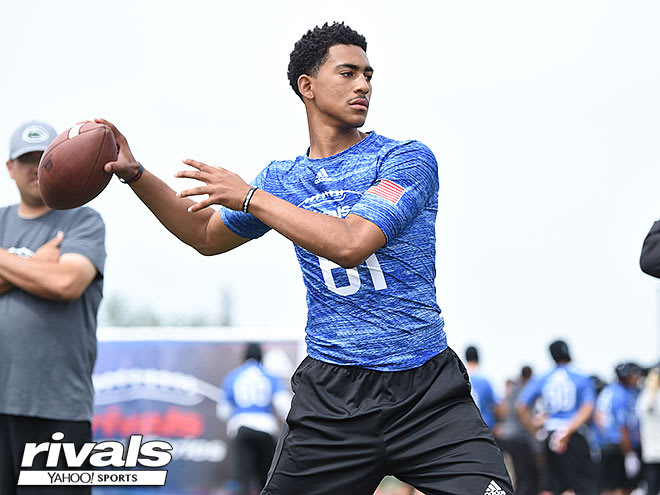 Recruiting wrap: Young has early offers from Nebraska, TCU, Louisville an several others.
Performance: In a deep group of quarterbacks, Young ended up earning MVP honors, partially because of his ability to consistently perform throughout the day. He was a favorite of the event's top wide receivers, who consistently requested him to throw in one-on-ones. Young still has some mechanical details to iron out, but it's hard to argue with the finished product, a very catchable ball that is consistently on target.
Recruiting wrap: Shough has offers from Michigan, Missouri, South Carolina and several others.
Performance: Shough just missed out on MVP honors, and he did a nice job of improving as the day moved along. He has ideal size and showed impressive arm strength while delivering the ball on target during a sometimes-windy day. Shough was also a favorite of the event's coaches, who praised his mechanics and ability to take coaching.
Recruiting wrap: Newton picked up his first offer just over a week ago from Washington and has since added Utah and Washington State.
Performance: April has started off right for Newton, with his first offers coming through from a trio of Pac-12 programs followed by a near-MVP performance at Sunday's Rivals 3 Stripe Camp. Measuring 6-foot exactly, Newton has a taller build for a running back, but he does a great job keeping his center of gravity low and showing good change of direction. He was particularly elusive while running against linebackers, with a great burst to get the edge.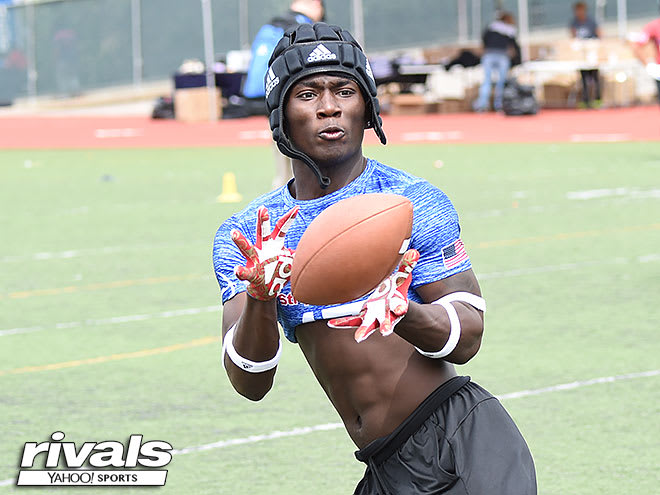 Recruiting wrap: Eure picked up his first offers in the last month from Columbia and San Diego State.
Performance: With all the wide receiver talent on hand, it certainly was an upset that Eure made this list over some of the better known pass-catchers in attendance. Early in his prep career, Eure looked to be a prospect on the defensive side of the football, and his build and skill set would still suit the defensive back position well, but he showed with his route-running, explosiveness and run-after-catch ability that he has potential on the offensive side of the football as well.
Recruiting wrap: Jones said Oregon and Washington are the two schools he has the best relationship with. He is considering a visit to Oregon on April 29.
Performance: It was an outstanding offensive line group, both physically and from a performance standpoint. The 6-foot-5, 361-pound Jones was among the most impressive in both aspects, showing he is light on his feet for a big offensive tackle. Obviously that size gives him plenty of strength, and he showed that in flashes. Had he been a little more consistent in his initial punch, he may have contended more for MVP honors.
Recruiting wrap: Jefferson holds six offers, including one from the Colorado.
Performance: Like the other backs on this list, Jefferson first caught our attention in the cat-and-mouse drills against linebackers. A solidly-built running back at 5-foot-10 and 190 pounds, Jefferson was able to make sharp cuts that left defenders grasping for air. While smaller, scat-back types usually excel in that drill, Jefferson was the rare big back who was able to make linebackers miss with regularity. He was singled out by the coaches in attendance as one of the group's top performers.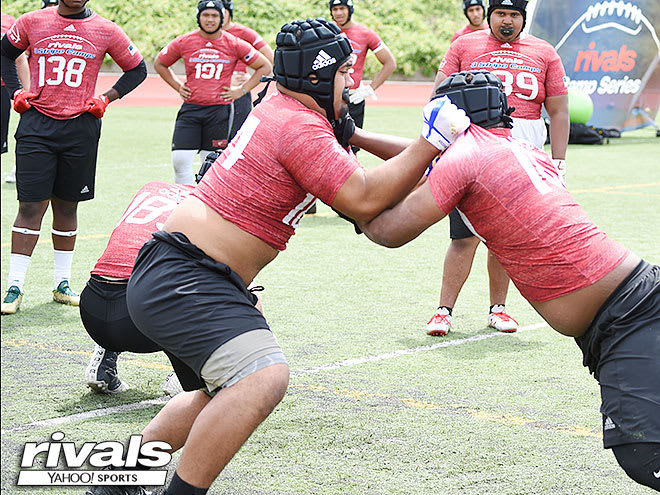 Recruiting wrap: Vaipulu awaits his first offer, but he recently made visits to Arizona State and Cal.
Performance: Sunday's offensive line group had a good mix of tall offensive tackles and stout interior guys. Vaipulu falls into the latter category and lined up at the center position for many of his reps. Although he is on the shorter end for an offensive lineman at 6-foot-2, Vaipulu compensates for any lack of leverage by being agile and keeping his feet moving after locking on with defenders. His performance coupled with strong showings earlier in the offseason should create good buzz heading into the spring evaluation period as he looks for his first offer.