Rivals 3 Stripe Camp Los Angeles: Awards
Glendora, Calif. –- The Los Angeles stop of the Rivals 3 Stripe Camp presented by adidas took place on Sunday at Citrus College, and some of the West region's top talents turned out to perform. There were plenty of notable performances, but only the best of the best walked away with MVP honors or invites to the Rivals Five-Star Challenge presented by Adidas. Here's a rundown of the day's award winners.
MORE: Recruiting notes | Live from Los Angeles | Full Rivals 3 Stripe Camp schedule
QUARTERBACK MVP
Despite being one of the event's youngest quarterbacks, Young garnered respect from players of all ages. Often times the best wide receivers singled him out in an effort to line up with him during one-on-ones, one of the ultimate signs of respect for a quarterback in a camp setting. Young is just a rising sophomore and still honing his skills, but his natural ability to throw a catchable ball helped him earn MVP honors.
WIDE RECEIVER MVP
Amon-Ra is the third of the St. Brown brothers to participate in a Rivals Camp, and he put on a performance that will go down as of the best not only in family history, but in L.A. Rivals Camp history. St. Brown took rep after rep and dominated pretty much every defensive back he faced. St. Brown competed with the fire of a player looking to earn his place atop the national wide receiver rankings and made a pretty compelling case. In addition to winning the wide receiver MVP, he also earned an invite the Five-Star Challenge.
RUNNING BACK MVP
The running backs group started the event off right by lighting up the cat-and-mouse drill against the linebackers. This is where Robinson first made his statement, and it was somewhat of a shock when we realized he was only a freshman. He continued his impressive ways during the one-on-ones, highlighted by a ridiculous one-handed catch made behind his body early in the session.
OFFENSIVE LINE MVP
Murray was the most immovable offensive lineman on the afternoon and stonewalled defensive linemen on every rep he took. As sturdy as he was steady, Murray did a masterful job setting a base and shepherding defensive lineman out of the play. He was as pleasant a prospect as there was at the camp, but his work against his defensive counterparts was filthy.
DEFENSIVE LINE MVP
The defensive line group was a little shy on both depth and talent, but Plant was a guy we identified early because he physically looked the part and backed it up with his play. As strong as the offensive line group was, and particularly the offensive tackles in attendance, Plant was one of the few defensive linemen to have consistent success. Plant only holds three offers, but they are big ones from Arizona, Penn State and USC.
LINEBACKER MVP
Although Djibril is rated as a linebacker, is being recruited as a linebacker and worked with the linebacker group all day long, it is somewhat of a stretch to call him a linebacker. At 6-foot-1 and just 181 pounds, Djibril looks more like a free safety than an outside linebacker. A camp setting, though, highlights his strengths, and he dominated everything from the cat-and-mouse drill to the one-on-one to take home position MVP honors.
DEFENSIVE BACK MVP
Although a number of defensive backs showed well in spots throughout the afternoon, Croswell was consistent and strong on the day. Even in the reps that he didn't win, he showed a strong ability to match receivers step-for-step and wasn't beat outright at any point. Croswell also earned a nomination for the Five-Star Challenge and should continue to impress this summer with the type of ball skills he showed on Sunday.
MORE RIVALS FIVE-STAR CHALLENGE INVITES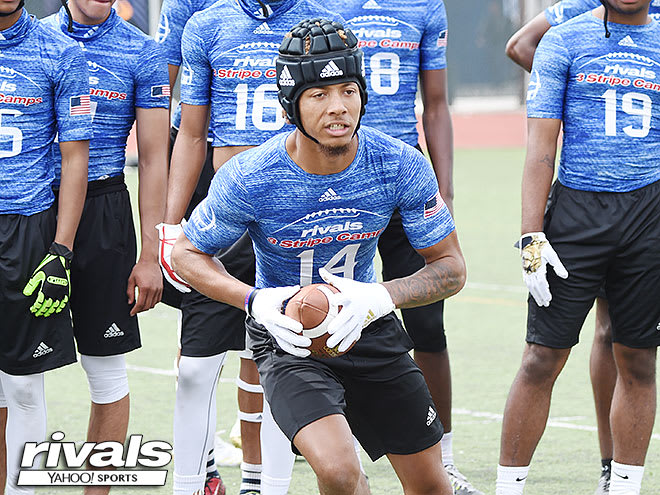 Hall could have made a case for being the best wide receiver at the camp had it not been for Amon-Ra St. Brown's performance. Hall is built in the more traditional mold of a wide receiver than St. Brown and used his length to win in one-on-one reps all afternoon. Hall may have quietly punched his ticket to the Rivals Five-Star Challenge presented by Adidas, but he was undoubtedly one of the elite receivers in a talented skill player group.
The offensive line MVP award was one of the most hotly contested of the day, and Sewell was among those who narrowly missed out. What is maybe most impressive about Sewell is how dominant he was in this setting despite still being relatively raw from a fundamentals standpoint. He possesses so many skills you cannot teach, not the least of which is impressive size. Considering he still has plenty of growth potential, Sewell's ceiling is sky high.
Taylor-Stuart was one of three players ranked in the top 30 of the Rivals100 who was in attendance at Sunday's Rivals 3 Stripe Camp in Los Angeles. One of our Players to Watch heading into the camp, Taylor-Stuart may have been able to challenge for an MVP award had he taken more reps. He looked like the Rivals100 prospect he is rated as in the reps he did take, but spent much of his time watching from the sidelines.
Tuliaupupu carries himself with a laid-back approach that can sometimes allow him to fly under the radar during the competition periods of a camp. But even though he's not woofing like some of the other competitors, his play eventually does the talking and he rises to the top. Tuliaupupu's game is one that translates both to Friday nights and to a camp setting, and he'll have another chance to shine at the Five-Star Challenge later this year.
The Ohio State commitment got off to an inauspicious start as he struggled a little bit during the tackling drill, but after making some adjustments he continued to improve as the day went along. He peaked during the final session of one-on-ones, where he sealed his invitation to the Five-Star Challenge with his impressive play.