Rivals 3 Stripe Camp L.A.: Recruiting news and notes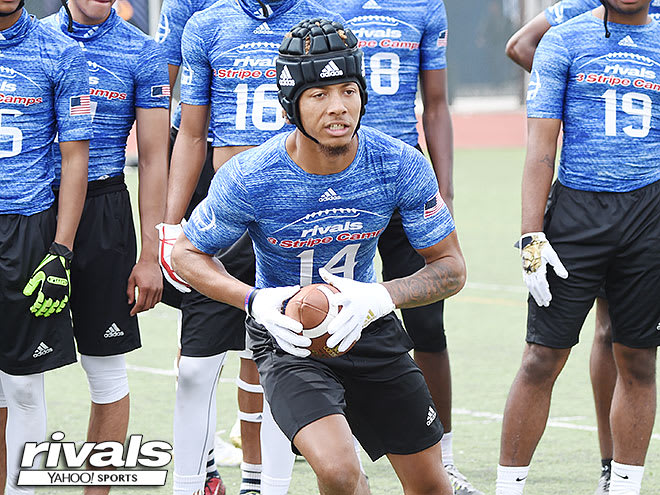 GLENDORA, Calif. - The Rivals 3 Stripe Camp Series presented by adidas rolled into California on Sunday as some of West region's top prospects turned out to compete at Citrus College for the Los Angeles stop of the tour. With so many stars in attendance there was plenty of notable recruiting news to report. Here's a roundup of some of the day's notable nuggets.
MORE: Live from Los Angeles | Full Rivals 3 Stripe Camp schedule
Five-star wide receiver Jalen Hall is often projected to USC, but the Los Angeles prospect said he has no favorite. "I have been up (to USC) a couple times and I always feel good when I go there, but I am not putting them on top of any other school," Hall said. He confirmed USC is a top contender, as is Michigan where he has already visited twice. Other schools he has a good vibe with at this stage of the process include Ole Miss, Ohio State, Nebraska and UCLA. He plans to narrow his list down to a top five in the fall and make a final selection on National Signing Day.


Rivals250 offensive tackle Steven Jones of Temecula (Calif.) Chaparral has an extensive offer list and said the school he has the best relationship with out of that group is either Oregon or Washington. Jones grew up an Oregon fan and the Ducks came through with an offer two months ago. Now Jones is considering visiting for their spring game at the end of the month. Jones has yet to trim his list because he expects more offers to come through – Florida and Texas are two schools showing increased interest – but a cut could come in early summer.
Offer No. 23 came through last week from USC for four-star Justin Dedich, the No. 2 ranked offensive center prospect in the 2018 class. He picked up the offer during a visit to campus with his family and said it was a cool honor for a southern California kid. Dedich is still working through the process and wants to see several more schools before focusing on favorites. His next trip will be to Utah. Dedich spent Saturday visiting UCLA for a spring practice where he was impressed with the approach of offensive line coach Hank Fraley, a former offensive center himself.


Santa Ana (Calif.) Mater Dei four-star offensive tackle Tommy Brown, the son of a former Alabama track athlete, grew up wanting to play football for the Crimson Tide. He will make a visit there April 17 with teammates Solomon Tuliaupupu and JT Daniels and is hoping for an offer. "I've been talking to them for awhile now and hopefully when they realize I am coming out there for a second time, I am serious about my interest in them." Brown will also visit Auburn on that trip, and the Tigers have already offered. Brown just returned for a visit to Washington, where he was impressed with the facilities and offensive line coach Scott Huff, with his next visit planned to Oregon April 29 for their spring game.
Four-star USC linebacker commit Raymond Scott described himself as 100-percent to the Trojans, but he is still planning on taking some visits. Oklahoma, Oregon and Utah are all schools that Scott is considering making trips to before the end of the summer. Otherwise, Scott took a recent visit to USC to take in a spring practice and said that the relationship between the staff and him remains very strong.
The athletic Rivals100 linebacker Solomon Tuliaupupu is planning three upcoming visits to Alabama, Auburn and Ohio State. Those visits will be his first to each program and all three programs should have a role for the type of player he's looking to be at the next level.
"I like playing inside," he said. "Then it's just you and the running back and you meet him in the hole. A lot of people are looking at me on the outside, but I can do either one."

Bishop Gorman offensive lineman Jacob Isaia has offers from programs across the country, but recently BYU, Kansas State, and Penn State have been among the most active in his recruitment. Isaia said that BYU is a visit this offseason that he definitely wants to take.
"They were my very first offer and we're trying to re-establish a connection," he said. "Ever since they offered me I haven't really talked to anybody there, so I want to go out there and see what they're all about."
Class of 2019 quarterback Cale Millen made the trip down to California from Washington to participate in the camp and the journey will serve a dual purpose as he's set to visit UCLA tomorrow. Right now the Bruins are his lone offer and he's excited to see campus and watch the team in action at spring practice. Millen said he likes the message the school is selling and he thinks he projects well into the school's new offensive scheme.
Class of 2019 four-star running back Austin Jones has been collecting offers this spring but he said the one program that really caught his eye early was Oregon. Jones said he grew up admiring the Ducks from afar and compared himself to former Oregon stars like DeAnthony Thomas and LaMichael James. Jones also went out of his way to praise the new Oregon coaches and the energy they have brought to the program. He said he's planning on visiting Eugene this summer.