Rivals 3 Stripe Columbus: Top offensive performers
COLUMBUS, Ohio – The Rivals 3 Stripe Camp presented by adidas in Columbus attracted the large majority of the region's top talent. Some new names emerged, but many of the highly-rated prospects showed why they are coveted recruits. Check out the best 12 offensive performers.
MORE: Full Rivals 3 Stripe Camp schedule | Recruiting notes | Awards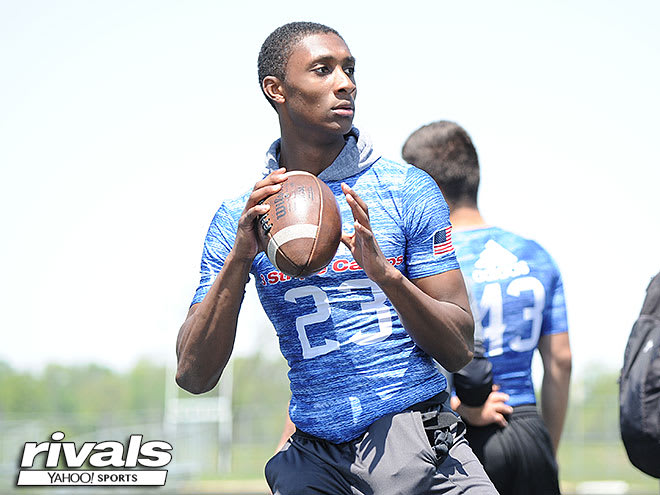 Recruiting wrap: Mathis is committed to Iowa State.

Performance: Iowa State has thrown out plenty of offers, but wasted no time accepting Mathis' commitment earlier this year, and on Sunday he showed why he was an early priority for the Big 12 program. Mathis is a tall, lean quarterback who first shined with his arm and then after tiring of making impressive throws, decided to run routes as a wide receiver and blew by defensive backs as well. He seems like a name to watch at quarterback in the class of 2019.
Recruiting wrap: Louisville, Kentucky and Virginia Tech are three schools standing out early for Wright.

Performance: Wright, the offensive line MVP, was far and away the top performer at his position. He started off the one-on-one period by planting a defensive end into the turf who tried to cross his face. He came back in later reps showing the ability to kick out and cut off the outside speed rush while having the strength to battle with bigger defensive linemen. Measuring 6-foot-5 and 290 pounds, he has the frame and skill set to stay on the outside at the next level.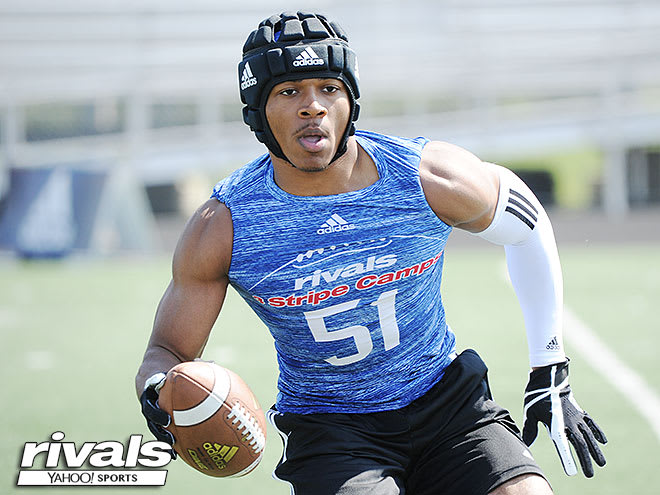 Recruiting wrap: Syracuse, Iowa State and Toledo are the biggest offers Adams has.

Performance: Based off his showing on Sunday, it's shocking Adams doesn't have more offers. He was extremely explosive and was dominant during the cat-and-mouse drill. Adams changed direction better than any of the other backs, and that's even more impressive considering he measured in at 5-foot-11, 193-pounds. He is solidly built and had no problem taking on contact during the one-on-one drills.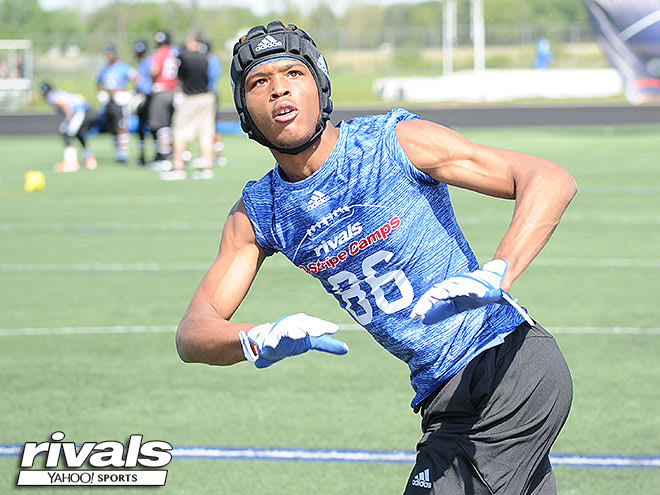 Recruiting wrap: Illinois, Kentucky, Louisville and Purdue have already offered Wright.
Performance: Although just a sophomore, Wright was one of the most physically imposing prospects in the wide receiver group. Measuring in at 6-foot-2 and 187 pounds, Wright has the frame, and the game, to be an outside wide receiver at the college level. What stood out about his performance was how smooth and effortless his stride was, and how easily he was able to get separation from defensive backs. That effort earned the Louisville native MVP honors at the wide receiver position.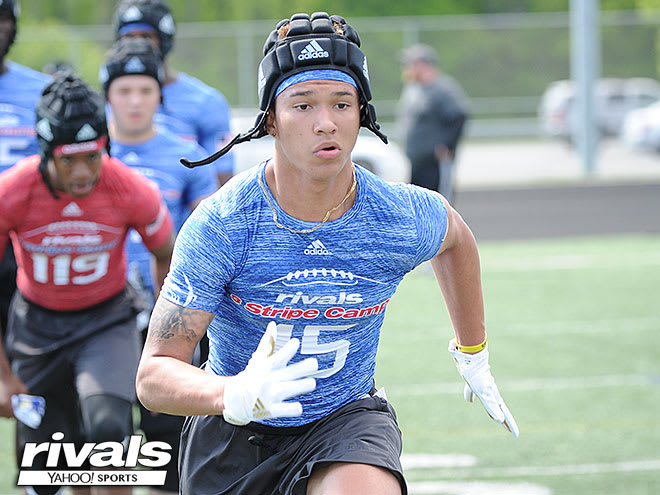 Recruiting wrap: Gilkey is still waiting on his first major offer.
Performance: Defensive backs had a really hard time keeping up with Gilkey. He was elusive in the cat-and-mouse drills and showed he had the explosiveness to make plays in the open field. During one-on-ones, Gilkey was one of the favorite targets for the quarterbacks because he had no problem creating separation with his route running skills and he had reliable hands. Even with the strong wind, Gilkey did a good job of tracking the ball in the air.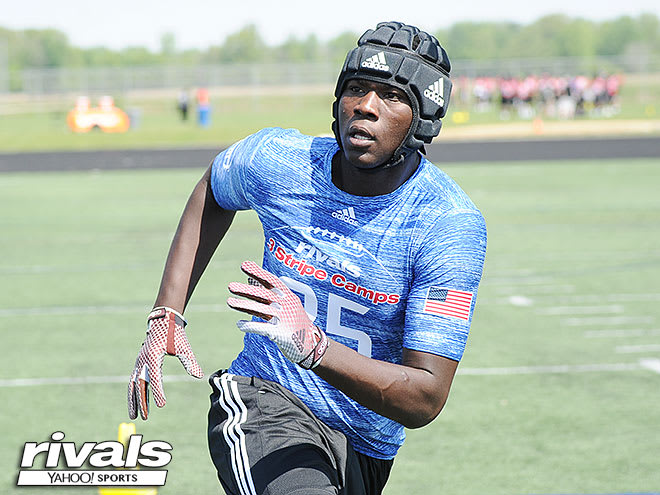 Recruiting wrap: Gillison is solidly committed to Michigan State.
Performance: We have seen Gillison make the spectacular catch in past evaluations, but one of the most impressive aspects of his play Sunday was that he did not have to make those types of catches. Gillison is sharpening the finer points of his game and learning how to create space through route-running and setting up defenders so that when the ball arrives, the defensive back is not in a position to break it up.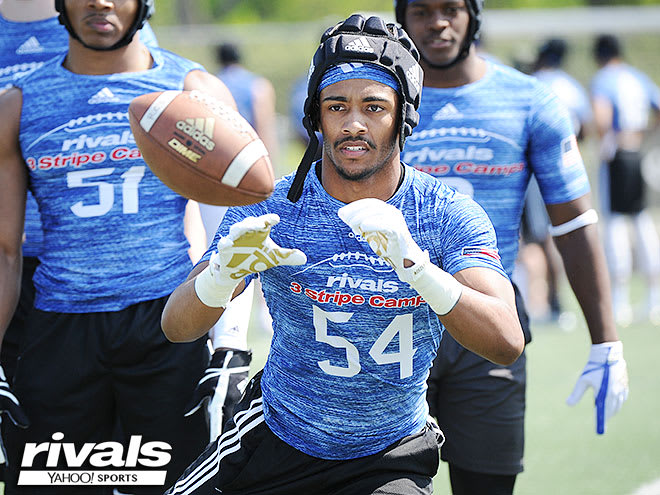 Recruiting wrap: Gill is a solid commitment to Ohio State.
Performance: Coming off a broken leg that prematurely ended his junior season, Gill was nearly back to where we saw him at this time last year. The Rivals100 prospect has always made the difficult look easy, and he was doing many of those things again on Sunday. He kept getting better as the day wore on and he got more comfortable, creating more and more separation with defenders tasked with covering him. He has always had a sure pair of hands, and those were on display again.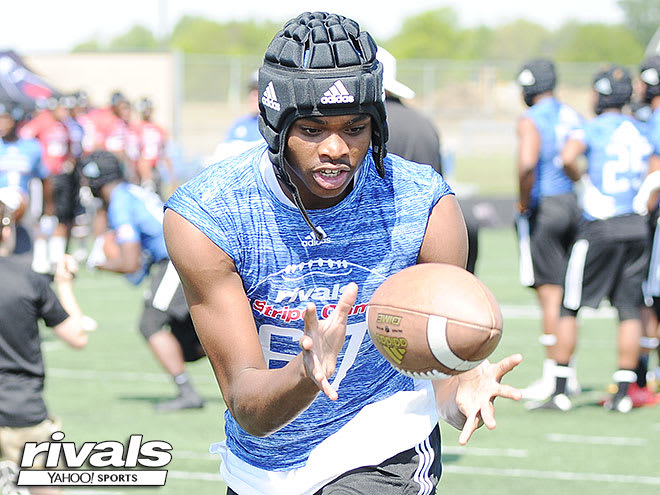 Recruiting wrap: Purdue and Western Kentucky are standouts among Traynor's 10 scholarship offers.

Performance: What was surprising for a big receiver like Traynor was how well he did in the cat-and-mouse drill against defensive backs. An exercise that values quickness, creativity and agility usually does not set up well for a 6-foot-2 and 183-pound wideout, but Traynor was able to exploit several defensive backs because of how quickly he gets to top speed after making a cut. The wind wreaked havoc on passes throughout the one-on-one session, but Traynor did use that explosiveness to create separation during those reps as well.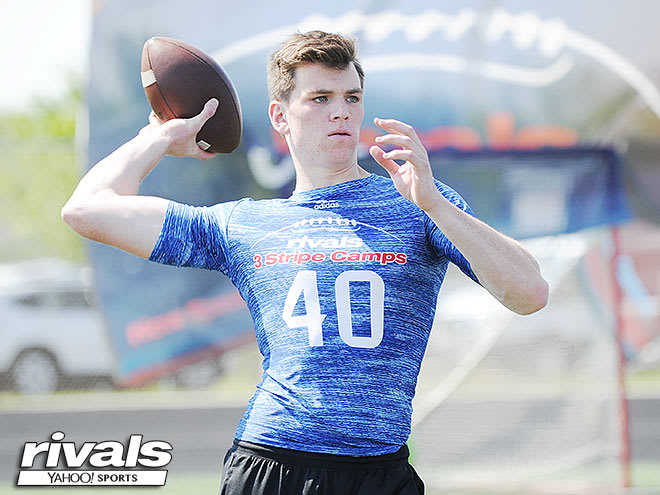 Recruiting wrap: Day is committed to Michigan State.
Performance: If it weren't for Mathis, there's no question Day would have walked away with quarterback MVP honors. On a windy day, he did a great job of putting enough on it to cut through the air but not too much to where he was inaccurate. He has great size, and his physical tools combined with his fundamentals make him a quality prospect.
Recruiting wrap: Hargrove is closing in on a dozen offers, with Buffalo and Indiana State being the most recent schools to join his list.
Performance: The camp setting is made for Hargrove, and he did not disappoint on this day. The three-star prospect is electric with the football. He left a couple linebackers grasping for air during the cat-and-mouse drill after displaying some nifty footwork. Then, in the one-on-one session, Hargrove made one of the most spectacular plays when he tipped the ball up in the air twice and reeled it in with one hand. Few players draw as many "oohs" and "aahs" from spectators in a camp setting as Hargrove does.
Recruiting wrap: Smith is committed to BYU.

Performance: Going up against a loaded group of defensive linemen, Smith was one of the few prospects on the offensive line that had success. He looks like he could play guard or tackle at the next level and did a great job of using his size and wide frame to hold off some of the quicker defensive linemen he faced. The Cougars are his lone offer to date, but that shouldn't be the case for long.
MORE BYU: COUGARNATION.COM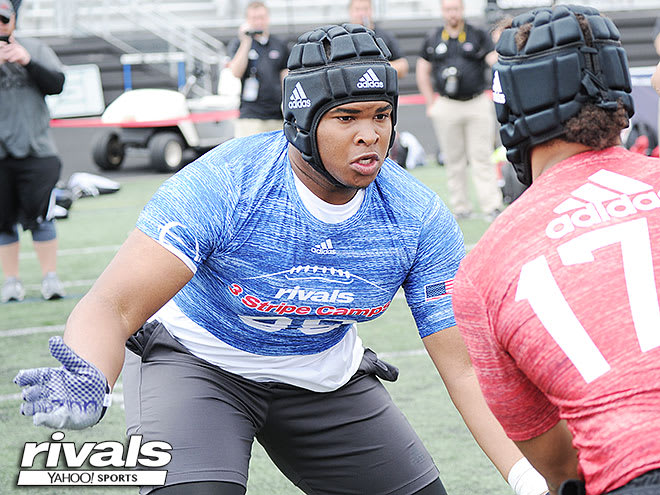 Recruiting wrap: Ekiyor is committed to Michigan.
Performance: It's easy to see why Ekiyor is one of the highest-rated offensive linemen in this class. He is built like a tank, and defensive linemen could not push him backwards. Defensive linemen tried to avoid Ekiyor's first punch because it was so strong, but they rarely succeeded. The only defensive linemen that had success against Ekiyor were the ones that were able to get him moving side to side.