Rivals 3 Stripe Camp Columbus: Recruiting news and notes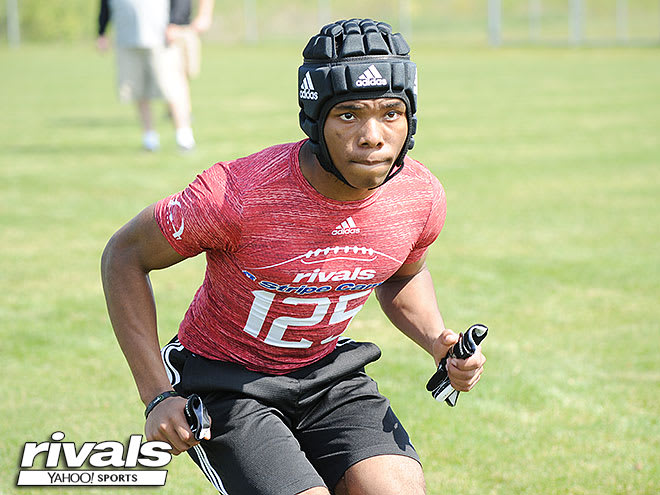 COLUMBUS, Ohio – Among the prospects who were in attendance for Sunday's Rivals 3 Stripe Camp presented by adidas in Central Ohio was an in-state defensive back two weeks out from making a commitment. The latest on that recruitment and several more in this notebook.
MORE: Live from Columbus | Full Rivals 3 Stripe Camp schedule
Dowell has a May 29 commitment date scheduled and said he has a good idea already of what school he will choose. The finalists are Indiana, Iowa, Maryland, Michigan State and Pitt. He made a visit to Maryland the weekend of May 6 and likes its proximity to Washington D.C. because he wants to major in Political Science. Visits to Indiana and Iowa are possible prior to May 29, but those trips have not been scheduled. Both of his brothers are at Michigan State and the Spartans had been named as his favorite in the past.
Raines is working on figuring out his top contenders. He should be releasing a list of top schools next month and Pittsburgh and Penn State will definitely make the cut. Both schools seem to be doing a great job with Raines but he wants to get a closer look at a lot of other schools. Kentucky, Florida, LSU and USC are just a few schools he wants to visit. No decision date is on the horizon.
Gervin decommitted from Notre Dame on May 6. He plans to take his time now that his recruitment has re-opened and does not expect Notre Dame to be in the conversation moving forward. In the week since he has decommitted Gervin has received attention from a lot of schools, but said Michigan State, Oregon and Virginia Tech have been the most active. Cass Tech took its team on a bus tour down to Virginia Tech earlier this spring and Gervin came away loving their family environment. Meanwhile, a visit to Oregon is planned for the summer, and he wants to get down to Oklahoma, Texas and TCU this summer as well.
Herron already has a very impressive offer list and said he's taking a bit of break from the recruiting process after taking a number of visits in recent months. One of the programs he saw during the month of April was Georgia and Herron said he came away impressed with the Dawgs after watching their spring game. The Dawgs have laid out a plan for Herron depending on how he develops to play as a hand in the dirt defensive end or work as a hybrid outside linebacker. Going forward Herron said he wants to take a West Coast swing this summer, with Stanford and Oregon among the programs he would like to visit.
Asamoah has seen his offer list grow to 27 total programs. Of the recent offers he was most surprised by Louisville, which had first shown interest in his sophomore year but contact had dropped off prior to the offer. Penn State and Michigan are schools that offered early in the process, and they are the schools Asamoah most recently visited. He is very comfortable with the coaching staff and 2018 commits at Penn State and is part of a group chat with Michigan's 2018 commits. Both those schools look like strong contenders, but Asamoah lists no leaders, has not trimmed his list yet and does not have a timetable for a decision.
After dominating in his first high school season last fall, Smith has had a big offseason on both the camp circuit and the recruiting trail. Coaches from Ohio State, Penn State, Notre Dame were recently in his school and he had a long talk with Alabama on Saturday. Each of those schools have offered and were in the top 12 he released on April 28. At this stage of the process Smith said he has the strongest relationships with Cincinnati, Kentucky, Ohio State, Penn State and USC, but he will take all five official visits before making his commitment. He has unofficial visits planned to USC and UCLA when he is in California during second half of July and is also looking to schedule visits to Texas and Cincinnati this summer.
Stills has become one of the most sought after defensive linemen in the nation. He will release a top five next month and West Virginia, Florida and Oklahoma are sure to make the list. It will be a busy summer for Stills. He plans on visiting Florida, Georgia, Oklahoma, Virginia Tech, Michigan State and Penn State. Don't expect Stills to commit any time soon. He wants to take all of his official visits and commit afterwards.
Bowles has unique ties to both Kentucky and Louisville with his brother having played for the Cardinals and his father having played baseball for the 'Cats. He said right now his family is staying out of the battle, but that the fact that Kentucky offered first is something holds some weight for him at the moment. Bowles has already taken visits to both programs and said this summer he will take trips to a number of other programs.
Four schools are tied at the top for Pennsylvania three-star defensive tackle Devin Danielson. Wisconsin, Michigan State, Pittsburgh and Louisville lead for him but the only school out of those four that hasn't hosted Danielson yet is Wisconsin. He doesn't have any visits planned yet but hopes to commit before the upcoming season.
Schools have been rushing to offer Wright but the ones that stand out so far are Virginia Tech, Louisville and Kentucky. Those are the only schools he has visited so far other than West Virginia. Wright really wants to visit Tennessee but the coaches from Kentucky and Virginia Tech have been doing a great job with him so far.