Rivals 3 Stripe Columbus: Awards
COLUMBUS, Ohio – The first Midwest stop of the Rivals 3 Stripe Camp presented by adidas saw plenty of sunshine, warm temperatures and some outstanding performances from well-known prospects and even some sleepers around the region. Here is a rundown of the day's award winners.
MORE: Live from Columbus | Full Rivals 3 Stripe Camp schedule | Recruiting notes
POSITION MVP WINNERS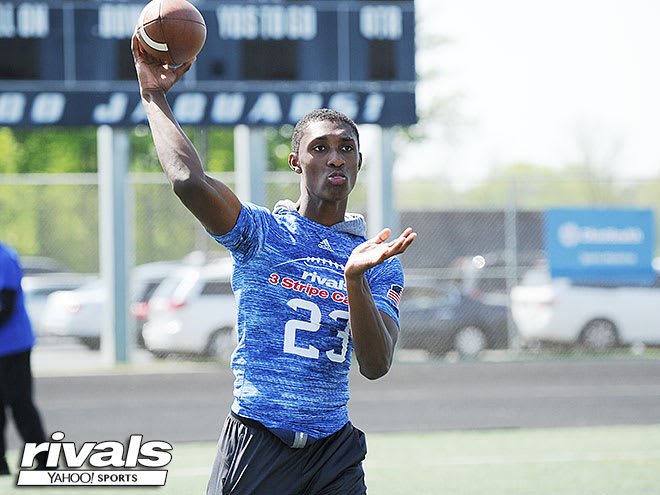 There was a large group of quarterbacks on hand for Sunday's Rivals Camp, but none quite like Mathis. For instance, after showing out in the quarterback drills, Mathis tried his hand at wide receiver and won both repetitions at that position. The Iowa State commit won the quarterback MVP, though, after showing off a very talented arm. Still a sophomore, Mathis has some fundamentals to work on in the coming years, but he has already made great strides in that department from when we first saw him as a freshman.
Running back MVP honors went to three-star running back Johnny Adams, an Indiana prospect who electrified from start to finish. Adams has a list of offers loaded with MAC programs, but he looks like a special talent, especially when he has the ball in his hands. He was great in the tackling drill, routinely making linebackers look silly as he blew by them. The same happened when it came time for receiving one-on-ones, as his ability to cut combined with his speed made it even harder for defenders to keep up.
Class of 2019 Kentucky athlete Milton Wright surprised many with his showing, edging out a pretty impressive field to win the wide receiver MVP award. On a windy day when several balls were up for grabs, Wright did a nice job of helping his quarterbacks and adjusting to go up and make catches. Louisville, Kentucky, Illinois and Purdue are among his early offers with several more likely on the way with the way he played on Sunday.
Not many people have seen what Wright can do in an elite setting yet, but he really impressed with his crisp technique and solid footwork. Wright, a member of the 2019 Rivals100, is very agile and had no problem cutting off defensive ends that tried to get around him. One defensive end tried to beat him to the inside, but Wright drove him down the line and into the ground. Virginia Tech, Kentucky, Louisville and West Virginia are the only teams to host Wright so far, but he really wants to Tennessee soon.
Stills, the Rivals250 defensive tackle out of West Virginia, won the defensive line MVP in a tight race. There were five legitimate contenders for the award, but his versatility, strength, and effective inside and outside moves secured the award for him. West Virginia is in great position to land a commitment from Stills. His dad was a Mountaineer and his brother is a freshman on the team. Florida, Georgia, Oklahoma, Virginia Tech, Michigan State, and Penn State will get visits from Stills this summer.
It is surprising that Kline is still sitting on just two Power 5 offers, because everything we have seen on film and now in-person suggests this is a high-major prospect. The first thing you notice about Kline is that he absolutely looks the part at 6-foot-3 and 222 pounds. The second thing you notice is how well he moves at that size. We first were impressed with what he did in the cat-and-mouse drill, coming downhill in a hurry and closing the distance on running backs. He also looked sharp in one-on-ones, easily running with backs and playing with range to earn MVP honors.
Brents looked like a special talent. Cornerbacks over 6-feet tall are at a premium, and Brents brings great technique along with his 6-foot-2 frame. He was very physical with wide receivers at the line of scrimmage and in their routes. Quarterback had a very hard time throwing catchable balls to receivers he was covering, and his wingspan helped him knock down plenty of passes. Louisville, Vanderbilt, Iowa, Indiana, and Cincinnati are Brents' current top five, but that could change.
FIVE-STAR CHALLENGE INVITES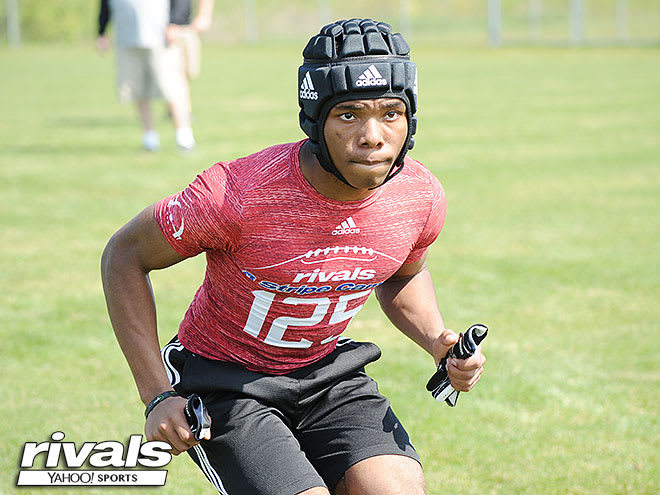 The defensive back position was another that was deep with talent, and Gervin was among the top performers at the position. The Rivals100 prospect recently de-committed from Notre Dame and has a closely-watched recruitment going on, but on the field it was more of what we have seen from the Detroit native in the past: disciplined coverage and the knack for staying in a receiver's hip pocket. He will be a tough match-up for receivers next month at the Five-Star Challenge.
A Rivals100 prospect, there was a question how Gill would look coming off a broken leg that prematurely ended his junior season. While he may not be quite back to the top speed we saw him at before the injury, he is awfully close, and you probably would not notice if you were not looking for it. What is back is the smooth, fluid way Gill carries himself when running routes or going through drills, and of course the ball skills were on display Sunday for the Ohio State commit as he earned an invite to the Five-Star Challenge.

Gillison has the frame of a tight end who can play in-line and split out as a receiver, but Sunday's camp showcased only his ability as a receiver. Having covered Gillison in-person last fall we knew what to expect from the Michigan State commit, and he did not disappoint. Gillison has good suddenness for a tight end and he gets in and out of his breaks quickly. From there he uses his body to shield defenders and displays an excellent pair of hands. This showing earned him a spot in the Five-Star Challenge.

Stephen Herron came into the event as one of the top players in the 2019 class, regardless of position, and he backed up his ranking with a very impression showing, earning an invitation to the Five-Star Challenge in the process. Herron was fighting for reps all day and did a great job of battling some of the event's top offensive linemen. Plenty of younger linemen have made their five-star case at the Columbus stop of the camp in the past, and Herron laid out some pretty convincing evidence on Sunday.
It was a close battle down to the final repetitions for the defensive line MVP award, and Smith was just edged out by Stills for the honor. Both prospects will be headed to Indianapolis for the Five-Star Challenge, however, and will get a chance to compete all over again. It is hard to believe Smith has played just one season of high school football. He definitely has elite physical tools, including size, quickness and agility, but he also shows a range of pass-rush moves and uses his hands extremely well.