Rivals 3 Stripe Camp St. Louis: Top underclassmen
O'FALLON, Ill. - The St. Louis stop of the Rivals 3 Stripe Camp Series presented by adidas rolled into O'Fallon Township High School on Sunday with players from more than 20 states turning out to compete. With so many stars on hand there was plenty of impressive performances. We break down the day's top 12 showings from underclassmen.
MORE: Camp Chatter | Recruiting notes | Awards | Top performers: Offense | Defense
Recruiting Wrap: Ike holds early offers from Temple, Syracuse and Bowling Green.
Performance: Ike does not lack for size. His 6-foot-6 frame comes equipped with more than 300 pounds. And while he could stand to replace some bad weight with muscle, he manages to flash agility when need be. His calling card, however, is his power, which he showcased often during on-on-one work.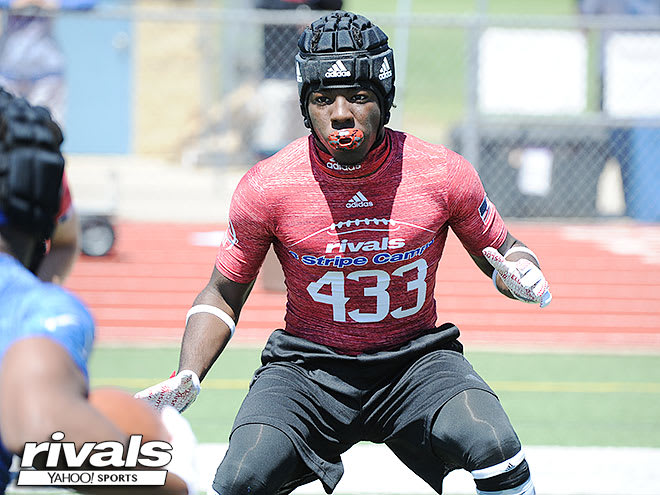 Recruiting Wrap: Williams holds offers from Indiana, Iowa State, North Carolina and Syracuse.
Performance: Williams is an athletic linebacker who can run. He moved well in the drills, he flashed natural athleticism and he held his own in coverage. He is naturally strong, he has a great frame to grow into and his recruitment should pick up in the near future.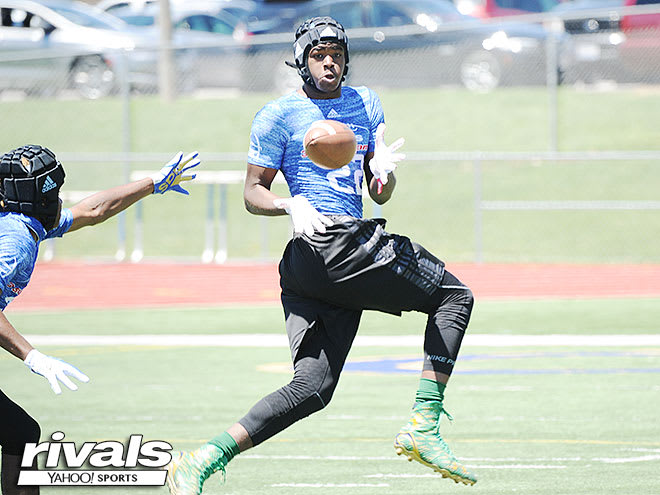 Recruiting Wrap: Auburn, Clemson, LSU and Tennessee are just some of the schools that have offered Turner, a 2020 wide receiver.
Performance: He is young, still a freshman in high school, but he was one of the top five wide receivers Sunday. He has great size and length, but his quickness and ability to move in space stood out. He has a nice burst and he is only going to get bigger and better in the coming years.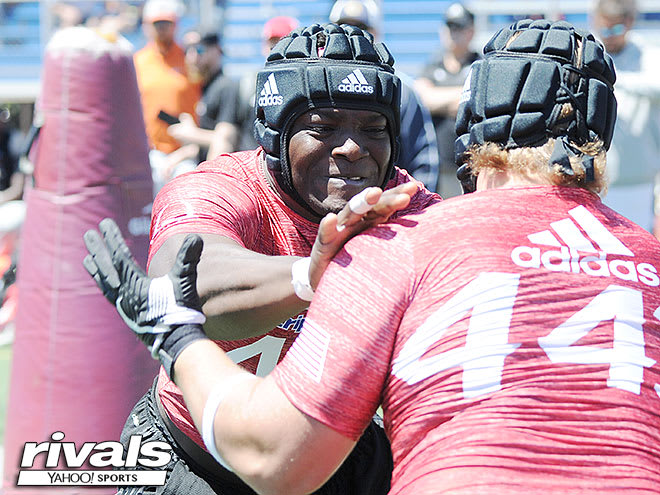 Recruiting Wrap: Akporoghene holds early offers from South Carolina and West Virginia.
Performance: Akporoghene plays both ways but starred as an offensive lineman on Sunday. He showed off the mean streak coaches want and often finished blocks by slinging his opponent to the ground. Akporoghene has long arms and a frame capable of carrying more weight.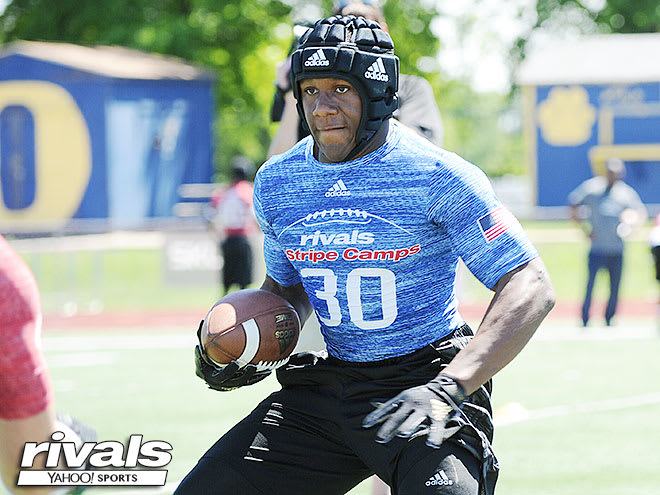 Recruiting Wrap: Iowa, Iowa State, Kansas State, Syracuse and some others have offered Azubuike.
Performance: Where Azubuike stood out first was in the cat-mouse competition. He showed speed and he ran past some of the linebackers untouched. He also showed some quick, subtle moves to make defenders miss. His speed was a weapon when he started running routes out of the backfield as well.
Recruiting Wrap: Turrentine is waiting on his first offer.
Performance: One of the few rising freshmen to take part in the event, Turrentine was a very pleasant surprise. Not only did he draw praise from his fellow campers for his showing but he also impressed the event's coaches for his willingness to go toe-to-toe with some of the event's top players. With his athleticism, Turrentine could play a number of positions going forward but he's clearly a player to watch.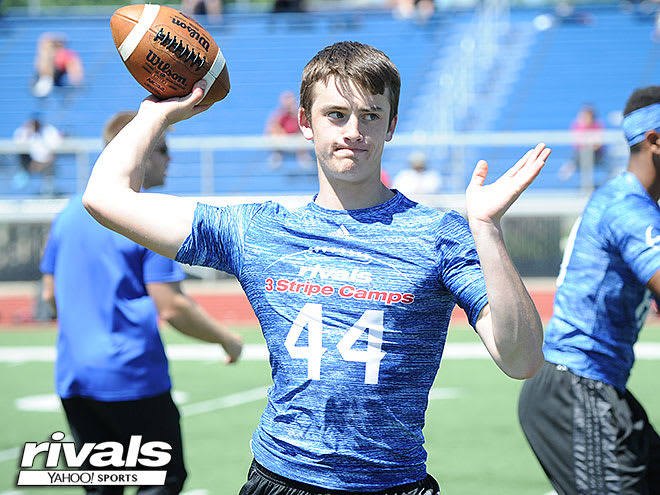 Recruiting Wrap: Arkansas has offered Evans.
Performance: Evans was a consistent passer. He was not the biggest, he did not have the strongest arm, but he was one of the top three quarterbacks Sunday. He was throwing with good accuracy and spin.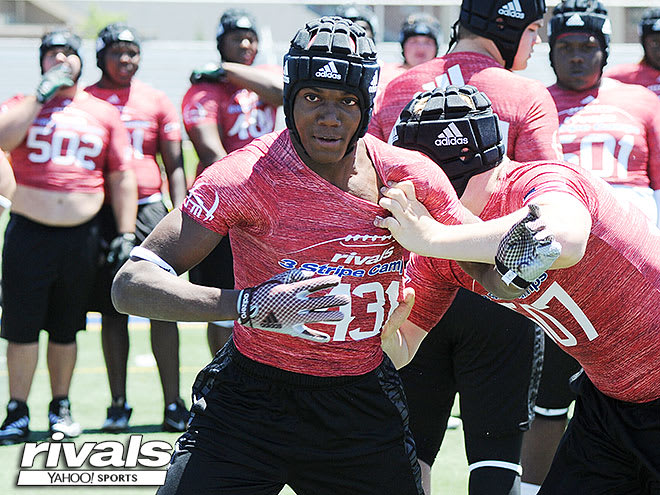 Recruiting Wrap: Little's recruitment is just starting. He was recently offered by Alabama.
Performance: Little is a long, athletic outside linebacker. This was his first camp, so he had his ups and downs because everything was new to him, but at his size, he impressed with speed and athleticism. He is a 6-foot-4, 206-pound rising junior with an 80-inch wingspan.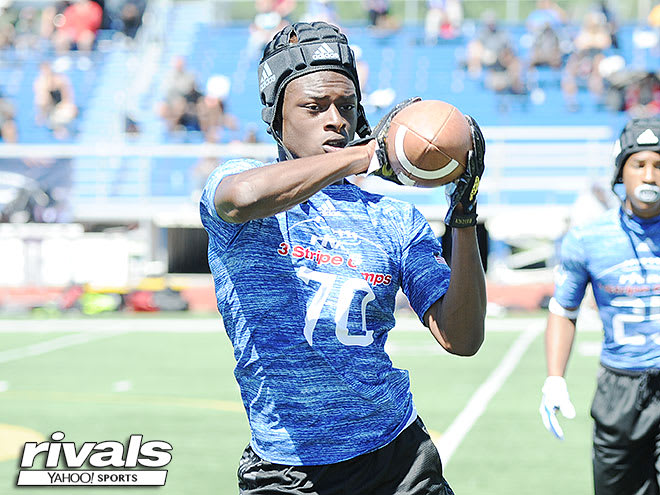 Recruiting Wrap: Sheffield is committed to Tennessee.
Performance: The 2019 Vols commitment is listed in the Rivals.com database as an all-purpose back and while he was smooth running the ball in the tackling drill he was also very impressive as a route-runner. Sheffield has quick feet and can change directions very quickly without losing speed, making him a matchup nightmare in space for linebackers and safeties.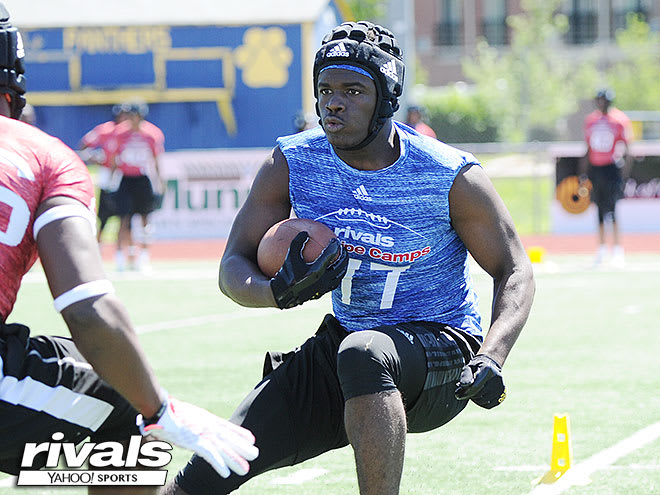 Recruiting Wrap: Weston is waiting on his first offer.
Performance: Weston is versatile back who showed very impressive hands during receiving one-on-ones. At 5-foot-11 he has good height for a running back and looks as if he could add some more bulk to his frame without losing the elusiveness that makes him tough to handle. Several schools are already looking at Weston and his offer list should start to populate after he hits the camp circuit this summer.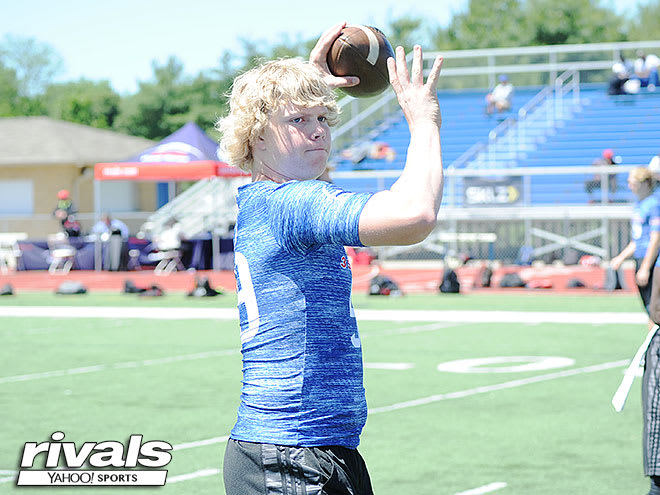 Recruiting wrap: Martens' lone offer is from Syracuse.
Performance: A left-handed quarterback, Martens had one of the quickest releases at the event. He has some work to do when it comes to footwork, but his passes have zip and the foundation is in place. It won't be long until other schools join Syracuse on the sophomore's offer list.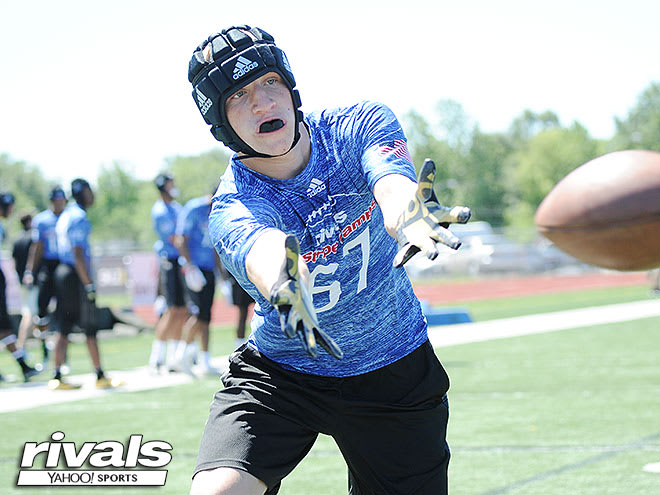 Recruiting wrap: A member of the class of 2021, Quinn is awaiting his first offer.
Performance: Simply put, Quinn has a bright future. One of the youngest players at the event, the Nashville product stretched the field and showed off devastating acceleration when it came time to go deep. He wasn't as consistent as some older backs, but he made a few notable grabs on fly routes. His upside is unlimited depending on how he fills out physically in the years ahead.