Rivals 3 Stripe Camp St. Louis: Recruiting news and notes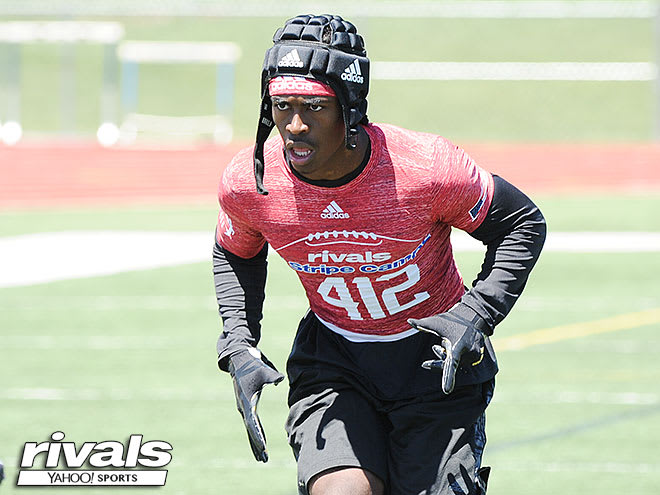 O'FALLON, Ill. – The Rivals 3 Stripe Camp Series presented by adidas rolled into St. Louis on Sunday for the final stop on this year's regional tour. With players from more than 20 states on hand there was plenty of recruiting news that will catch the attention of recruiting fans from coast-to-coast. Here's a recap of some of the day's notable nuggets.
MORE: Live from St. Louis | Full Rivals 3 Stripe Camp schedule
Griffith made the trip to St. Louis from Florida and the IMG Academy star said it's just the start of his offseason travels. Nebraska remains a school heavily in the mix and he plans on visiting Lincoln again soon. Other programs on his list of visits include Notre Dame, Ohio State and Penn State. Griffith is hoping that by taking the trips he can narrow his list and focus on a few schools heading into his senior season.
Trout plans to visit Oklahoma this offseason but is yet to set a date for such a trip. The Missouri-based Trout says he's familiar with the perception that he's a Missouri lean but disputes that fact. According to Trout, the Tigers are among his favorite but he could "easily" see himself elsewhere. He also intends to visit USC at some point this summer.
Babb will LSU, Alabama and Ole Miss. He intends to narrow his list to nine on May 29 but refuses to name schools he knows will make the cut. Babb says he's most excited to visit LSU and looks forward to seeing the campus person.
Waggoner continues to rack up offers with some of the country's best programs joining his list since the start of the year. He said in-state program Iowa continues to make him a priority and he's been impressed with the Hawkeyes' pitch. Despite many assuming he will stay close to home he said he's planning to take several trips this summer, with programs like LSU and Ohio State in his plans.
The Tennessee Volunteers were well represented on Sunday as several commits participated in the event. Among them was Taylor, who said he continues to work at building adding more top players to the school's class. His close friend Brendon Harris committed to the Vols on Friday and now he said he's focused on defensive linemen Greg Emerson and D'Andre Litaker. Taylor predicted both will end up in the fold with the Vols sooner rather than later.

Wilhoite just picked up an offer from Ohio State but he said the Buckeyes have already shot way up his list. He is yet to visit Columbus but said he's planning to visit and camp with the school this summer. Wilhoite grew up as a fan of Oregon but said his older brother is an Ohio State fan and has already been pushing the Buckeyes as well. Other programs in the mix for Wilhoite include Tennessee, LSU and several others.
Knox picked up his first offer from Florida last year and the Gators continue to be a program standing out to him. He has been racking up offers as of late with schools like Auburn and Ohio State joining the hunt and he said he will spend the summer taking visits around the country. But the Gators made a great impression by offering first and he said it's a priority to get back on campus in Gainesville, with a trip set for next month.
Sheffield is in possession of a Stanford offer and intends to visit the school this offseason. He remains committed to Tennessee but said on Sunday that his options are "open." Sheffield will also visit Tennessee this offseason, as he weighs the two schools against each other.
A 2019 prospect, Martens' lone offer is from Syracuse. He's yet to visit the school's New York-based campus but is in the process of looking into the program. According to Martens, a quarterback with solid size, Vanderbilt could be close to offering him a scholarship. Michigan State, Pitt and Northwestern are also involved.
Emery says he's in frequent contact with Kansas and receives mail from Kansas State. Coaches from Alabama and Miami recently dropped by his school and could be mulling extending offers. Emery intends to visit Louisville and Central Florida this summer.
Norton holds offers from Wyoming, UCF, Toledo, Ball state and others. He currently favors Wyoming but thinks that TCU and Iowa could be close to extending offers. He intends to visit Iowa on June 2 and is in the process of setting a date to tour TCU.