Rivals 3 Stripe Camp Orlando: Top offensive performers
OVIEDO, Fla. -- The Rivals 3 Stripe Camp presented by adidas rolled into Orlando over the weekend, and several of Florida's best players turned out to compete. With so many stars on hand there were plenty of notable performances. We break down the top offensive players from the event.
RELATED: Rivals Camp Series home | Recruiting news | Event award winners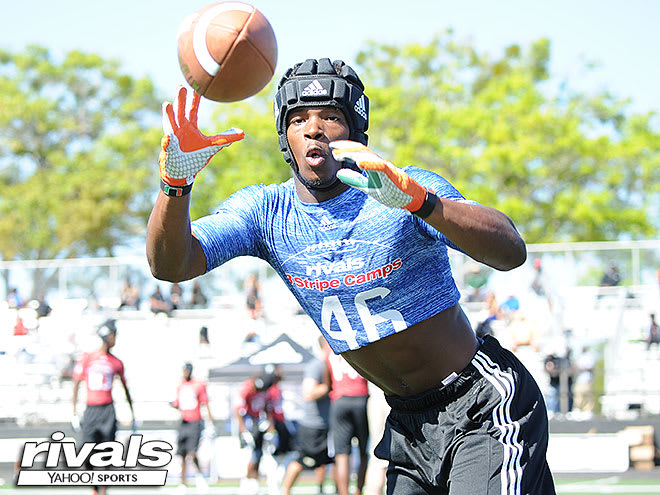 Recruiting wrap: Lingard is committed to Miami.

Performance: Lingard won his third consecutive running back MVP at a Rivals Camp event, a rare feat in the history of the events. The five-star looked the part, shaking linebackers in space during one-on-ones and also showing a nice ability to catch the ball during passing drills. He's a special talent and a huge get for the Hurricanes.

Recruiting wrap: Barnes is considering several schools, with North Carolina, Miami and Florida emerging as the early favorites to land him.
Performance: Barnes was far and away the best offensive lineman at the event and he impressed from start to finish en route to winning the OL MVP award. It remains to be seen if Barnes is a true left tackle at the next level, but he showed his versatility while winning reps working inside at guard as well. It was the second consecutive year Barnes won the MVP at the Orlando Rivals Camp.
Recruiting wrap: Penix has several offers, with Auburn, Oregon and Tennessee among his most notable.
Performance: The left-handed quarterback was by far the most consistent passer on the day, earning quarterback MVP honors among a loaded group that included two Rivals250 prospects and several impressive underclassmen. On a breezy day, he did a good job putting enough velocity on the ball and did a nice job of leading his receivers into open space.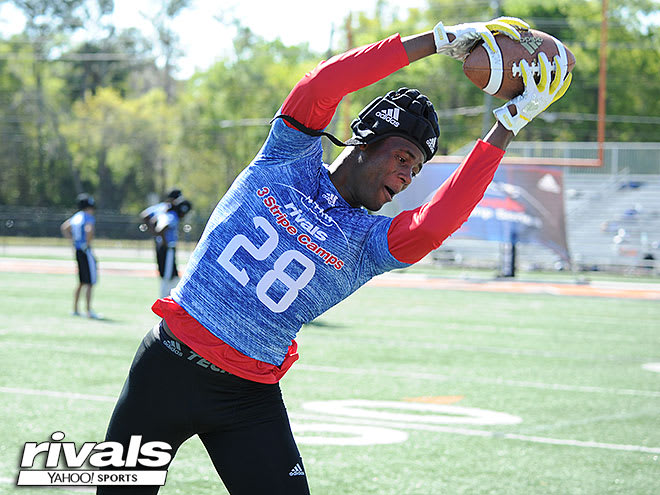 Recruiting wrap: Just a rising sophomore, Manuel already has offers from Florida, Miami and several others.
Performance: The 6-foot-5 wide receiver is still technically a freshman in high school, but you wouldn't have known it with the way he performed. He was a matchup nightmare for defensive backs all day and while he had a few hiccups that come with his age, it's clear he's well on his way to being a special talent. Manuel earned the wide receiver MVP award for his efforts.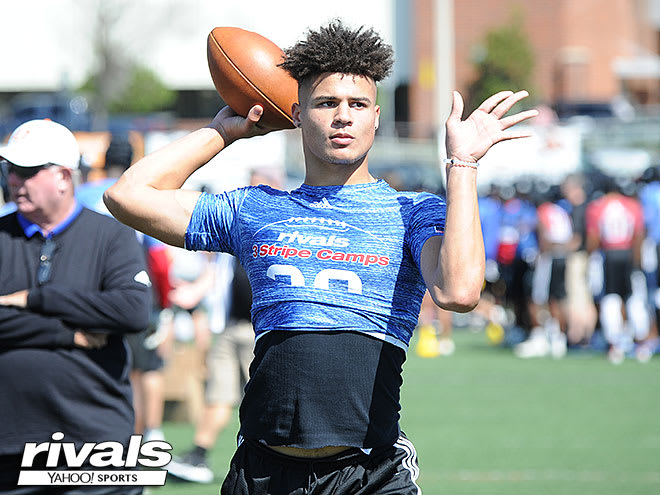 Recruiting wrap: Gatewood is committed to Auburn.

Performance: Gatewood continues to show more consistency as a passer and just narrowly missed out on winning the MVP award for his position. He has great size and looks the part of a college quarterback and his skill set continues to develop as he taps into his immense potential. Auburn fans are justifiably excited about him as the headliner in the 2018 class.

Recruiting wrap: Florida, Michigan, Georgia and others are in the mix for Milton.
Performance: When Milton is at his best, he throws one of the best balls in the country and the only knock on him Sunday was some inconsistency. But in terms of raw potential, there might not have been a player at any position at the camp with more than Milton. His recruitment has exploded in recent months and more schools will likely join his list soon.
Recruiting wrap: Watkins is committed to Texas.
Performance: Watkins is a shifty wide receiver who battled through various injuries to put on an impressive performance. He basically couldn't be covered by most defensive backs as he consistently got open. He had some uncharacteristic struggles catching the ball at times, but finished the day strong.

Recruiting wrap: North Carolina, Auburn and Miami are among the schools heavily in the mix for Montilus.
Performance: The high school teammate of Barnes made sure it was an all-Apopka race for the MVP award, showing good toughness and technique during one-on-ones. He's not quite as big as Barnes, but his long arms and strength helped give him the upper hand on most of the defensive linemen he faced.
Recruiting wrap: Marshall is the early school to beat for Graham.
Performance: Graham was a favorite of the event's coaches, showing excellent quickness and pretty sharp route-running. His shiftiness made him tough for defensive backs to deal with and he did a nice job of fighting off jams at the line without getting thrown off his routes.
Recruiting wrap: Marlow has offers from Charlotte and Vanderbilt.
Performance: Marlow is just starting to get on the radar of programs, but if he keeps performing like he did on Sunday it shouldn't be long until he has more options. He was terrific during the one-on-one linebacker/running back drills, using his quick feet and putting some impressive moves on in space. He's quick and has good instincts — two sought-after qualities in future college backs.
Recruiting wrap: Brown is waiting for his first offer.
Performance: Another sleeper entering the camp, Brown put his name on the map with his showing. He has very good hands and consistently hauled in every ball that came his way. There were also some balls that didn't end up exactly on target because of the wind, but Brown found a way to adjust and make plays.
Recruiting wrap: Strong is committed to Florida State.
Performance: Strong is listed in the Rivals.com database as a fullback, but he considers himself a running back at the next level and he set out to prove that at the event. He is a tough runner and while he doesn't have a ton of wiggle in open space, his size makes him a load for defenders to bring down. It remains to be seen exactly how he will fit in Florida State's offense, but he had a nice day.