Rivals 3 Stripe Camp Orlando: Recruiting news and notes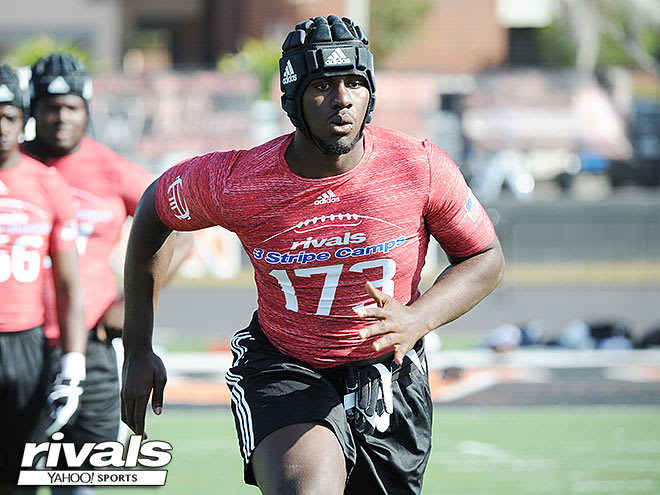 RELATED: Rivals Camp Series home | Live updates from Orlando
OVIEDO, Fla. – The Rivals 3 Stripe Camp rolled into Orlando on Sunday and attracted prospects with major national offers. Below are updates on the recruitments of a handful of sought-after prospects that attended the event.
Three-star Apopka, Fla. offensive lineman Ed Montilus said North Carolina, Auburn and Miami continue to lead the way in his recruitment. Montilus recently visited Auburn and raved about his time in Chapel Hill, which included a trip to the Duke-North Carolina basketball game. The Tar Heels are aggressively recruiting Montilus and his teammate William Barnes and appear to be in good shape with both at this point.


Miami offered three-star defensive end Dennis Briggs last month and the Hurricanes have quickly shot up his list. When asked on Sunday he stopped short of calling the Canes his leader but he did say they are firmly among his top schools. Other programs in the mix include Tennessee and Oregon and he said he's planning to take several visits in the coming weeks.
Four-star linebacker David Reese recently visited Miami and continues to hold the Hurricanes in high regard. While he said he has clear leader at the moment, the visit combined with the Canes heavy interest makes them a team to watch in his recruitment. One thing clearly working in Miami's favor is the team's excellent start to the 2018 cycle. Reese said he's been paying attention to the number of highly ranked players already in the fold and said he would like to join a team loaded with talent in the future.
Class of 2018 linebacker Deandre Fitz-Henley already has an offer from Washington and despite being across the country he said the Huskies could play a major factor in his recruitment. After watching the Huskies play in the College Football Playoff this year Fitz-Henley said the school has his attention and he plans on taking an official visit to Seattle this fall.

Miami athlete commit Avantae Williams said he's still firmly committed to the Hurricanes but that hasn't stopped Alabama from pushing hard to get him on campus. Williams was set to visit this week, but wasn't able to make it to Tuscaloosa due to other conflicts. He said this summer that won't be a problem and he will likely visit and camp with Alabama.
Rivals100 offensive lineman William Barnes doesn't name official "leaders," but says that North Carolina and Florida are the programs with which he has the closest relationships. Barnes plans to visit Florida State and Florida this week before flying to Ohio State on April 8. He has set no timetable for a decision.
Quarterback Michael Penix Jr. says he's yet to narrow down his list but is frequent contact with Tennessee and Oregon. Penix has visited Tennessee in the past but is yet to tour Oregon. Florida and others are thought to be mulling offering Penix but have yet to pull the trigger.


Amari Gainer says he will visit Virginia, Alabama and Auburn in the coming months. Most think the Rivals100 defensive end is a Florida State lean. The Rivals100 prospect showed up at Sunday's event wearing Florida State sandals but says he has no leader in the process. Gainer says he intends to visit Texas in the near future and that he has real interest in the Longhorns.



Larry Hodges recently visited USF and said the highlight of the campus tour was his meeting with head coach Charlie Strong. Hodges says Strong is recruiting him to play tight end. Florida, Florida State and Louisville and Ole Miss are other schools of interest for the 2019 prospect, but he's yet to land an offer from any of the group.