Rivals 3 Stripe Camp New Orleans: Top offensive performers
HARVEY, La. -- The Rivals 3-Stripe Camp New Orleans stop was held Sunday with several of the nation's top players turning out to compete. There were many outstanding performances turned in, especially from the wide receivers in attendance. Here's a breakdown of the top offensive performers.

RELATED: Rivals Camp Series home | Stars shine in New Orleans | Camp award winners
Recruiting wrap: Thomas is committed to LSU.

Performance: Thomas was clearly the most dominant offensive lineman during one-on-ones, winning rep after rep with authority. He plays inside as a guard and had the type of camp showing that most players only dream about. It's easy to see why LSU worked hard to get him on board early and the Tigers will likely be fighting off other programs all the way up until Signing Day 2019.

Recruiting wrap: TCU, Tennessee, North Carolina and Oregon are his top schools heading into a late spring decision.
Performance: Rogers was far and away the best quarterback at the event and was quickly dubbed "E.J. Manuel" by quarterback guru Steve Clarkson on Sunday. Manuel, of course, was a starter at Florida State and a first round pick and that type of praise isn't thrown around lightly. Not only did he win the event's MVP, he also earned an invite to the Five-Star Challenge as well.
Recruiting wrap: Lewis has a handful of offers and Kentucky and Mississippi State are currently his top two schools.
Performance: Lewis was one of the top competitors Sunday. Every time you looked up he was taking a rep, and most of the time he was winning. He is being recruited as a tight end, but he was winning reps as a wide receiver working against top cornerbacks. He showed strong hands and the ability to adjust to the ball.
Recruiting wrap: Jones is committed UTSA.
Performance: Jones did it again. Each event he has attended this year, he has shined. This could end up being a steal for the Roadrunners. He is so quick off the ball and out of cuts, so he was tough to stay with Sunday. He has very good hands and he could be a star in the UTSA offense down the road.
Recruiting wrap: Texas, LSU and Oregon are among his early favorites.
Performance: Marshall came into the event as the second highest-ranked player and backed it up with a strong showing. He's so smooth while striding down the field that he makes blowing by defensive backs look easy. It's easy to compare him to a player like Texas wide receiver John Burt because of his size and downfield speed.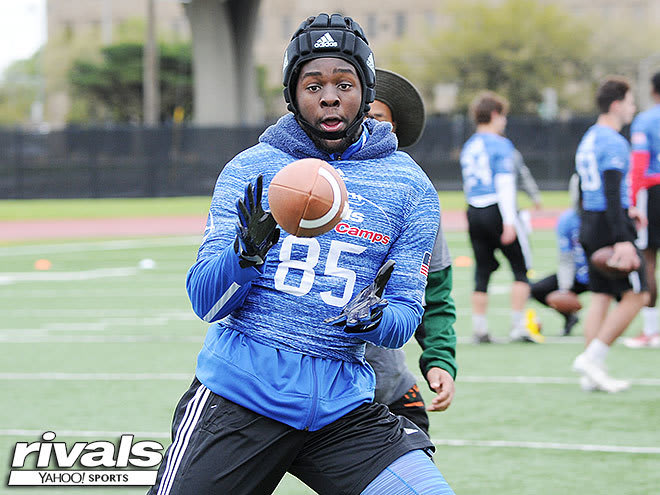 Recruiting wrap: Jason is committed to Kansas.
Performance: The prospect known to his peers as "Whop" put on a show on Sunday, just 12 hours after helping his team win a basketball state championship the night before. Despite getting only three hours of sleep, Jason showed no signs of fatigue and was virtually impossible to cover.
Recruiting wrap: LSU offered Joiner last week and he is now at 16 offers. He should reach 20 in the coming weeks. There are no favorites right now, but Auburn and LSU are two to watch.
Performance: Joiner spent not one, but two days in New Orleans (La.) competing at both the Rivals New Speed Combine and Rivals 3 Stripe Camp. He stood out both days, and on Sunday, he was named MVP for the running backs. You do not see many at his size move the way Joiner does and he can also receive the ball out of the backfield. Not many can believe he is truly a running back, but that is his position.
Recruiting wrap: Rogers holds a Texas-San Antonio offer and expects Rice to offer soon.
Performance: Rogers may not be the first guy most would predict as the top big-play threat out of a lineup of other top receivers, but his play proved otherwise. He came into the event as a bit of a concern after minor muscle pull at a track meet prior to the camp, but didn't look any worse for the wear as he separated from defenders abd made sharp cuts and tough grabs all afternoon.
Recruiting wrap: A one-time Kansas commit, Chase is considering the Jayhawks, Texas Tech, TCU and others.
Performance: Chase is Mr. Consistent when it comes to camp performances and he was once again sure-handed while continually getting open. At the next level, he will surely be one of his quarterback's favorite targets and someone to get the ball to in clutch situations.
Recruiting wrap: Florida State is the nearest big-time program to Copeland's hometown and is under consideration. Alabama, Clemson and Florida are others high on his list.

Performance: When Copeland made plays, many were 40 yards downfield. He got good separation off the ball and he was great tracking the ball down the field. The big-bodied wide receiver was consistent catching the ball.
Recuiting wrap: Galban currently holds offers from Columbia and Dartmouth, but feels Iowa State and Tulsa are very close to offering.
Performance: Galban isn't going to always beat defenders down the line on a go-route, but is a master at creating instant separation with just one cut. He is able to stop on a dime and change direction effectively and he's capable of making extraordinary catches. He didn't show any hesitation taking reps against numerous highly-ranked four-star defensive backs and frequently came out on the winning side.
Recruiting wrap: Henry holds 10 offers, including Baylor, Boise State, Colorado, and Utah.
Performance: The camp format suits Henry well, as one of his top attributes is his quickness and agility. In the 'cat and mouse' drills where running backs try to shake linebackers one-on-one, Henry had a number of reps where he froze his defender for a sidestep and win. Henry has always proven to be a solid pass-catcher as well and backed up his reputation as one of the region's most dynamic all-purpose backs.