Rivals 3 Stripe Camp: Stars shine in New Orleans
Harvey, La. – The Rivals 3 Stripe Camp Series presented by adidas kicked off with the New Orleans stop at West Jefferson High School on Sunday in a star-studded event that featured some of the nation's top players.
While it was held in the Bayou, the event featured players from Missouri, Texas, Tennessee, Florida and Alabama in addition to Louisiana, leading to very competitive event.
In addition to the stars on the field, there were also plenty of notable stars watching and coaching at the event. Quarterback guru Steve Clarkson made trip out from California to work with the quarterbacks and former five-star and current Ole Miss quarterback Shea Patterson was there to watch his younger brother Nick, a 2020 tight end, participate. Former Super Bowl Champion and Pittsburgh Steelers defensive back Ryan Clark also worked with the defensive backs during the camp.
Here's a recap of the day's action.
MORE: Live from New Orleans | Full Rivals 3 Stripe Camp schedule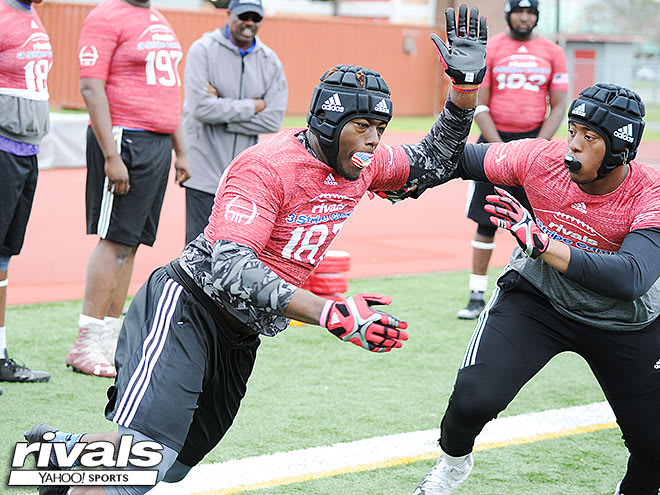 Daniel Parker traveled 900 miles to compete at the Rivals Camp Series in New Orleans, and he left being recognized as one of the best Sunday. Parker stood out from start to finish on the defensive line and was named the MVP of the defensive line. The defensive end out of Blue Springs (Mo.) has offers from Iowa, Kansas, Kentucky, Missouri and Nebraska among others. He showed the ability to win reps working inside or outside.
LSU linebacker commit Damone Clark looked the part and he played the part of a future SEC player en route to winning the event's linebacker MVP award. The Baton Rouge (La.) Southern Lab prospect showed good agility in the drills and he held his own in pass coverage. Clark is still planning to visit schools like Alabama and Texas A&M this summer, but he seems strong to the Tigers.

Corione Harris is the No. 10-ranked cornerback in the country, and the star out of New Orleans (La.) Landry Walker was right at home Sunday afternoon. Harris was smooth through drills, he ran with top wide receivers in coverage and he showed his ability to cover down the field. He was once committed to LSU but is now pledged to Kansas. He won the defensive back award and was invite the Five-Star Challenge for his efforts.

Joining the other MVPs in earning an invite the Five-Star Challenge was five-star defensive back Anthony Cook. This year marks the second consecutive year Cook has earned an invite to the event, and he did it with an impressive close to Sunday's camp. He came into the camp as the highest-ranked player and did a great job of backing it up with his play.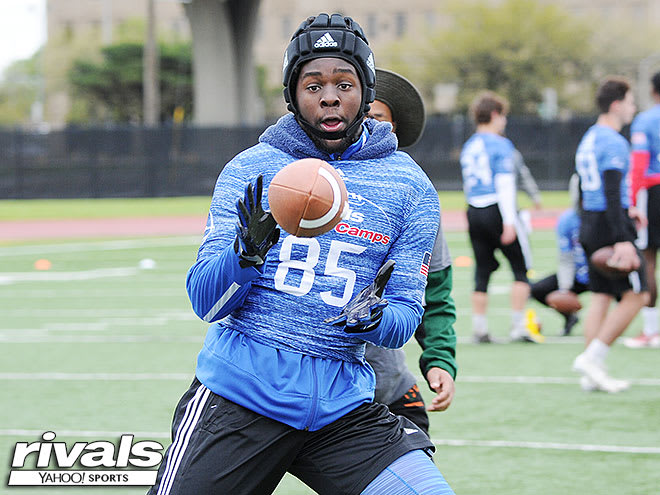 Also invited was four-star wide receiver and Kansas commit Devonta Jason as well as four-star wide receiver Terrace Marshall, Jr. The No. 25 and No. 22 overall players in the country spent the afternoon torching defensive backs in one-on-ones. The two have a healthy rivalry in the state of Louisiana, and their battles will continue at the Five-Star Challenge. The loaded wide receiver crop also led to an invite for the nation's No. 34 overall player, Al'Vonte Woodard, another Texas native. Woodard's showing would have likely been enough for MVP honors at another event, which just shows how loaded the event was at the position.

Three-star running back Harold Joiner walked away with running back MVP honors at the event after an impressive weekend that saw come him to the Rivals New Speed Combine on Saturday and test off the charts and deliver again on Sunday at the Three Stripe Camp. Joiner was the unanimous favorite at the position among the coaches and analysts and it's easy to see why he's already racked up so many offers, including most recently LSU.
Class of 2019 offensive lineman Kardell Thomas made a name for himself in January at the Army Underclassmen Combine by throwing defensive linemen around with undeniable aggression. At Sunday's camp, the LSU commit did more of the same and was easily the most dominant lineman at the event. In the final one-on-one rep against the camp's defensive line MVP, Daniel Parker, Thomas stonewalled him as well and cemented his position as the top big man on the day. For his efforts he also was the first underclassman to earn an invite to this year's Five-Star Challenge.

Class of 2018 tight end Anthony Lewis made the trip down from Mississippi and pulled an upset to win the event's wide receiver/tight end MVP award. He's a thick prospect that made catch after catch through constant harassment by defenders that likely would have led to good number of flags had those reps come in a game. Lewis was frequently fighting through holds and hands pulling off his headwear to make tough grabs all afternoon. Lewis has a couple of SEC offers and a handful of FCS offers, but his hard-nosed play should attract more attention from teams looking to add a player that can go up and win catches in traffic.
Rivals100 quarterback Justin Rogers was a no-brainer as the top signal caller at the event both with his look and his performance. On a dank, windy day when it was tough to string together strong throws on a consistent basis, Rogers threw the ball with zip and accuracy. His deep passes cut through the wind and were placed with nice weight and accuracy. He proved worthy of his top-100 ranking and his Rivals Five-Star Challenge invite following the camp.