Rivals 3 Stripe Camp New Orleans: Predictions on top players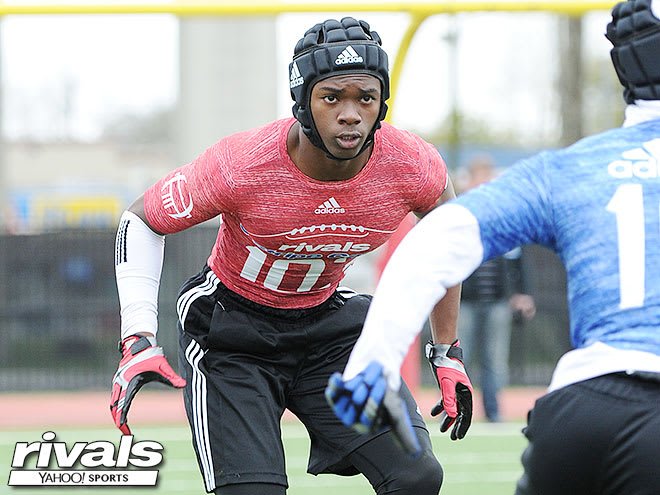 HARVEY, La. — As we wrap up coverage from the New Orleans stop of the Rivals 3-Stripe Camp Series presented by adidas, it's time to take a look at the recruitment of some the camp's biggest names and project where they will sign next year. Our trio of regional analysts does their best to forecast the future landing spots of these elite prospects.
RELATED: Rivals Camp Series home | Top offensive performers | Top defensive performers | Camp awards
The latest: Cook has been a recent visitor to Texas, Clemson, and made a stop by LSU following his appearance in the Rivals Three Stripe Camp event Sunday. All three schools are considered to be among the highest in his presumed top group, but he's also strongly considering Ohio State, where he said he plans to visit this summer. He's yet to name an official top 10, but is planning on graduating early, so more clarity should be on the way.
Prediction: Ohio State. The Buckeyes get the nod in large part due to his relationship to recent five-star OSU signee Jeffrey Okudah, but Clemson sounds like it could be a close second.

The latest: Marshall told us on Sunday that he had a top four schools, but by the end of the conversation, he has expanded his list to seven. It's clear that he's still early in the process and it will likely take quite a while for him to truly narrow down his list. LSU, Texas, Texas A&M and Oregon are all in the mix.

Prediction: LSU. Marshall is high on the Tigers but is waiting to see how the school's new offense looks this fall. If it lives up to what the school is selling, expect him to say close to home.

The latest: Woodard was also a recent visitor to Texas and will make his next visit to Ole Miss on the first weekend of next month. Woodard is also close to releasing a top 10, which will also be headlined by Ohio State and LSU, among others. Clemson is the final offer that Woodard would like to have before his list, so it can be assumed those Tigers will be on it as well.
Prediction: Clemson. It's pretty clear teams are angling to get the package deal with him and Cook, but the success Clemson has had with superstar receivers should make them his favorite.

The latest: Rogers recently named a top seven schools that included TCU, North Carolina, Oregon, Tennessee, Louisville, Harvard and LSU. He spent Friday and Saturday visiting the Tar Heels and raved about the visit when asked at Sunday's event. He's set to visit the Vols, Ducks and Cardinals before announcing a decision sometime before the start of the summer.

Prediction: TCU. The Horned Frogs are the leader in the clubhouse with the main wild card being his upcoming visits.

The latest: O'Neal has an impressive offer list with schools from every Power Five conference. His most recent run of offers came from USC and Cal. He hasn't tipped his hand as to where he might be most interested, but has made comments about wanting to play for coaches that will maintain an active interest in him beyond just securing his commitment.
Prediction: Oklahoma. This could come down to a battle between Oklahoma and Texas A&M. Bob Stoops has a good shot at convincing O'Neal that he wants him the most.

The latest: Chase, a one-time Kansas commit, continues to see his stock rise with Florida State being the latest program to join the mix for his services. He spoke highly of Texas Tech, Mississippi State and several other schools over the weekend and said he plans to take his time after rushing into an early decision last month.
Prediction: LSU. The Tigers are set to take a number of wide receivers in this year's class and while they were later than others to offer Chase, it seems like a natural fit.

The latest: St. Julien went from being unranked to a four-star after his film started making the rounds at the beginning of the year. He's seen several schools join the mix for his commitment, including Ole Miss. He also is high on LSU, but the Tigers haven't offered – yet.
Prediction: LSU. The Tigers were rumored to be offering last month and while it didn't happen, it's only a matter of time. If and when they do, expect him to join the school's commitment list.

The latest: Howard holds four offers, with the biggest being from in-state school Mississippi State. Arkansas State, Louisiana-Lafayette and Memphis have offered as well. Look for more schools to add their name to his offer list in the coming months as they get out to see him during the evaluation period, which begins April 15. Howard is set to visit LSU this weekend. Arkansas, Ole Miss and Tennessee are among other schools that are showing consistent interest in him. He does not plan to make his decision until after his senior season, so there is still plenty of time for schools jump in this race.

Prediction: Mississippi State. The Bulldogs offered early, they are a school in his home state and he feels like a priority for them, so Mississippi State has the inside track.
The latest: Arizona, LSU, Mississippi State and TCU are the most recent offers for Battle, who has quietly ballooned his offer total to 25. He doesn't have any plans to cut things down to a top 10 anytime soon. He's seen a surge of interest this spring, so there are still some things to figure out.
Prediction: LSU. Battle fits the mold of receiver a number of teams would like to add, but LSU has to jump right to the top of the conversation with him, and could have the path of least resistance if they stay active in his recruitment.

The latest: Jamison recently released a top 10 list that included offers from around the country. He said Texas and TCU have been on him the hardest and most consistently. The Longhorns have an interest in a number of his Lamar teammates. Jamison doesn't have concrete plans for many visits at the moment, so Texas and TCU's persistence could be crucial for them.
Prediction: TCU. Texas has shown it wants specific guys and big-fish type of players. Jamison is great, but doesn't have the reputation of Cook. TCU would be happy to capitalize on that and get a complementary piece to go with recent commit Atanza Vongor in the secondary.