Rivals 3 Stripe Camp Charlotte: Top underclassmen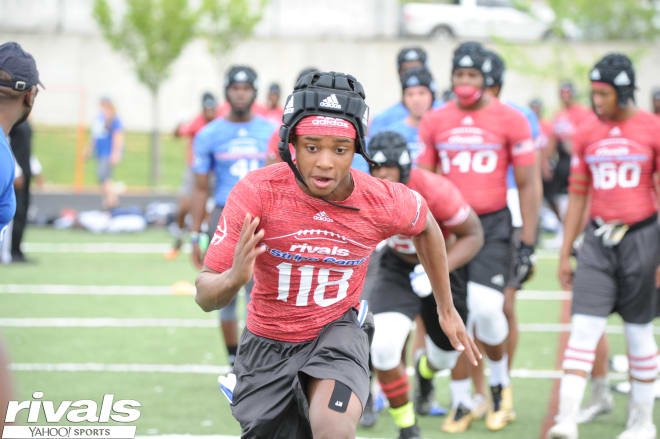 Recruiting wrap: Jenkins' only offer is from Virginia Tech.
Performance: There many have only been one or two players faster than Jenkins on the field. That speed made it very difficult for receivers to get any separation during one-on-ones. Jenkins isn't the biggest defensive back but he has good length and is so explosive off his plant foot. He should add some size and more muscle to his frame as he gets older.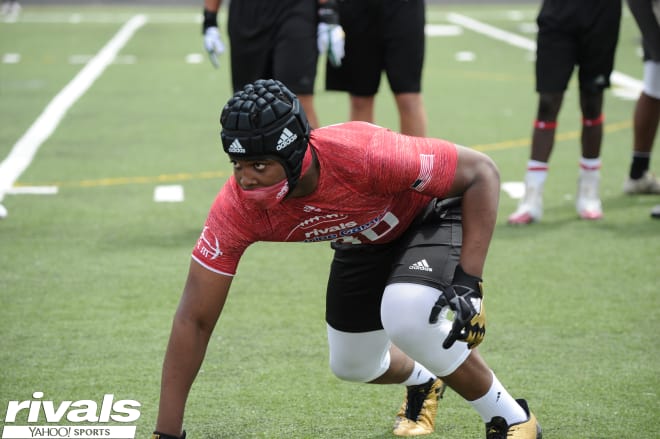 Recruiting wrap: North Carolina and Virginia Tech have offered Beamon.
Performance: Beamon is a defensive end with good size and while he looks like he'd rely on strength to defeat defensive linemen, he flashed speed and quickness at 252 pounds Sunday. He stood out numerous times in the one-on-one session, especially when he worked outside and got under the offensive tackle, enabling himself to turn that corner at a good angle.
Recruiting wrap: Hopper has early offers from South Carolina, Alabama and several others.
Performance: Hopper just started to emerge on the recruiting scene and, after his performance on Sunday, it's easy to see why. He has great size for a safety, moves very well in space, and did a nice job in coverage as well. The offers are likely to keep rolling in as it looks as if Hopper will be one of the Southeast's best at his position down the road.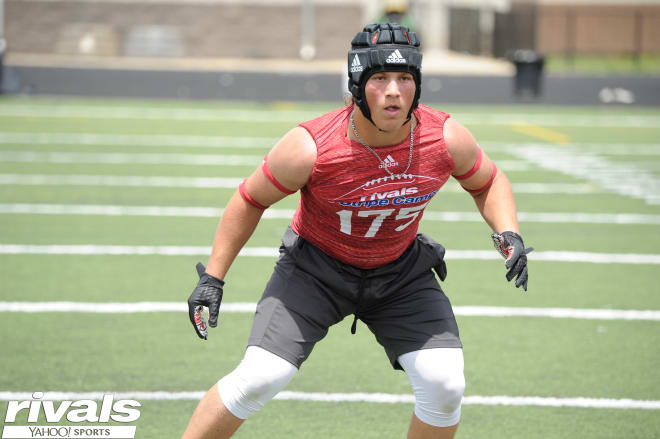 Recruiting wrap: Thomas has offers from Michigan, North Carolina and several others.
Performance: Thomas is easy to miss thanks to his trademark long hair and he was turning heads for his play as well on Sunday. He showed good instincts during the one-on-one tackling drill against running backs and later in the day also impressed with his ability to cover down the field. He has a nose for the ball and finds a way to make plays, a trait that will serve him well at the next level.
Recruiting wrap: Clemson, North Carolina, N.C. State, Penn State and Tennessee have already offered Fields.
Performance: Fields was locking things down on his home turf when the one-on-ones got started. Early on, he made Justin Fields eat the ball because he locked down the receiver so tight. He has great quickness and was doing a nice job staying right on the receivers hip much of the afternoon.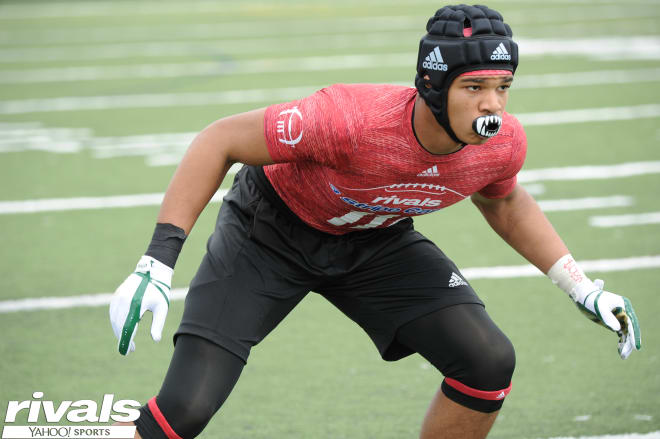 Recruiting wrap: Penn State, Maryland and Virginia Tech are Smith's biggest offers.
Performance: Smith looked like a physical specimen at linebacker. He moved pretty well in the open field and did a good job of disrupting running backs and tight ends in their routes. Smith also had his fair share of pass breakups. He should develop into an excellent hybrid linebacker/defensive end in college.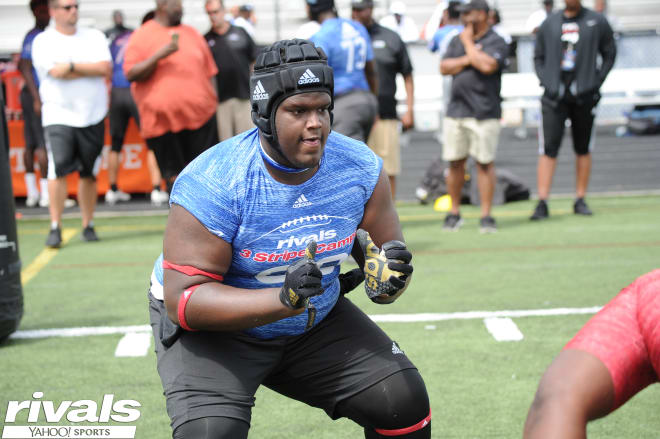 Recruiting wrap: Auburn, Virginia Tech and Charlotte have offered Barlow.
Performance: Barlow has a very promising future because of how big he already is and how far he has come with his technique. His lateral quickness is exceptional for a player of his size and he did a nice job of resetting his hands. Defensive linemen didn't have much success trying to beat him off the line either.
Recruiting wrap: Charlotte is the only school to offer Robinson.
Performance: Robinson had a very good day. He is very quick and shifty. Those traits showed in the cat and mouse drill as well as in the one-on-ones. Robinson flashed consistent hands and he was one of the tougher wide receivers to stay with Sunday.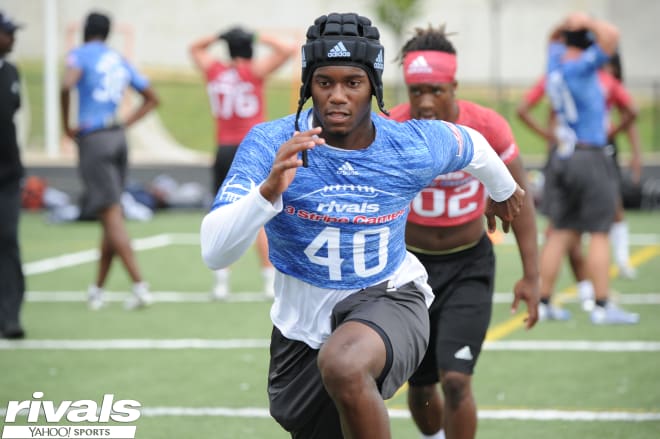 Recruiting wrap: Alabama, Auburn, Louisville, South Carolina and Virginia Tech are just some of the offers Rooks has received to date.
Performance: The explosiveness and length that Rooks brings to the table was too much for many of the defensive backs on Sunday. He's grown taller over the last few months and those extra inches made life easy on the quarterbacks. They had an easy time getting the ball to Rooks because of the separation he created and how consistently he caught the ball away from his body.
Recruiting wrap: South Carolina, Virginia Tech, Maryland, N.C. State, Louisville, Duke and Wisconsin are some of the major schools that have offered Bowick.
Performance: Bowick is a very strong wide receiver that ran crisp routes and fought through contact at the line of scrimmage. He didn't let defensive backs knock him off his route and did a good job tracking the ball when it was in the air. Bowick has a pretty big catch radius for a receiver that doesn't tower over defensive backs.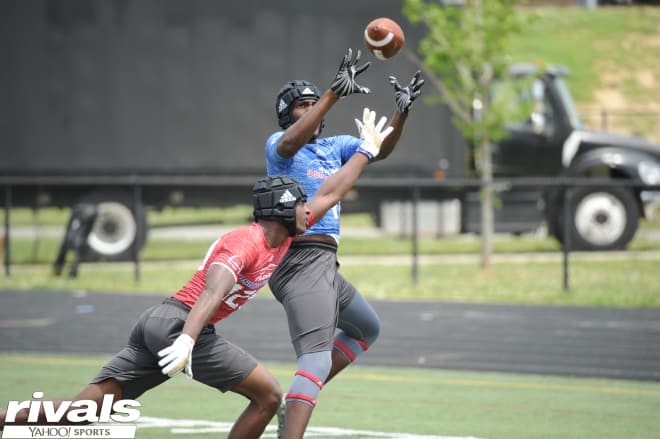 Recruiting wrap: Kenion's newest offer is from Charlotte but he already has offers from Maryland, Duke, South Carolina, Kansas State, Wake Forest and East Carolina.
Performance: Quarterbacks loved throwing deep passes to Kenion. He did a great getting down the field in a hurry and timing his jumps to catch the ball at its highest point. Kenion has length and is a big-time target on crossing routes over the middle. Defenders had a very tough time getting around him to knock the ball down.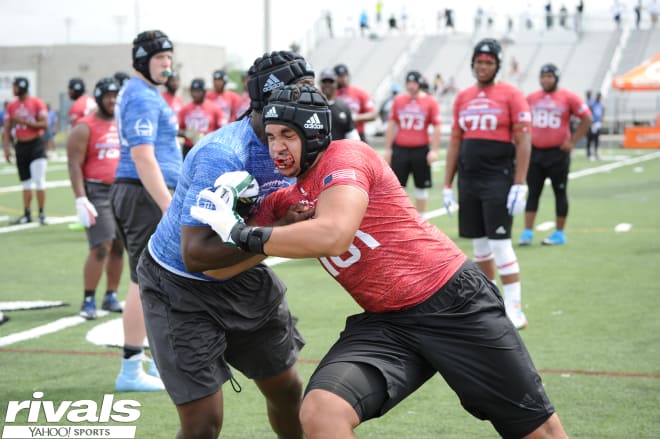 Recruiting wrap: Moorer has yet to pick up his first offer.
Performance: Offensive linemen were not ready for Moorer's strength at the point of attack. He put a lot of linemen on skates and showed impressive balance for his size. Moorer has the look of a national prospect and his hand techniques were more advanced than some players that already hold offers.