Rivals 3 Stripe Charlotte: Top offensive performers
CORNELIUS, N.C. – The Rivals 3 Stripe Camp presented by adidas rolled into Charlotte on Sunday and some of the best prospects from Virginia to Georgia turned out to compete. The day saw several impressive performances but only the best of the best can make the cut for top performers. Here's a look at the offensive players that outshined the rest.
MORE: Camp Awards | Recruiting Notes | Live from Charlotte
Recruiting wrap: Thompson is committed to Virginia Tech.
Performance: Thompson lit up the camp, showing a flair for the dramatic while running sharp routes and flashing excellent hands. He can play out of the slot or on the outside and his tough to cover for corners and safeties alike. The Hokies are getting a good one in Adams, who has been committed to the school for quite some time.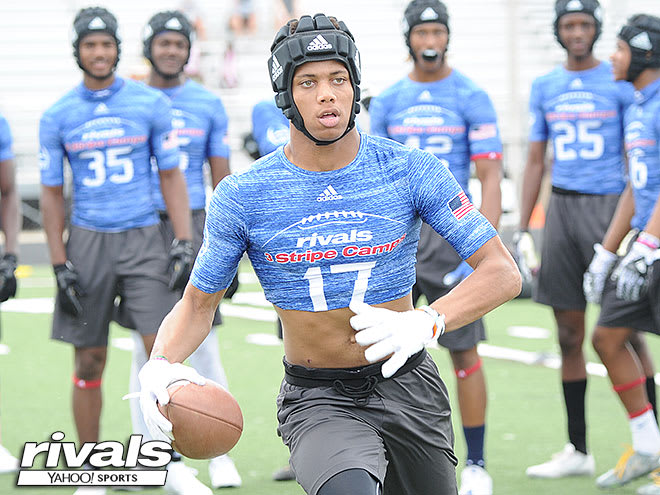 Recruiting wrap: Alabama, LSU, North Carolina, Clemson, and Ohio State are Adams' top five and a commitment will come before his birthday on Oct. 18.
Performance: Adams is so technically sound and such a smooth runner that he pulls away from defensive backs without them even realizing it. It was good to see him fight through contact to make tough catches. Quarterbacks loved it when they got to throw to him because they knew they only had to get the ball in Adams' vicinity and he would be able to make the catch.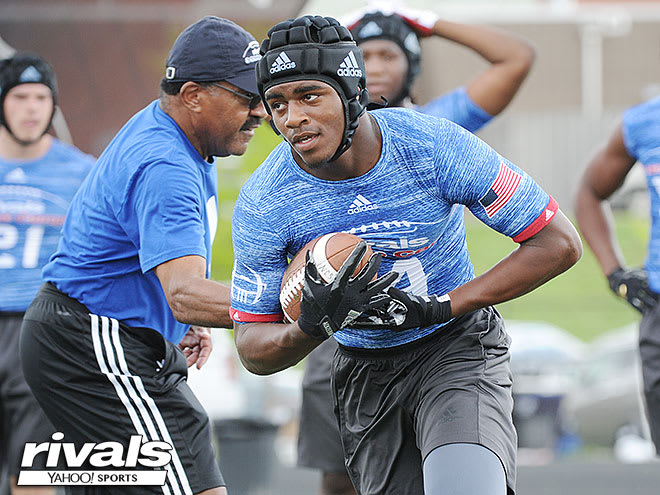 Recruiting wrap: Clemson, North Carolina, Ohio State, Virginia Tech, Penn State and many others are near the top of Ford's list but a commitment isn't close.
Performance: Ford is a dynamic, do-it-all back. He made linebackers look silly in the cat-and-mouse drills, showcasing his agility and lateral quickness. During one-on-ones, Ford made some very impressive catches on short, medium, and deep passes. It was really good to see him running patterns in the open field and be able to easily separate from the defenders.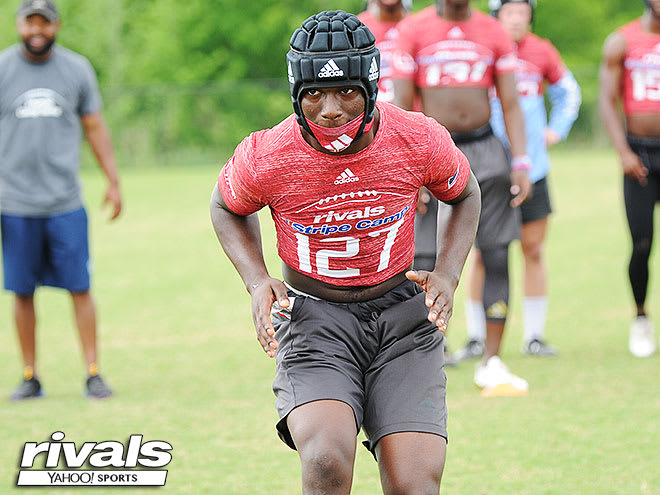 Recruiting wrap: Kendrick is committed to Clemson.
Performance: Kendrick worked out all over the field, starting the day on defense before finishing as a wide receiver, his natural position. As usual, his speed gave opposing defensive backs fits as swagger was backed up by his play. Clemson is known as "WRU" so it's easy to see why the Tigers picked Kendrick as one of their future stars.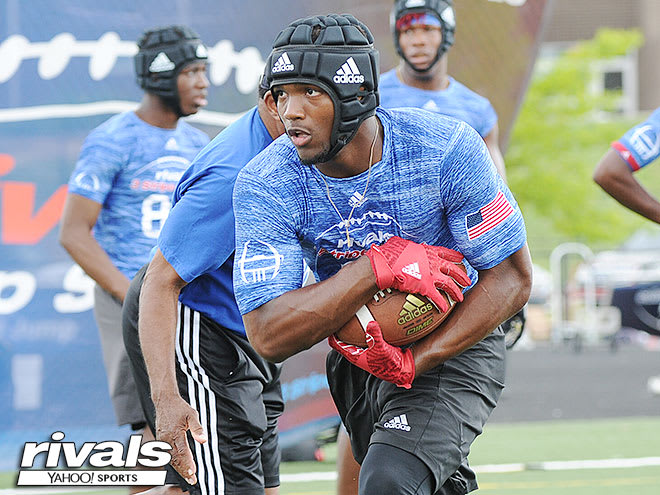 Recruiting wrap: Person is committed to NC State.
Performance: It was a really close call between Ford and Person for the running back MVP award. Person is a true all-purpose back. He made some ridiculous catches in one-on-ones and has great downfield speed. Person is a bigger back that does better job running over defenders than making them miss.

Recruiting wrap: Duke and South Carolina are among the school's standing out in Gwyn's recruitment.
Performance: Gwyn took home offensive line MVP honors after an impressive showing that saw him stonewall nearly every offensive lineman he wend up against. Gwyn has a good strong base and is fundamentally sound and able to capitalize on even the smallest mistake by opposing defensive linemen. He's an ideal fit to play guard or center at the next level and should be the type of player who fits in well to any offensive scheme.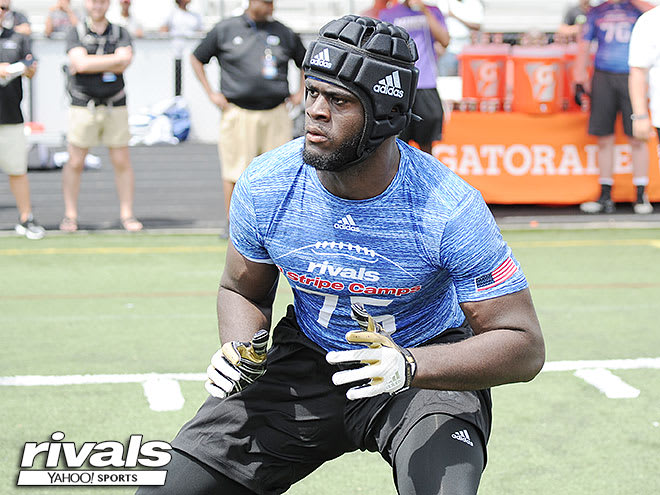 Recruiting wrap: Asiedu is committed to Penn State.
Performance: The length and athleticism Asiedu possesses gave defensive ends a really hard time. He's become a very good pass blocker and it's clear he's been working really hard to be more patient and not over set. Asiedu's improved strength was also noticeable because his initial punch shocked a few defensive linemen.

Recruiting wrap: Virginia and West Virginia are two of the schools factoring into Cobbs' recruitment.
Performance: Cobbs is a versatile athlete who stars in multiple sports and on multiple sides of the ball but on Sunday it was his showing at wide receiver that impressed. He has a good build and impressive strength and he used it to bully smaller defensive backs. He's still raw as a route runner but is the type of athletic player that can blossom under the right coaching at the next level.
Recruiting wrap: Brown is committed to North Carolina.
Performance: Brown was one of the quickest and most electric players at the camp and did a great job of using his speed to his advantage. He continues to improve as a pass catcher and looked stronger than the last time we saw him and the combination of all that improvement made him a handful for defensive backs to handle.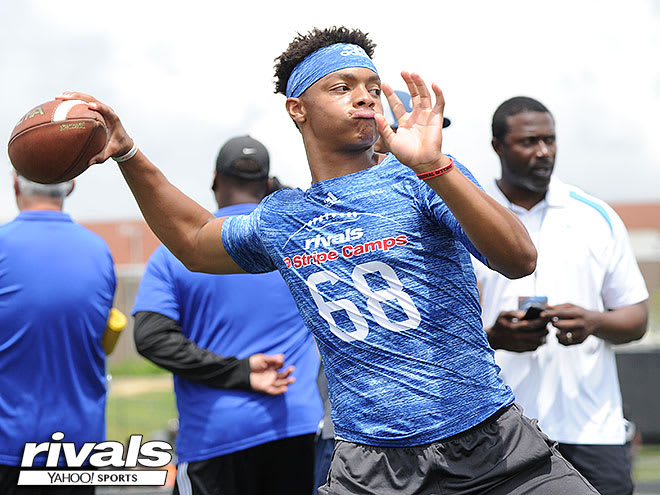 Recruiting wrap: Committed to Penn State, but still looking at Auburn, Florida, FSU and Georgia.
Performance: Fields was not 100 percent and there was a noticiable limp after he injured his ankle playing baseball Friday. Even with that injury, he shined. He skipped the agility drills due to the injury, but when the quarterbacks starting throwing, Fields stood out immediately. He showed the arm strength, the touch and he made it all look effortless.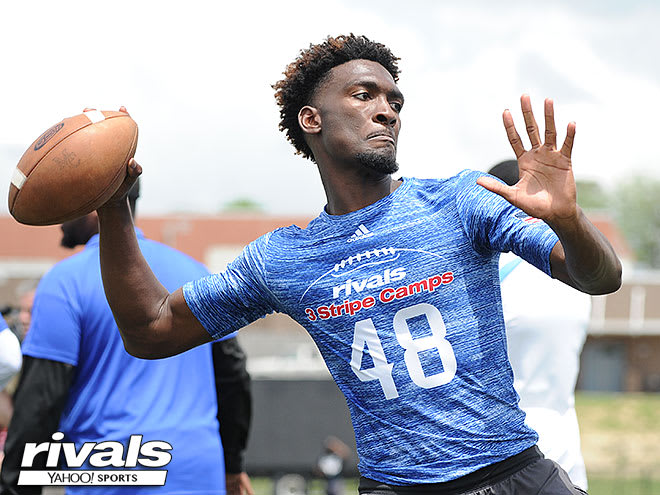 Recruiting wrap: Illinois is the only offer, but plenty of schools will be down this spring to evaluate Littlejohn.

Performance: Not every pass was perfect for Littlejohn, but he had many top throws. He threw numerous deep balls that were on the money and he tossed some nice quick outs as well. He really has matured as a passer and as the day went on, he threw the ball with more and more confidence. His ability to throw with touch really showed.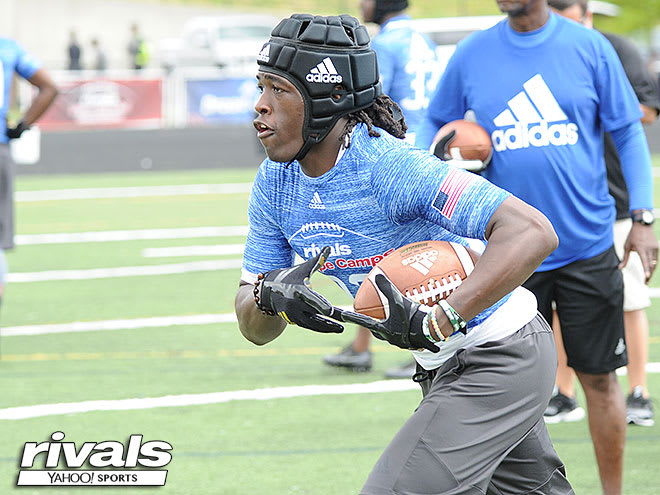 Recruiting wrap: Ole Miss, Tennessee, Florida, West Virginia and N.C. State make up Gregory's top five schools.
Performance: Gregory is Mr. Consistent when it comes to his showing at camps and after a tough start that saw him drop a couple of passes, he dialed in and improved. He took a ton of reps in both tackling and coverage 1-on-1's and showed impressive footwork and an ability to shake defensive backs in space. The offers keep rolling in for Gregory, so it wouldn't be surprising if schools continue to add to his list.