RCS Miami: Prospects that are now on the radar
Every Rivals Camp Series event brings great opportunities to those competitors to prove their skills against the best of the best. The camps not only allow the five- and four-star prospects a chance to shine but equally as important let under the radar talents show they can hang with the high-profile players.
Sunday in Fort Lauderdale provided a moment for those being overlooked to get on the radar, and they did not disappoint.
Ten prospects from RCS Miami were selected as emerging talents now on our radar.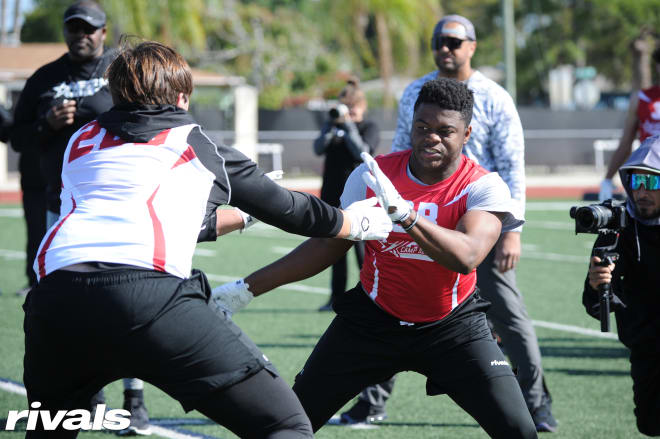 Talk about a full package in the works, that is what Marcelin brought to the field in Fort Lauderdale on Sunday. Off the snap, Marcelin does a great job of using his hands, getting into the chest of tackles, using a stab to knock them back or with full extension driving the lineman into the center of the pocket. Spin moves and rips, those are there, and being improved upon. As Marcelin develops in the weight room, he's going to be an unstoppable force as a weakside end for Miami's Belen Jesuit.
Along the recruiting trail, Marcelin is still an unknown with just six offers down. But of the six, Boston College, Pitt, Syracuse and USC are in the mix.
*****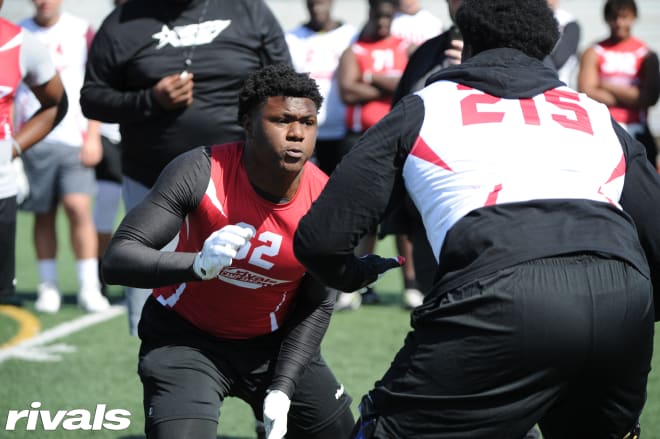 The Rivals Camp Series in Miami was loaded with class of 2023 and 2024 talents but there were a few true underclassmen in the mix that showed out and Blount was one of them. The get-off and athleticism are there for the defensive end. Ahead of the curve with his strength, there is still so much upside to Blount's game that will make him a prized recruit among his 2025 peers.
The Dillard High School prospect has landed 14 offers thus far coming from Texas A&M, Ohio State, Miami, Arkansas, Florida State and Georgia Tech. Blount's performance on Sunday showed that the recruiting attention is not hype.
*****  
Barrett's junior season laid out the foundation of things to come. Drilling in passes against 8A Florida teams for Naples Gulf Coast, the 2023 prospect went over 2,000 yards with 13 touchdown passes. Able to get it done in the pocket, he can also roll, rushing for 415 yards with nine more scores.
The arm strength and accuracy are there. What's gotten better seeing Barrett multiple times this offseason is his anticipation, which isn't easy to do at camps throwing to new receivers. The timing on intermediate passes into tight windows showed at the camp.
Teams are showing interest in Barrett with Middle Tennessee and Florida Atlantic giving an offer. Barrett is one of those guys college coaches need to see.
*****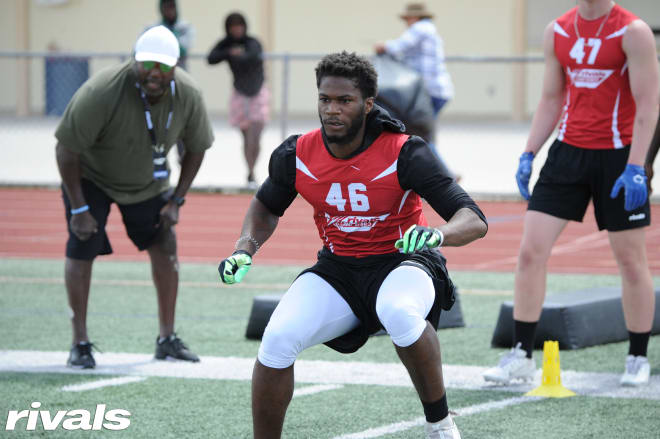 Pound for pound, Blue may have been the toughest competitor at the RCS in Miami. Playing on the outside for Lehigh High School, Blue showed his skills against the run and the pass earning positional MVP honors. The closing speed is elite.
Next level scouts may see Blue as a safety or nickelback, and we all know he can be an outside backer. Louisville and West Virginia are ready to take him and see where he fits once on campus.
*****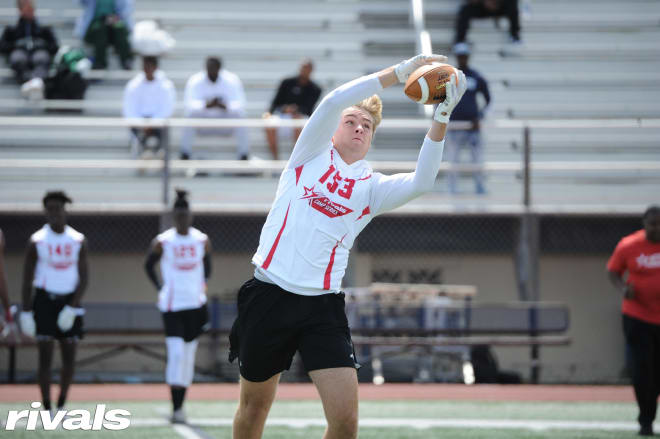 With so much talent on the St. Thomas Aquinas roster, and playing behind a four-star senior at tight end in Mason Taylor, it has been easy to overlook Strong. The Raiders used Strong on both sides of the line with time put in at defensive end. The way Strong overpowered defensive backs, giving big windows to quarterbacks at the camp with oven mitts for hands, this is a FBS caliber prospect that just needs the in-game reps to show it.
As under the radar as it gets, Strong hasn't landed an offer yet but has interest from Dartmouth. As spring practices ramp up at St. Thomas Aquinas, college coaches from all over the country will get to see him changing that overlooked status.
*****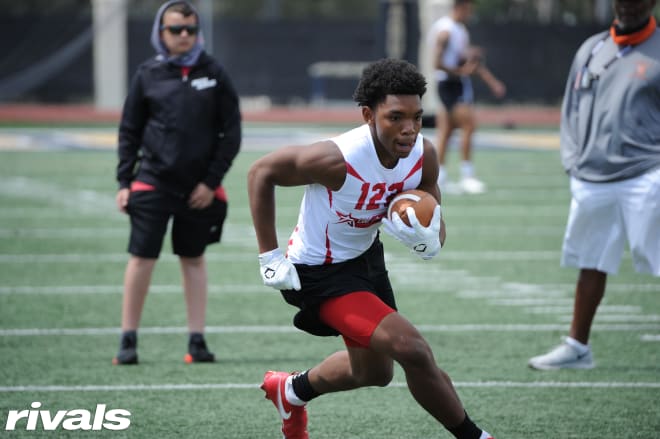 After winning a 4A state championship with Fort Lauderdale's Cardinal Gibbons, the rigors of Sunday's camp came in stride for Moulton. The 2023 back was a workhorse for the Chiefs in 2021 topping 1,000 yards with 18 scores. The offseason has been fruitful for Moulton adding more mass to his frame. The added strength and burst showed during individual drills and one-on-ones. The quick cuts were eye-catching. The camps served as a fair warning to Florida teams this fall.
Moulton's recruitment process has been a slow build. Toledo, Central Michigan, Appalachian State and Akron have offered. The lone P5 offer has come from Syracuse. Expect that to change in the coming months.
*****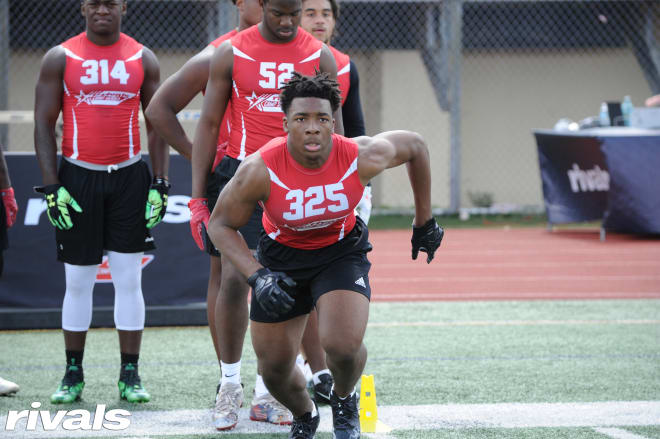 Get ready to learn the name Gavin Nix. The new IMG outside linebacker was in discussion for top linebacker honors even though he's still just a freshman. Nix was tough, physical and mentally on point with each rep. Covering running backs in one-on-ones, Nix was way ahead of his grade classification in skill and talent.
Offers from Miami and West Virginia have been handed over to Nix, who has the talent to be one of those 30-offer prospects.
*****  
Jones spent his junior season as a two-way player for Sumner High School in Riverview (Fla.) with most of his action at defensive end. College scouts may not have been able to see Jones' athleticism and great hands, but coaches, quarterbacks and helpless defensive backs did at the RCS in Fort Lauderdale. It seemed like every pass thrown to Jones was a clean connection, even with DBs hanging on his arms.
Iowa State and West Virginia are the two big programs outside the area that have dropped offers on Jones. Scouts will be able to see him on the field this fall with Tampa's Hillsborough High School.
*****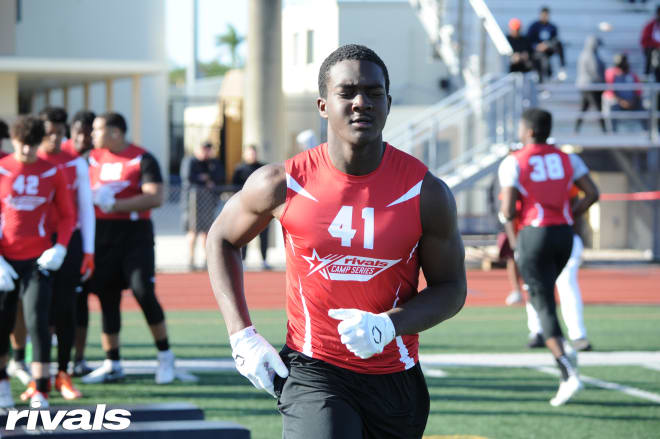 The Miami Norland standout did not disappoint going against top offensive tackles. The speed and bullrush are there with developing hand-fighting techniques making it easier to fly past linemen getting to the quarterback. When Marcelin puts it all together as his skill evolves, the sky is the limit for the 2024 recruit.
Still under the radar outside the Sunshine State, only Florida State and Miami have offered. As the camp season continues and teams get another look at him this fall, the offer sheet will pile up in a hurry.
*****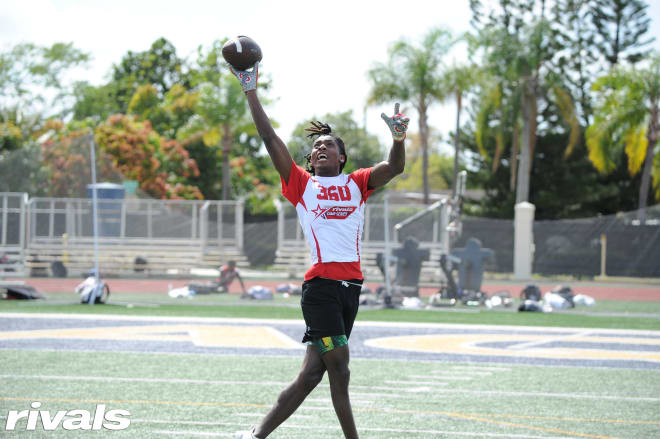 Taking on 7A Georgia defenses during the 2021 season, Wood balled on Sunday going against an overwhelming majority of Florida defensive backs. Running routes for Hoschton's (Ga.) Mill Creek, seven different receivers had double-digit receptions with the highest pass total being 31. Wood was second on the Hawks' roster in receiving yards (361) and touchdowns (four) off just 23 receptions. Speed, burst and route running made all in attendance notice Wood's talents.
Two offers are down for the 2023 talent, and more sure to come for the slot receiver that no one wanted to guard.