Standouts impress at the Rivals Combine Series in South Florida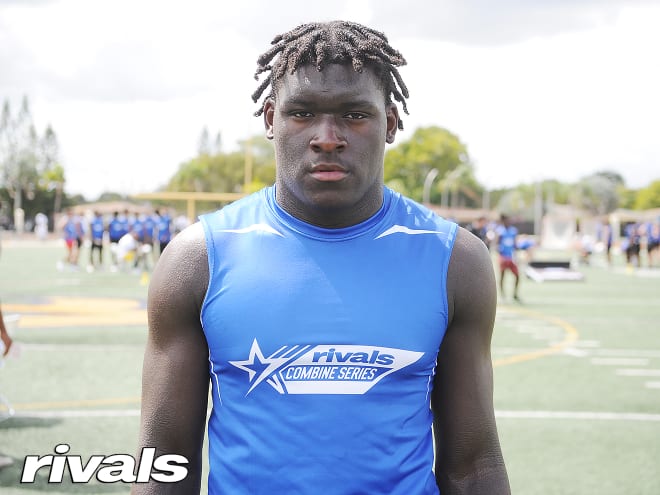 FORT LAUDERDALE, Fla. -- About 1,000 prospects showed up at the Rivals Combine Series Saturday at St. Thomas Aquinas High School to compete and for a shot to come back Sunday for the Rivals Camp Series. Among the selections for Sunday's camp were these 10 prospects that stood out during the day:
There are plenty of big name skill players that come out of Florida every year and Charles could be the next one up. The class of 2025 receiver measured in at 6-foot-3, 181-pounds and already sports an offer from Toledo. A few programs like South Florida and Florida Atlantic have been in contact but his recruitment has barely begun. Many more programs will come calling for Charles, who already runs a verified 4.8-second 40.
*****  
Blair is just a 2024 prospect so his recruitment is in its infancy but Army got the ball rolling in late January. He has relatives that served in the Army so the offer is significant to him. Look for Blair to make it to campus this summer. Virginia, East Carolina, Navy, and UCF have been in contact with him so far and Blair expects to camp at these and many other schools this spring and summer. Florida State is one camp he is really looking closely at.
*****  
Spilotro is just a freshman so his recruitment hasn't started yet but he will soon get a lot of attention. The 6-foot-3, 313-pound interior offensive lineman has gotten early interest from Delaware State and Cincinnati but that list will expand this offseason when he goes to college camps. Florida State should be getting him on campus for a camp later this summer. More programs that will host Spilotro but that is the only one he is planning right now.
*****  
Lawrence from Fleming Island was one of the biggest standouts out of the offensive linemen group on Saturday. The class of 2023 offensive tackle is a converted tight end and his athleticism was evident during the testing portion of the camp. Lawrence currently has offers from Florida Atlantic, Florida International, Georgia Southern and Massachusetts. Lawrence recently attended a junior day at South Florida and has been in contact with Florida State as well.
*****  
Williams was another standout from the lineman group, which produced multiple Rivals Camp Series invites from the combine. Williams plays offensive tackle at Fleming Island but likely projects as an interior lineman in college. He currently has offers from Georgia Southern, Tennessee-Martin and is hearing from a number of other programs. Look for him to be a tough matchup during 1-on-1s at tomorrow's camp.
*****  
Canadian prospects have been finding their way to Florida over the last few years and Blanc has a chance to be a really good player at the next level. The 2024 prospect measured in at 6-foot-2, 285-pounds and projects as an interior offensive lineman. Blanc moved south just last year after growing up in Montreal and playing hockey from ages four-16. So far Marshall and UAB have been showing interest in Blanc but more schools will be interested in him after this offseason. He wants to visit Miami, Florida, Florida State, Michigan, Wisconsin and the other in-state programs.
*****  
Alfonso impressed Saturday in Fort Lauderdale, leaving the combine with an invite to Sunday's camp. At 6-foot, 5-inches, 275-pounds, Alfonso showcased his athleticism and footwork with the national analysts watching. The recruitment process is just beginning for Alfonso.
*****  
The Tritons were an intimidating force in the trenches during the 2021 season thanks to the efforts of offensive linemen like Zeray. He has the size and versatility to play on the interior or outside projecting at guard in college. Georgia Southern was the first to offer Zeray.
*****  
An offensive tackle from the panhandle, Gilbert is just seeing his recruitment get started. He has done camps at Iowa and Eastern Illinois and received positive reviews. At 6-foot-5, 296-pounds, Gilbert is looking to get out on the recruiting trail this offseason. Expect him to do a Florida State camp in the next couple months. Cincinnati and South Florida have come by his school in the past and interest from both schools is expected to increase.
*****
Some colleges are already familiar with Turner-Allen but most haven't gotten a good look at the 6-foot-2, 210-pound prospect yet. Auburn, Pittsburgh, Florida State, Syracuse and Miami have shown interest in him. They've all come to his school already and more have said they'll stop by. Turner-Allen doesn't have any visits scheduled right now but he wants to visit LSU and Cincinnati. LSU might have a leg up on the competition if they offer. Turner-Allen loved watching LSU highlights on YouTube when he was growing up.