Rivals Camp Series Miami: The Friedman Awards
FORT LAUDERDALE, Fla. – The second stop of the Rivals Camp Series was Sunday at St. Thomas Aquinas High School and plenty of top prospects were in attendance. Here's a recap of some of the top performers at the event in award-show fashion.
MORE RCS MIAMI: MVP awards | Combine showcase
Bodyguard: Payton Kirkland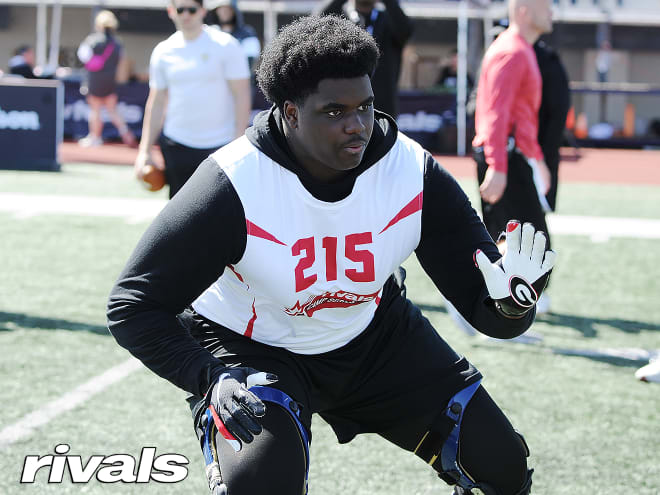 Kirkland is a mountain of a prospect and reports that he's dropped significant bad weight appeared true. He physically dominated the defensive linemen he faced and lost no more than one rep during 1-on-1s. Kirkland didn't struggle to get off the line at the snap and was quick to get into his pass set. From there, it was great to see how patient he was as a pass blocker and how he timed up his punches.
For how big Kirkland is, it's hard for him to play with proper leverage but he did a decent job in that area. Only one defensive end was able to have any success using an inside counter off of an outside speed rush, challenging Kirkland's lateral quickness. This is an area Kirkland will be tested in time and time again.
*****
Mr. Consistent: Winston Watkins
At the end of the camp there were more than three players that could have easily been named receiver MVP. Watkins was one of the finalists after putting on a show. The freshman that's already announced a commitment to Texas A&M measured in slightly over 5-foot-8 and just under 170 pounds.
Watkins had no trouble creating separation between him and the defensive back using a combination of route-running techniques along with his impressive overall speed and quickness. A receiver doesn't win this award if he lets the ball hit the ground and Watkins made sure that didn't happen.
*****
Physical specimen: Derrick Leblanc
It's hard to find many defensive linemen that look like LeBlanc in any given class. At check-in, the four-star defensive end measured in at just under 6-foot-5 and 271 pounds with an 83-inch wingspan. His strength combined with that frame and his overall athleticism for that size makes him a physical mismatch over almost all of the offensive linemen he'll face before he gets to the college level.
During drills, LeBlanc showed he understands various pass-rushing techniques and he ended up having plenty of success in 1-on-1s but it doesn't appear he is overly comfortable going to a countermove when necessary. He routinely won reps using his first move but this is an area to watch for him.
*****
Brick Wall: Eddy Pierre-Louis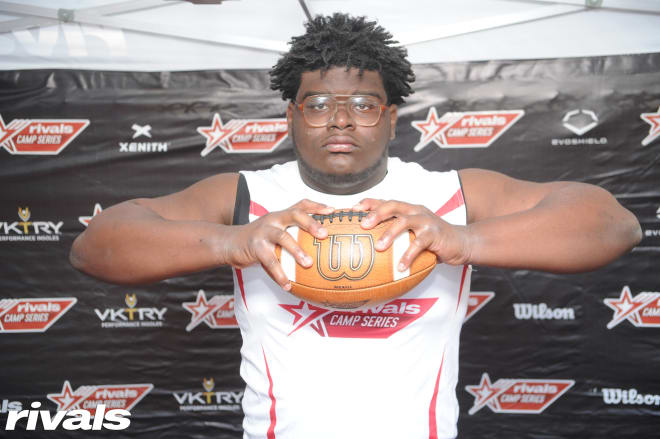 There is a reason Pierre-Louis is in the first Rivals250 for the 2024 class and he backed up that ranking with his performance. Arriving at 6-foot-3, 337 pounds, Pierre-Louis knew how to throw his weight around effectively and use his strong hands to his advantage. He did a great job sliding to stay in front of the defensive lineman and knew how to effectively reset his hands as his opponent tried countermoves.
Pierre-Louis also seemed to play with the aggressive attitude college offensive line coaches love to see out of their players.
*****
Fancy feet: Ja'Vin Simpkins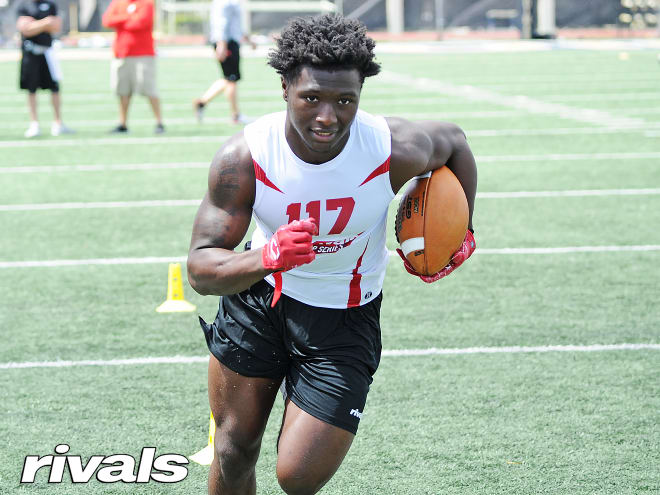 The entire running back group was very talented and very deep on Sunday. Simpkins beat some other big names for the MVP award but he won his reps in 1-on-1s more often and in more dominant fashion than the other backs.
Not only did Simpkins beat linebackers on deep routes down the seam, he routinely won on short, crossing, out, post and corner routes. His advanced footwork and route-running savvy made creating separation easy and gave quarterbacks big windows in which to throw the ball.
*****
Mr. Confidence: Stacy Gage
One of the highest-ranked players in the 2024 class, Gage showed up with a target on his back. The top 15 prospect competed hard in the drills portion of the camp and took a lot of 1-on-1 reps. It was easy to see why he is such a coveted prospect while watching him run through drills.
At 5-foot-10 and 211 pounds, Gage was a tough assignment for linebackers and, after the play was over, he let them know just how good he is on more than one occasion.
*****
Raised stock: Terrell James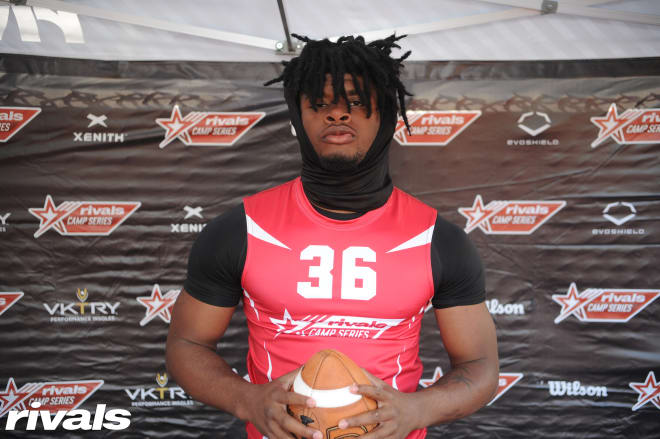 Six-foot-2 isn't short for a defensive end but don't judge James strictly by that one measurement. Just a low three-star right now, James played like a much stronger, physically imposing end. He has a good sense of leverage and knew how to put that to use with his 77-inch wingspan.
James showcased various pass-rushing techniques using his long arms and an aggressive, almost relentless style. With plenty of room left to add solid mass to his frame, it wouldn't be surprising to see more offers come his way, especially once he competes in more college camps.
*****
Tough guy: Fred Gaskin
A dynamic safety from Ocala, Gaskin was a very serious contender for the defensive back MVP award. The 5-foot-10, 188-pound Gaskin has a very solid build but still appeared to have the ability to turn and run with even the fastest receivers on the field. He had no problem knocking receivers off their route or getting physical when trying to knock the pass down.
Gaskin even pulled in a very impressive diving interception toward the sideline. Unfortunately, Gaskin rolled his ankle a couple minutes after that pick. He tried to continue but wasn't able to and ended up missing more than half of the 1-on-1 session.
*****
Future phenom: Armondo Blount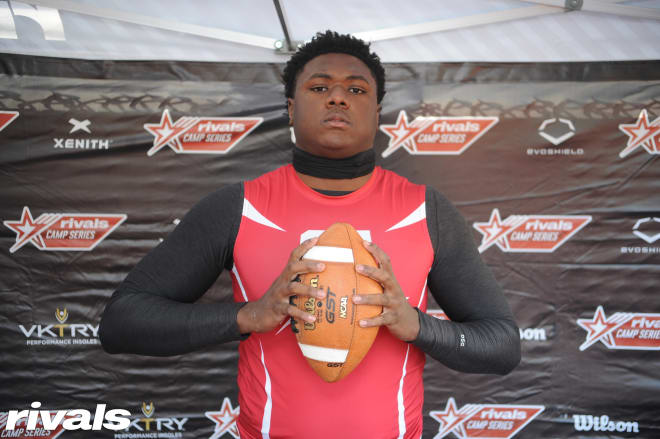 Class of 2022 five-star defensive end Shemar Stewart, who was on hand Sunday, was one of the best defensive linemen at his first Rivals Camp when he was a freshman and Blount did the same thing with Stewart looking on. Already 6-foot-3 and 246 pounds, Blount played much stronger than expected for a freshman.
He was able to push around multiple upperclass offensive linemen but what was more impressive was his overall speed and agility at this stage of his development. Blount will likely grow into a defensive tackle but it's no wonder why so many powerhouse programs have offered him already.
*****
Young gun: Zander Smith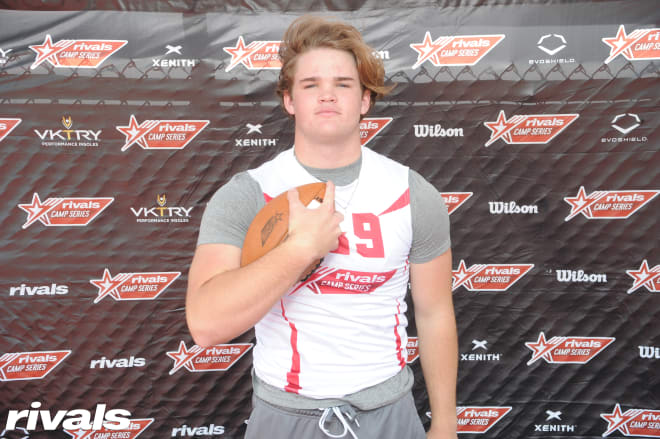 The quarterback field of the Los Angeles Rivals Camp was hard to follow but the signal callers in Florida did not disappoint. Smith is a really promising prospect with a big arm and solid mechanics for his age.
Just a 2025 prospect, he has plenty of time to hone his timing and consistent accuracy. Smith doesn't have an offer yet but they're sure to come this calendar year if he keeps playing like he did Sunday.