RCS Houston survey: Prospects weigh in on Texas-Texas A&M rivalry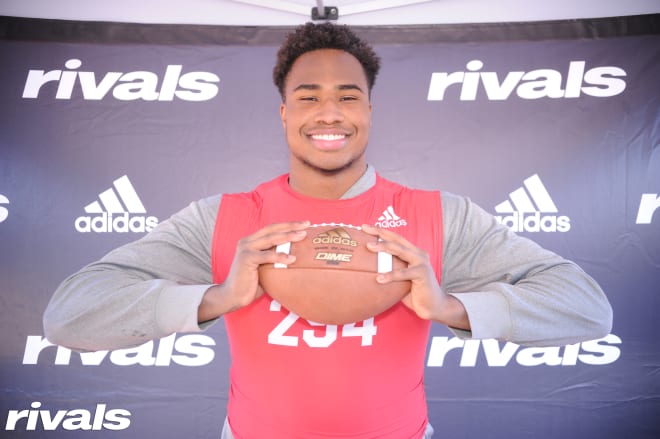 MORE RCS HOUSTON: Teams that should be pleased | Players who earned their stripes | The Spiegelman Awards | Thoughts from the sidelines
The Texas-Texas A&M rivalry has been on ice since the Aggies left the Big 12 in 2012, leaving what was once one of the longest-running yearly games dormant. Rumors and reports continue to emerge that the teams may once again resume the rivalry, assuming it can work with non-conference scheduling. While it's unlikely the two teams will play anytime soon, the topic is still heavily debated. At this weekend's Houston stop of the Rivals 3 Stripe Camp Series presented by adidas, we surveyed several top recruits to get their thoughts on rivalry.
Do you think the two teams should resume their rivalry on a yearly basis?
"Yeah, I think they should be playing every year. I think it would be a good rivalry and it would settle some things because there's a lot of beef going on. I feel like if they play one side -- either Texas or Texas A&M -- will keep their mouth shut." -- Rivals250 Texas A&M offensive line commit Smart Chibuzo
"Yeah, they need to because they always are arguing about who is better and who is stealing each other's recruits, so they need to go ahead and play already and settle it on the field instead of going back and forth on Twitter." -- 2022 offensive tackle Kameron Dewberry
"Yes, that's a fact. I wanna see them go at it. Texas vs. Texas A&M -- that would be a good game." -- Rivals100 defensive end Vernon Broughton
"I've been waiting for that. Someone told me that Texas A&M declined it and didn't want to do it, but that would be fun." -- Four-star defensive end Princely Umanmielen
"That's a good rivalry there. We'll see who the big, bad team in Texas really is. Both schools, they're getting the best recruits everywhere, so I'd like to see how they do battling it out head to head." -- Rivals100 defensive back Bryson Washington
"There's just too much beef between their players, so yes I'd like to see them play." -- Five-star running back Zach Evans
"It should be coming back. Each team still jaws with each other on Twitter all the time, so this game is still a rivalry." -- Four-star wide receiver Devin Price
"Oh yeah. I think a lot of people would love to see that." -- Three-star athlete Christian Lee
What would it mean to the state of Texas to have the yearly game back? 
"Everybody would come out for that game. It wouldn't matter if was at Texas or Texas A&M. Everyone would be at that game. " -- Dewberry
"I don't even think they have a big enough stadium. I believe there would be so many people wanting to go it would be the biggest game in history. Probably too big for even the NFL stadiums. Texas A&M has over 100,000 people per game, Texas, likewise, so that's too big or an NFL stadium." -- Chibuzo
"A lot of the great athletes in this state either go to Texas or Texas A&M, so whoever won that game would show who the big dog is in the state." -- 2020 wide receiver Thomas Meadough
"It would be a big for the state. The players want it. It is a big rival. The state is divided with fans, so it would be great to see one school take it over for a year." -- Price
"For me, it is a state pride thing and it never should have been changed." -- 2020 offensive lineman Paula Vaipulu
"It would mean a lot. It would be bragging rights for a full year." -- Three-star athlete Josh Eaton
What would the game coming back mean to recruiting?
"I feel like no matter where it was, every recruit would want to be there. People would be using their official visits. It would be big for recruiting." -- Lee
"I don't think the result would decide where somebody would go but I think it would have an impact on the recruiting based on who out coaches who." -- Dewberry
"I think it would boost both teams recruiting wise because it would be a packed and interesting game. Like the LSU game boosted recruiting for both schools because you don't usually see stuff like a 7 OT game. I think that made people look harder at those schools because it was a great game." -- Chibuzo
"It would probably change a lot of recruit's minds. It would be an SEC school vs. a Big 12 school and it could be a factor." -- Eaton
"It could play a little part in recruiting for whoever wins and loses, but I don't think it would have too big of an impact on the recruiting process for most." -- Coleman
"I don't think this game would really impact recruiting. If was a big blowout, it could a little, but I really don't think it would matter." -- 2021 offensive lineman Hayden Conner
If they were to play in 2019, which team do you think would win? 
"Texas A&M for sure." -- Lee
"Texas A&M. They have a strong 2019 class coming in so I give them the edge." -- Dewberry
"I have to go with Texas. Texas is more physical than A&M right now." -- Coleman
"I am a Jimbo Fisher-type of dude, so I have to go with A&M." -- Three-star wide receiver Jalen Paxton
"Texas A&M no doubt." -- Chibuzo
"I can't answer this one. I am going to dodge this one. They are both very good teams." -- Conner
"If they played this coming fall, I would say Texas because of their defense." -- Meadough
"Texas." -- Eaton