Rivals Camp Series Houston: Thoughts from the sidelines
CHAD SIMMONS, SOUTHEAST RECRUITING ANALYST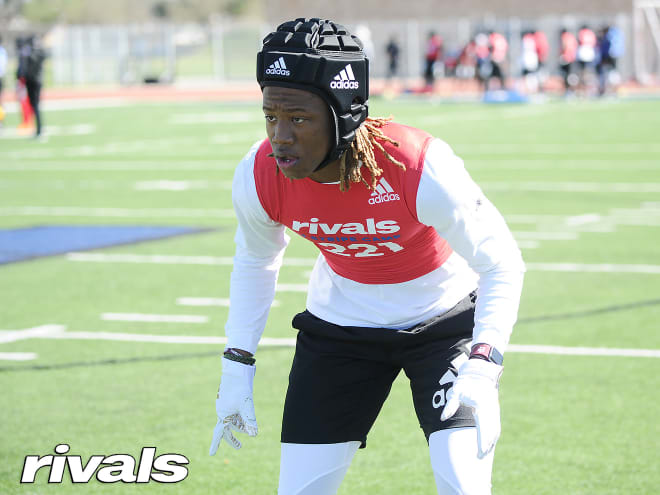 Where were the quarterbacks? When I think Texas quarterbacks, I think Matthew Stafford, Drew Brees and Vince Young, but the talent at quarterback in terms of Power 5 talent was weak this camp in Houston. This is really nothing new I guess. There has only been one quarterback in the last three cycles to be a top 30 prospect in Texas, and that was Spencer Sanders in 2018, who signed with Oklahoma State, and he was No. 30 in those rankings.
It seems the quarterback position is somewhat down in the Lone Star State. Malik Hornsby was the highest ranked quarterback Sunday and he did not get there until there was less than an hour to go before the camp ended. There was some good passers there and I liked Jalen Milroe, a 2021 signal caller out of Katy Thompkins, but the overall talent was not strong at this position. I was a little surprised by that.
I became a big fan of Jaylon Jones. The Texas A&M commit is a Rivals100 cornerback and he looked every bit of that Sunday. From the start to finish, Jones was putting on a show. He looked good in drills early, even shining on offense a time or two before shutting receivers down in the one-on-one session.
What stood out most about Jones between the lines was how he was always under control. He is a long corner, thicker than I expected and he moved effortlessly in coverage. He was smooth in his back pedal, he transitioned well and he stayed on the hip of receivers all day.
At the end of the event when he was accepting the MVP award for defensive backs, I noticed his watch as well. He had a Texas A&M band on his watch. He is solid to the Aggies and he is proud to let people know it. Jimbo Fisher and the entire staff in College State have to be very excited about this one.
The love for Texas and Texas A&M was strong. Regardless of who I spoke with throughout the event, the love for the Longhorns and Aggies was there. Many prospects had the offers, some didn't, but those in-state players feel Tom Herman and Fisher have their programs competing at a very high level right now.
Many A&M targets talked about the toughness Fisher has brought to College Station and how it was needed for the program to get back where it should be. When talking about Texas, it was about the energy Herman has brought compared to what was there before under Charlie Strong.
What was clear from the first to the last prospect I spoke with Sunday, was how the expectations are now high once again for the programs in Austin and College Station. The players want that in-state rival game back because of what that game could mean in College Football Playoff implications in the future. There is a lot of love for what the coaches are doing in each location.
SAM SPIEGELMAN, TEXAS, LOUISIANA RECRUITING ANALYST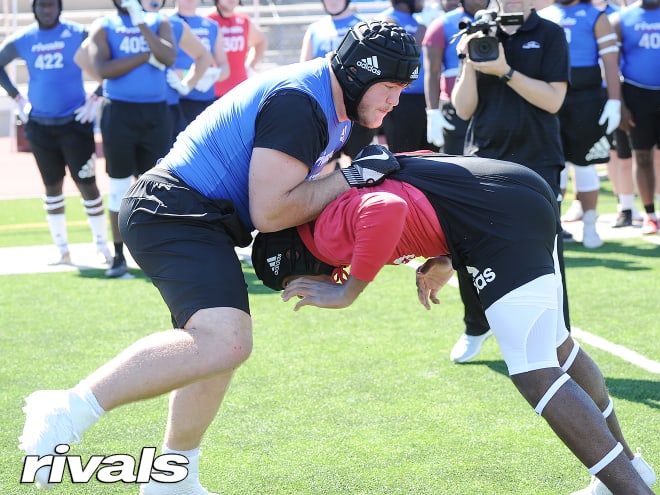 Red River Recruiting Rivalry is as hot as ever. Texas and Oklahoma is a timeless tradition in college football, and it's growing more and more prevalent in the Lone Star State with prominent young head football coaches leading the way at each university.

Herman is putting a serious dent on the state in 2020. He holds early commitments from three of Texas' top offensive linemen, the state's top quarterback Hudson Card and is putting the Longhorns in striking distance with nationally ranked prospects such as Zach Evans, Troy Omeire, Bryson Washington, Xavion Alford, Princely Umanmielen and Vernon Broughton, among others, who were all in attendance on Sunday.

It should come as no surprise that the Sooners are in the thick of it for all of those players as well, and almost every prospect mentioned both Big 12 powers in the driver's seat of their recruitments during interviews. The Longhorns seem to have a strong grip on a number of the highly ranked prospects that remain uncommitted, but the Sooners are pushing hard enough to remain in the forefront.

It'll likely come down to whether Herman can close with these elite players or if Lincoln Riley can lure these prospects on campus and pull even players from the neighboring state. Texas and Oklahoma gave us a classic in the Red River Rivalry game this season and again in the Big 12 Championship Game. Expect some more fireworks on the recruiting trail as we lead into the Early Signing Period and National Signing Day.
Zach Evans doesn't want to keep anyone guessing. The nation's top-ranked running back is explosive, powerful and elusive. He's also extremely tight-lipped. Texas' momentum on the recruiting trail -- particularly along the offensive line -- has led to many reading into the blues that Evans will be toting the rock at The Forty Acres next year.
Where's Lee Corso -- not so fast! Evans was adamant that he's considering Texas, but he's absolutely nowhere close to naming a leader at this point. In fact, he added that he's open to even more schools -- if they're willing to offer him. That's certainly a read-between-the-lines sort of situation.
In regards of Evans' recruitment, it's open game. He's visited Tennessee, Texas A&M, Georgia, LSU and Texas in recent months, and it's hard to discount any of those SEC teams -- or Texas -- at this point. Whether he's leaning in one direction or another, the five-star back's recruitment seems destined for peaks and valleys through next February.
The 2021 meat market is legit. The battle in the trenches was largely won by a trio of offensive linemen from the same neck of the woods outside of Houston -- and they're all in the same class.In fact, two of these blindside protectors hail from the same high school. The Class of 2021 trio of Hayden Conner, Bryce Foster and Donovan Jackson shined brightest and all seem primed to be nationally ranked offensive tackles when Rivals unveils its first crack of next year's recruiting class rankings.
Conner impressed with brute strength. Foster was equally as physical and even more consistent. Jackson was technically sound and light on his feet. All three are coveted by the (local) big three of Texas, Texas A&M and Oklahoma, with some outside forces like LSU, Alabama, Georgia, Ohio State, Stanford, Nebraska and Michigan all making a push. If you want offensive linemen, look no further than Texas because the stock is at an all-time high.
WOODY WOMMACK, SOUTHEAST RECRUITING ANALYST
Since Sam and Chad had so many thoughts, I'll keep mine short and sweet. I continue to wonder why some schools in Texas are slow to offer prospects that clearly have FBS talent, especially along the offensive and defensive line. After taking in Sunday's camp, I once again feel that way. Here are four guys who really impressed me and I think deserve more attention from college coaches, especially considering they have a combined zero offers among them.
Clinton Anokwuru -- Listed as a tight end on the roster, Anokwuru played and thrived at defensive end.
Austin Woods -- A multi-sport athlete in the middle of his baseball season, Woods stepped in and impressed.
Joseph Mason -- A quick edge rusher, Mason plays off the radar in Shreveport, La., but should garner more interest with his speed and athleticism.
Nick Booker-Brown -- A 6-foot-4 250-pound defensive lineman with a great motor? What are schools waiting on? Bonner-Brown has impressed in back-to-back years in Houston and is still waiting on his first offer.