Mind of Mike: Looking at the National Signing Day aftermath
BIG DOG DECIDES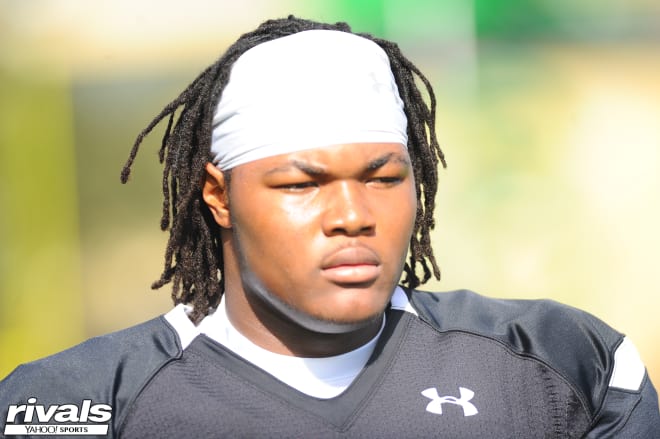 I fielded more questions about Rashan Gary over the last week than any other topic or prospect, and it's finally over. The nation's No. 1 overall player chose long-time favorite Michigan over a late and very strong run from Clemson. He becomes the first No. 1 overall player to choose Michigan in the Rivals.com era, and just the second to head to the Big Ten (Terrelle Pryor to Ohio State in 2008). After missing out on Da'Shawn Hand, the No. 1 player in 2014, to Alabama this was a must-get finish for Jim Harbaugh and his staff. Great job by Gary's former high school coach, Chris Partridge, who is now an on field coach for the Wolverines and also coached Michigan star Jabrill Peppers in high school.
THE NEXT BEST BIG DOG
JUCO freak defensive end Jonathan Kongbo was expected to be embroiled in drama on Signing Day with his father wanting Ole Miss and Jonathan first preferring Tennessee and then FSU. But that drama, almost played out longer, came to an abrupt end in the early afternoon when a letter came through to the Vols. Kongbo is much more raw than Gary at this stage even though he's older but he just started playing football his senior year of high school and is just scratching the surface of his potential. Gary is more of a sure thing, but Kongbo's ceiling could be higher.
TEAM MUSINGS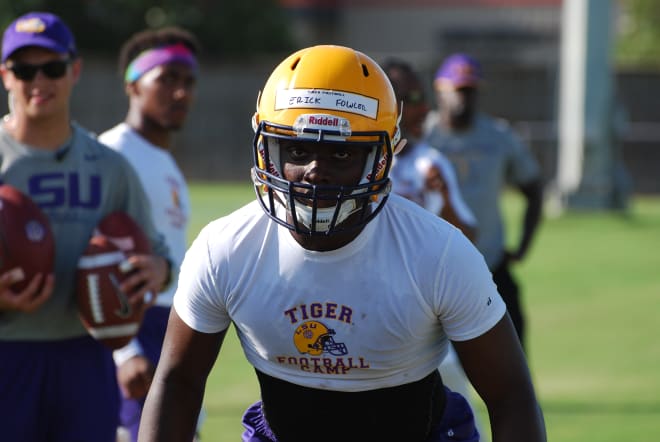 I said Alabama would win the recruiting title for the seventh time in nine years and that was indeed the case, but I also said Florida State had a chance to take the crown as well and both were winners on National Signing Day. The Crimson Tide finished with five different five-stars, three of them falling to them on Signing Day, while the Seminoles hurt Florida twice by stealing away DT Shavar Manuel and landing DE Brian Burns, who was considered a Gators lean.
Ohio State and Michigan both landed in the top five and this was probably the calmest Signing Day ever for Urban Meyer, who was done by 10:30 a.m. Meyer did take a shot at Harbaugh as well here and there in regards to climbing trees and sleepovers. This rivalry is much more fun when the two head coaches take swipes at each other.
Texas had a day, huh? And more importantly, Charlie Strong closed with more kids from the Longhorns recruiting areas than last year's Florida haul. They didn't finish in the top 10, but finished inside the top 15, so I was wrong about that. Finishing with guys like Erick Fowler, Brandon Jones, Jeffrey McCulloch and Chris Daniels will make them a better defensive team while adding some much-needed speed on offense.
LSU took it on the chin a couple of times, losing out on long-time commitment Fowler and getting beat for CB Trayvon Mullen by Clemson, who finished ahead of them, but it's still a great class for Les Miles who is under heavy fire.
Ole Miss continues to baffle, annoy and out-recruit many and closed strong although losing Jeffrey Simmons, a five star DE, to in-state rival Mississippi State stung a bit.
UCLA didn't finish as strong as I expected but still put together a great class and one that will be key if they ever want to make a run at the Pac-12.
Auburn and Georgia duked it out for many prospects and Auburn signed the best defensive line class in the country while Georgia closed on a few key skill guys including Mecole Hardman Jr. I expected UGA to push up a bit more, so their close wasn't as spectacular as I would have liked, but it's a very good class in a transition year.
Notre Dame did well despite few fireworks down the stretch and if they call pull in Demetris Robertson, it will surge into the top 10 eventually. But Robertson, who didn't sign on Wednesday, could also boost UGA's class or perhaps push 'Bama ahead even further.
USC closed strong in the Southeast which is odd, but also something it can build on as their reputation in California is unquestioned but now they can do some Pete Carroll stuff and spot recruit nationally. Keyshawn Young, Jamel Cook and E.J. Price highlighted the late signees from the Southeast. Landing Connor Murphy was very important, as was stealing away Vavae Malepeai from Oregon. Keeping ATH Jack Jones at home was key as well.
Sooners fans were a bit disappointed they missed out on some key guys but landing five-star linebacker Caleb Kelly to end the day certainly helped ease any pain and finished off a solid class.
BIGGEST SHOTS FIRED
In addition to Meyer's references, which were honestly very stale and not filled with venom at all, Arkansas coach Bret Bielema didn't disappoint on national television saying "Florida is kind of the new Ole Miss. They're doing some things recruiting that kind of shocks you a little bit." With all the attention being paid to the infractions at Ole Miss and the elephant in the room being how Ole Miss is recruiting above its results, this seemed to clearly be a shot at the Rebels while lumping the Gators in there as well. Bielema called up Jim McElwain and Hugh Freeze to apologize and explain, saying he was complimenting them, but he's put his foot in his mouth so many times, you know that's not true. Once again, he can't get out of his own way.
SURPRISING US ALL
DE Jeffrey Simmons was supposed to pick between Ole Miss and Alabama, so what did the five-star do? He stayed in-state alright, but it was at Mississippi State instead. Amazing job by Dan Mullen on this one.
DE Brian Burns was projected to go to Florida by many, myself included, but picked FSU in a small stunner. Although many felt in the 24 hours leading up it could be the 'Noles, it's still a great recruiting job.
CB Trayvon Mullen was considered an FSU lock for a long time but then became an LSU lean before he became a Clemson commitment on Signing Day.
OL EJ Price, a one-time Georgia commitment, was thought to be re-committing to the Bulldogs or head to Auburn but he stunned many when he picked the USC Trojans. Didn't see that one coming.
DE Karamo Dioubate decided to stay home and play for Temple rather than go off to the SEC with the Gamecocks, a sign of the times for sure. Temple is a real-deal program under Matt Rhule and the Rivals250 prospect saw a chance to win locally rather than head off to the re-building job in Columbia.
ROUGH FINISHES
Both Florida and Penn State had some tough luck down the stretch and especially on Signing Day. The Gators lost Aaron Robinson and Shavar Manuel and dropped out of the top 10. Meanwhile, Penn State lost Andrew Pryts as one of a few kids who flipped in the days and weeks leading up to the big day. Penn State, which at one point this summer had a top five class, finishes the cycle down near the bottom of the top 25.
Iowa didn't really take advantage of their great season. Michigan State started the day in the top 10 but fell as many teams passed them and Oregon had a down year overall.
BEST RIVALRY
The battle between Meyer and Harbaugh is going to be simply epic. Usually the attention is paid to Southeast recruiting battles like Auburn-Alabama or Georgia-Florida or in Texas between the Longhorns and Aggies and Sooners, but Ohio State and Michigan will be the one to watch moving forward. Both programs had terrific recruiting classes this year and it will only get more intense as they have more head-to-head matchups. And with Harbaugh's subtweeting and Meyer's unrivaled ability to close, we can sit back with the popcorn and watch.
I get the feeling Kirby Smart and Georgia are going to be butting heads with Gus Malzahn and Auburn as they try to keep the Tigers out of their state, so that's another new one to keep an eye on.
TOUGH LOSSES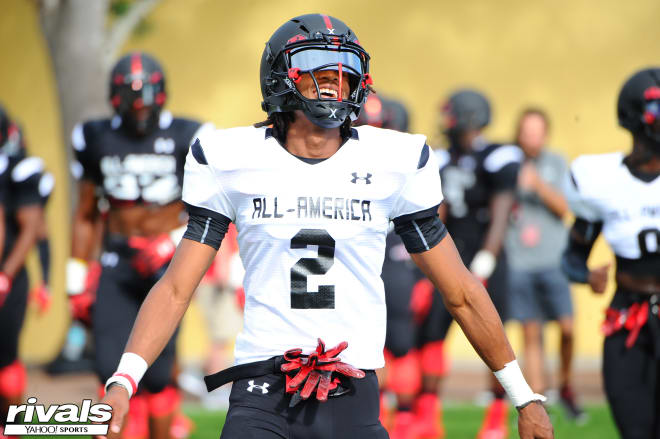 CB Trayvon Mullen – Clemson – Many signs pointed to LSU, who prides itself as DBU, in this one but Clemson went into Florida again and took a kid out many expected to go elsewhere. This hurts LSU a bit.
LB Erick Fowler – Flipped from LSU to Texas - Another huge loss for LSU here as Texas reels in a local flip and a kid who will be a monster for the Longhorns down the line.
WR Tyrie Cleveland – Flipped from Houston to Florida – Tom Herman needed this kid. We all knew he was likely to flip, but that doesn't make it hurt any less.
S Brandon Jones – Texas – The Aggies had led, at least in the minds of many, for a long time here, but started to fade when all the Kyler Murray stuff started. To lose him to Texas stings a bit.
DE Jeffrey Simmons and DE Jonathan Kongbo – Mississippi State and Tennessee respectively – Ole Miss wanted an elite pass-rusher in this class, a five-star talent who could come off the edge but eventually move inside a la Robert Nkemdiche. Whiffing on both of these guys when they had the lead at one point hurts.
LB Dontavious Jackson – Florida State – You can't win them all and the Longhorns won plenty, but adding Jackson to Malik Jefferson from last year and Fowler this year would have been big. At least he was lost to a program out of conference that doesn't recruit Texas that often.
S Jamel Cook – USC – We don't have Cook ranked as high as others because there's a big boom or bust factor, but his ceiling is high and FSU losing him late like this is a gut shot. It doesn't matter that he became a package deal with his friend -- FSU wanted him badly.
WR Nate Craig-Myers – Auburn – North Carolina did everything it could to land the four-star wide receiver and showed him how much more wideouts are used in its offense and it still didn't work. Auburn, which has a serious quarterback problem, sold him on being Sammie Coates and that's what it took.
DE Terrell Hall – Alabama – Maryland got raided again, but there was a ray of hope for a little while with Hall, a local standout who liked the Under Armour connection and all of that. But beating 'Bama off on a kid the Tide want? It doesn't happen often.
DT Derrick Brown – Auburn – UGA is okay at defensive tackle with Trenton Thompson coming off a fine freshman year and Tyler Clark, Julian Rochester and Michail Carter in this year's class, but Brown is an elite talent and an in-state kid they just don't want to see headed to recruiting rival Auburn. They threw everything they had at him and came up short.
LB Aaron Hansford and TE Devin Asiasi – Texas A&M and Michigan respectively – UCLA had both of them and lost them. Both prospects had UCLA as their favorite heading into the home stretch with Asiasi nearly a lock as of Sunday and Hansford leaning that way heavily. This was a big part of UCLA not closing as well as I expected.
DT Rashan Gary – Michigan – Clemson isn't hurting for talent and they have Dexter Lawrence, the No. 2 player in the country, but you know how badly Dabo Swinney and defensive coordinator Brent Venables wanted this kid to dominate in the middle for at least the next three years. Imagine Christian Wilkins with these two? You know the coaches imagined it.
INSTANT IMPACTS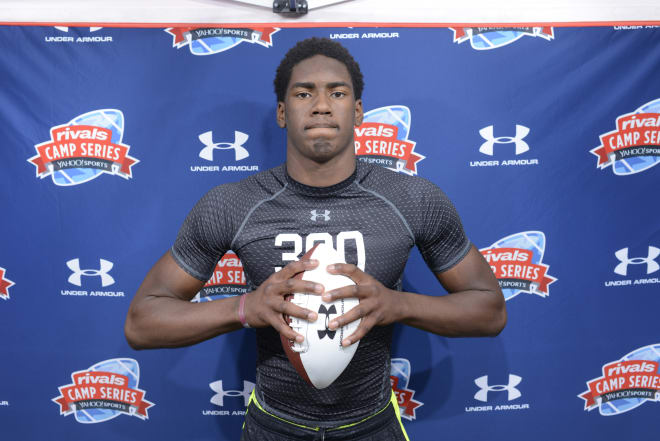 Here are the guys that can make an early impact among those who made their decision at the last moment:
DE Brian Burns – Florida State – Burns can play some hybrid defensive end/linebacker and comes off the edge very well, so he could be a specialist as a pass rusher early.
ATH Mecole Hardman – Georgia – His best position is slot receiver and he and Terry Godwin will give SEC defenses some fits next season.
LB Erick Fowler – Texas – Big, physical and ready to play a role whether it's as a standup linebacker or a pass rushing specialist off the edge. He could grow into a full-time DE.
WR Nate Craig-Myers – Auburn – The Tigers need skill position help, they need big targets for inaccurate quarterbacks and Craig-Myers is a guy who fits the bill. He needs to get a bit more sudden, but he will move the chains.
DT Rashan Gary – Michigan – He will play from day one, he will impact by the middle of his freshman season and he will dominate by year two.
LB Mique Juarez – UCLA – The Bruins need a thumper like Juarez who is also a great athlete and don't be surprised if he does some offensive work at running back, a la Myles Jack.
DT Derrick Brown – Auburn – He's 325 pounds and ready to roll as he can push the pocket immediately and has light feet to keep his balance. He will be suiting up early along with a few others in this class along the line even with the depth Auburn has.
WR AJ Brown – Ole Miss – He's more college ready than DeKaylin Metcalf in my eyes and has the size and hands that will allow him to make up for some of those catches lost by losing Laquon Treadwell.
DE Jonathan Kongbo – Tennessee – He doesn't know what he's doing just yet but he's too big and athletic to stay off the field and once he gets into a groove he will be hard to stop, especially with those defensive tackles and having Derek Barnett to teach him.
ATH Jack Jones – USC – He's going to see time on special teams somehow even with Adoree' Jackson there and he will see time on defense. He's just too good and naturally instinctive to sit. He and Iman Marshall could form the best 1-2 punch at cornerback in the Pac-12 before too long.
CB Trayvon Mullen – Clemson – Mackenzie Alexander is gone, but Mullen is a long-limbed guy with speed that Venables will get on the field ealy and he can learn from Cordrea Tankersley.
S Nigel Warrior – Tennessee – The Vols could use some dynamic athleticism at safety and he could be the guy to provide it for them. He's smart, always in position and a legacy, so you know the fans will want to see him play as well.
S Brandon Jones – Texas – Texas played a ton of freshmen last year and Jones will be one of the next wave. The secondary was victimized often and the safeties aren't exactly all-stars, so Jones is physical enough and big enough to at least play some nickel.
LB Caleb Kelly – Oklahoma – Kelly has the size and athleticism to make an immediate impact even on a playoff team and he could be the next California product to have a great career in Norman.