Mind of Mike: Day 3 thoughts from UA All-America practice
FIVE-STAR BURCH UP AND DOWN
Another impressive day for the defensive linemen, but an up and down day for South Carolina commit Jordan Burch. Burch looked very good in the team session highlighted by a great play where he crushed the ball carrier running the play down from the backside. However, in one on ones he struggled again as he doesn't have a big array of moves and his technique is a bit off. He's a freaky athlete but he's very up and down.
CARTER MAKES HIS MARK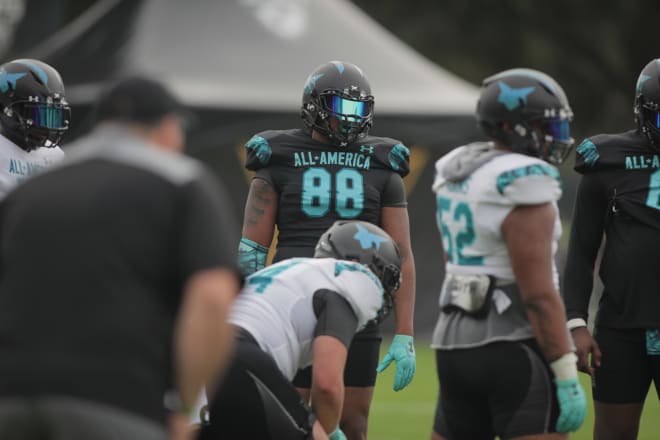 I'm very impressed with defensive tackle Jalen Carter, who is headed to Georgia. Not only did he dominate on Monday, but he had a good day Tuesday and played tight end as well for the injured Theo Johnson. He's a high energy guy who loves football and has a ton of talent.
Gervon Dexter, a Florida signee, wasn't as dominant as he was the first two days but still made some nice plays. Jaquelin Roy, an LSU signee, isn't the most impressive looking kid physically but he finds a way to make plays. Chris Braswell had his roughest day of the week as when linemen got hands on him they were able to move him around. The Alabama signee is a hybrid so working as a down lineman isn't showing off his strengths the most.
OFFENSIVE LINEMEN SHOW OUT
I was impressed more with the offensive linemen on Tuesday than any other day of the week. Five-star Broderick Jones (down to UGA, Auburn and Tennessee) and four-star Chad Lindberg (UGA) both looked good in different ways. Jones is a superior athlete with great feet and a frame to build on while Lindberg is massive human being who engulfs his opponents. I was also impressed once again with Clemson signee Walker Parks and LSU signee Marcus Dumervil. Texas A&M offensive lineman Chris Morris also had his moments. Georgia center Sedrick Van Pran was also very good all day.
WILLIAMS STANDS OUT AMONG WRS
EJ Williams still impressed me as much as any other wide receiver and we are into Day 3. He may not be a burner and that's the biggest question mark, but he's so precise with his routes and his hands are amazing. Julian Fleming and Rakim Jarrett among others are getting a lot of the attention, but watch out for Williams as he could have the best career of anyone.
RUNNING DOWN THE RUNNING BACKS
I like this group of running backs who why not rank them?
1. Tank Bigsby — The Auburn signee has excellent vision and runs between the tackles very well. His body lean is impressive and he has excellent balance.
2. Zach Evans — Evans has been raved about by the coaches and has been very active in all aspects. He's especially effective in the passing game. He's expected to announce for Georgia at the game.
3. Chris Tyree — The Notre Dame signee has amazing speed and he will impact on special teams as well. He's not very big so you worry about durability , but he can score from anywhere.

4. EJ Smith — The Stanford signee and son of Emmitt Smith does everything well but nothing great. That's not a knock however as he is as effective in the passing game as he is in the running game.
5. Jaylan Knighton — Knighton can play slot or running back in the game and has been flashing his ability in drills for the most part. He has very good feet. He held his own the first couple of practices.

6. Daniyel Ngata — The speedy back who is likely to commit to Arizona State at the game has shown flashes in space and is very elusive.

7. Blake Corum — The Michigan signee isn't very big although he is thick and sneaky strong. He just hasn't been able to show much through three practices.
FINAL THOUGHTS