UA All-America Game Week: Awards from Day 2 of practice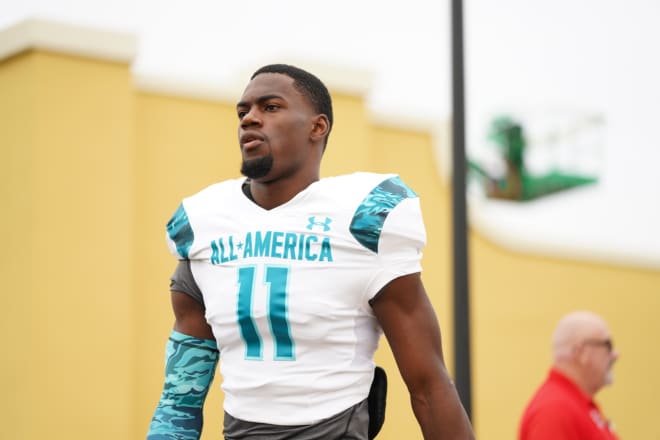 THE BEAST - Gervon Dexter
Gervon Dexter made it look easy much of the day. He took a lot of reps and he won most — with ease. He was rarely challenged and the Florida fans have a lot to be excited about. He not only looks the part, but he has played it two days into the week. Dexter is big, strong, but quick and agile as well. He has that elite combination and he is making his case for that fifth star.
MR. VERSATILITY - E.J. Smith
E.J. Smith surprised some when he signed with Stanford over Texas A&M on Dec. 18, but should anyone really be caught off guard by his performance so far? On day two, he was making plays from the running back position and from the slot. He is a versatile quick with great feet, elite ball skills and a real high IQ for the overall game. Smith has great bloodlines, but he has made a name for himself. Everything he did on day was at a high level and under control. He does it all with grace and humility too, like he expects the success, and that is impressive as well.
PLAYMAKER - Kayshon Boutte
Numerous wide receivers and tight ends had strong days, but none were better than Kayshon Boutte. When the ball was thrown his way, it did not touch the ground. He made great adjustments on the ball, gave quarterbacks big windows to throw too, and in jump ball situations, he won. He is a physical receiver with sneaky quickness of the line of scrimmage, and he made it difficult for defensive backs throughout Monday's practice. We saw Justin Jefferson and Ja'Marr Chase have monster years in Baton Rouge this season, and Boutte could be next at LSU.
QUIET ASSASSIN - Phillip Webb
Phillip Webb, like always, just went about his business Monday, and again, he was impressive. It looks at times like he may not be going all out because he is not one for talking, he is not jumping up and down when he makes a play and he prefers to stay out of the spotlight, but when watching Monday's practice, he showed up a lot. He batted passes down early with his length, then he was strong in coverage, and he was good against the run in the inside drills. He stands out due to his length and frame, but the LSU commit drew a lot of praise from the coaches on day two. He just goes about his business quietly and makes big plays.
FASTEST MAN - Arian Smith
This award shocks few seeing as Arian Smith will run track in addition to playing football at Georgia next year. That said, the UGA commit won a couple footraces to take home the title on Monday. After breezing through a preliminary heat, the future Bulldog was pitted against fellow speedster Chris Tyree, a California-based running back, in the finals. Smith then edged out the Notre Dame signee to earn the title of Fastest Man. There are few prospects in America that can run with Smith, who will likely enjoy a solid career as an NCAA sprinter.
SURPRISE SURPRISE - Dontae Manning
Dontae Manning isn't the highest ranked defensive back at the event, but managed to steal the show during one-on-ones. The uncommitted Manning was relentless on Monday, showcasing a level of physicality that seemed to catch some wideouts off guard. He was particularly effective in the red zone, where he used his length and strength to close quickly and deflect passes that like completions. The Missouri-based cornerback was one of the day's most pleasant surprises.
MR. BOUNCEBACK - Michael Redding
Michael Redding struggled with drops during Sunday night's workout but left those problems in the past before he arrived at the field on Monday. Redding was the picture of consistency during Day 2, catching everything thrown his way and showing off a quick change of direction that devastated a defender or two. He didn't let Sunday's choppy performance beat him twice, and that's worth something at this level. Redding is signed with Miami and will bring impressive size to the Hurricanes receiving corps next season.
SHAPE SHIFTER - Broderick Jones
A year ago at this time, the knock on Broderick Jones is that he carried bad weight. He was told he needed to lean out before he'd be ready to play at the college level. A year later, that mission has been accomplished … easily. In fact, it's possible the UGA commit now needs to add weight before playing in the SEC. Jones, who plays basketball in the offseason, will likely beef back up a bit as his hoops days come to a close. That said, it's easier to add weight than it is to remove it, so Jones should have no issue contributing early in his career.