Mid-Atlantic Spotlight: Five biggest April official visits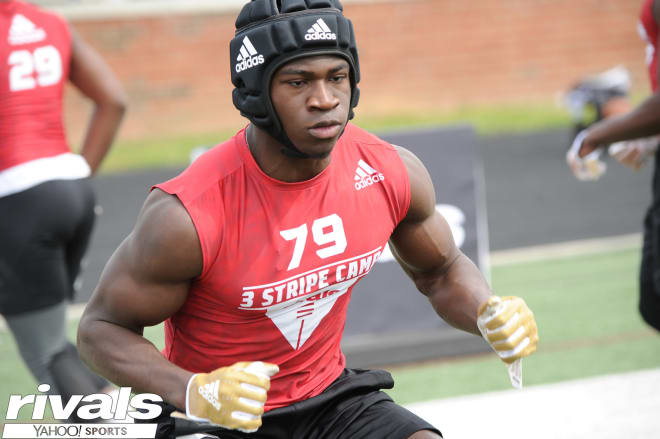 The inaugural spring official visit period is well underway and there are many players taking advantage of this new system. Historically speaking, the majority of the rising senior class is usually committed prior to the beginning of their senior season, so these spring official visits will play a major role. Take a look at some of the most important official visits taken by Mid-Atlantic prospects this spring.
MORE: Southeast's biggest official spring visits | Midwest's top official spring visits
Devyn Ford to Virginia Tech, April 13  
There have been a lot of twists and turns in Ford's recruitment in the last week. Ohio State was in very good position with him after his multi-day unofficial visit the first weekend of April. Virginia Tech stole some of the momentum after the Hokies hosted Ford for an official visit on April 13, but the Buckeyes remained slightly ahead.
In the middle of last week, Ohio State, clearly thrown off by the positive reports after Ford's Virginia Tech official visit, took a commitment from Steele Chambers, an athlete who intends to play running back for the Buckeyes. Ford subsequently dropped Ohio State from consideration and canceled his official visit that was scheduled for this coming weekend. Ford just finished an official visit to Penn State, and he said that visit went very well. The Nittany Lions and Hokies were both present at Ford's school on Tuesday.

  Cam'Ron Kelly to Penn State, April 20  
Kelly has been racking up the frequent flier miles this offseason, trying to see as many schools as he can. He has already taken official visits to Washington State, Oklahoma and Penn State. Many thought Kelly was pretty far off from making a decision or naming a short list, but the visit to Penn State clearly sped up his timeline. Last night, Kelly announced a short list and he still intends on making a commitment right before the season starts. In addition to Penn State, Notre Dame, Auburn, Washington State, Virginia, Oklahoma, Clemson and Ohio State are on the list.


  Osita Ekwonu to Notre Dame, April 13  
Notre Dame is the clear leader for Ekwonu after his official visit two weeks ago. Look for Northwestern, Ohio State and a few in-state North Carolina schools to really push for him to get back on campus before a commitment occurs. Notre Dame really secured its position at his leader by scoring his visit, and it will be tough for the other schools to make a stronger impression.

  Marquis Wilson to Penn State, April 20  
Earlier this month, Wilson released a top 10 featuring Tennessee, Nebraska, Penn State, Syracuse, Alabama, Iowa, Virginia Tech, Ohio State, Pittsburgh and Michigan, but last weekend's official visit made a major impression. It's hard not to look at Penn State as the team to beat, but there are a few other teams in that top 10 that are being taken very seriously. One of the bigger contenders is Ohio State. The Buckeyes are pushing toward getting Wilson on campus at some point this summer.

  Derek Green to Oklahoma, April 13  
Green was an early commit for Oklahoma, but he backed off that pledge, thinking he wanted to be closer to home. After taking a couple visits to other schools, Green made his way back to Norman for an official visit for the Oklahoma spring game. That experience was enough to get Green back on board with the Sooners. He did take another unofficial visit to Georgia this past weekend, but Oklahoma remains the school for Green.