Midwest Spotlight: Five biggest April official visits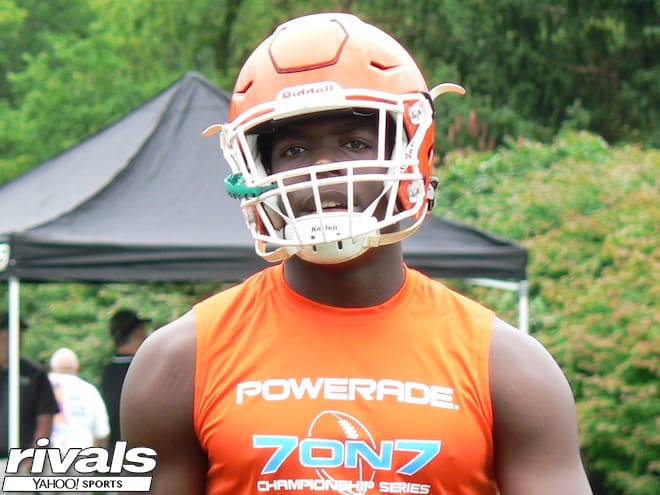 College programs and prospects alike have waded tentatively into the new Spring Official Visit Period, but as the first April of permissible official visits comes to a close, more prospects are choosing to take advantage of the opportunity.
The Spring Official Visit Period officially started on April 1 and will run until June 24. When you consider that in recent classes greater than 60 percent of the Rivals250 has been committed prior to their senior years, early official visits are going to play a major role in the recruiting process going forward.
Here is a look at the five biggest official visits taken by prospects in the Midwest during the first month of the inaugural Spring Official Visit period.
ZACH HARRISON TO PENN STATE, APRIL 20
The home-state Buckeyes are considered a strong favorite for Harrison, but Penn State got his first official visit and he was not the only five-star in State College this past weekend. The Nittany Lions hosted a star-studded list of recruits for their annual Blue-White game, and 10 of those were official visitors.

Every team recruiting against Ohio State for Harrison knows they have an uphill fight on their hands, but if you're going to take a swing at this one then you have to go big and Penn State has certainly done that here. Getting his first official visit allows the Nittany Lions to set the bar, and there is not going to be another opportunity for a prospect to see an atmosphere like the one in Beaver Stadium this past Saturday until the season starts in four months.

QUINN CARROLL TO NOTRE DAME, APRIL 20
Carroll trimmed his list of scholarship offers to a top six in early March, and then scheduled a trio of official visits over a nine-day period in April. The first stop was Virginia Tech, his brother's alma mater, the weekend of April 13, which was immediately followed up by an official visit to Penn State.

Notre Dame has long been considered the team to beat for Carroll, but the Penn State official visit was his first time in State College and the Nittany Lions blew him away. In order to keep their perceived advantage Notre Dame had to answer, and hosting the Rivals100 prospect just three days after he returned from Penn State was just the opportunity they were looking for.

CADE STOVER TO OHIO STATE, APRIL 20
It is not a strong year for talent at the top in the state of Ohio, with just one Buckeye State prospect currently sitting in the Rivals100. Getting the top talent from their own backyard is still important for the Buckeyes, though, and with a smaller pool to fish from they need to hit at a higher rate with the guys they want.

Stover is the No. 2 ranked prospect in Ohio's 2019 class and has long been considered a Buckeye lean. Oklahoma was given the first chance to host the four-star on an official visit, though, and did a solid job. The trip to Ohio State was scheduled for the following weekend, giving the Buckeyes a chance to immediately counter. Two official visits is probably all that is needed before a decision for Stover.

COLLIN CLAY TO ARKANSAS, APRIL 13
Clay named a top 10 in March, but had only visited three of those schools at the time. Arkansas was one of the three he had visited, and yet when it came time to schedule his first official visit, Fayetteville was the destination. That showed just how strong the four-star defensive end's interest in Arkansas is, and the Razorbacks did not waste this opportunity.

Following the official visit Clay confirmed Arkansas was the leader in his recruitment. No further spring official visits have been set yet, and he recently said further spring official visits are unlikely. After initially wanting to decide prior to his senior season Clay is now willing to take his recruitment into the fall, which means Arkansas has a long time to try and maintain their status as No. 1.

MAZI SMITH TO PENN STATE, APRIL 20
James Franklin and his staff are leading the charge in adapting to the spring official visit period. A dozen prospects have made official visits with the Nittany Lions already, including four Rivals100 prospects and two five-stars.

Smith sits just outside the Rivals100, and is a prospect they would love to land as much for the chance to beat out Midwest powers Michigan, Notre Dame and Ohio State as for the talent he would bring to the defensive line. Smith has not officially named a top group, but those four schools are considered the primary contenders. Before this past weekend, though, Smith had visited all but Penn State. A strong first impression will give the Nittany Lions a fighting chance in this recruitment.