Inside look at top recruit ever for each Big 12 school
Signing Day is just the start. When a player puts his name on a letter of intent, his ranking matters not. What he does on the college field is ultimately how he's judged.
Over the next few days, Rivals.com will examine the post-high school careers of highest-ranked prospect to sign with every major conference school during the Rivals Era. We'll look at the career path of each player, check in on where each is now and get a memory or two from Rivals.com National recruiting director Mike Farrell.
Only high school prospects have been included. Transfers from junior colleges or other four-year institutions were not considered.
Today, a look at the Big 12.
BAYLOR: WR KD CANNON (No. 34 in 2014)
Career: Cannon wasted no time living up to his billing. As a true freshman, he set the Baylor freshman records for catches (58) and receiving yards (1,030). He caught 50 passes as a sophomore a year ago.
These days: Cannon is preparing for his junior year at Baylor. He'll likely be one of the focal points of a high-powered Bears offense and seems to be on pace for national acclaim and a possible pro career.
Farrell recalls: "Cannon was an electric talent and fell just short of five-star status because of size, but he could absolutely fly and couldn't be solo covered. He chose Baylor and the perfect offensive fit for him over Oklahoma, Texas Tech, Ole Miss and Florida."
IOWA STATE: WR ALLEN LAZARD (No. 47 in 2014)
Career: Lazard started 11 of 12 games as a true freshman but really started to come into his own as a sophomore a season ago. The AP tabbed him as a second-team All-Big 12 selection after he caught 56 passes for 808 yards.
These days: Lazard is preparing for his junior year at Iowa State, which underwent a coaching change in the offseason. Depending on the offense the Cyclones run this season, Lazard could be primed to breakout as one of the league's top receivers.
Farrell recalls: "Lazard was a huge wide receiver who made up for a lack of elite speed with huge, reliable hands and the ability to outmuscle opponents. An Iowa State legacy, he chose the Cyclones over some major offers, including Notre Dame."
KANSAS: ATH ANTHONY PIERSON (No. 183 in 2011)
Career: Pierson saw playing time as a true freshman in 2011 and garnered Honorable Mention All-Big 12 honors as a sophomore in 2012. He battled concussion issues that cut his junior season short before returning to semi-regular action as a senior.
These days: Pierson's football career ended after college. He currently lives in St. Louis according to the Kansas sports information department.
Farrell recalls: "The speedy East St. Louis product could have played numerous positions in college and had speed to burn. He could have been a scat back, wide receiver, cornerback as well as his duties on special teams. He chose Kansas over Missouri, Iowa, Arkansas, Kansas State and others."
KANSAS STATE: ATH LAMARK BROWN (No. 71 in 2007)
Career: Brown saw playing time at wide receiver as a true freshman at K-State. He moved to running back three games into his sophomore season only to move back to receiver as a junior. Brown then transferred to Div. II Minnesota State-Mankato, where he played out his senior season. He caught 76 total passes in his college career. Brown signed with the Atlanta Falcons as an undrafted free agent and found himself on a handful of NFL practice squads.
These days: Brown currently plays for the Orlando Predators of the Arena Football League.
Farrell recalls: "Another terrific versatile athlete out of high school, Brown was a huge kid and could have been a wide receiver, tight end, running back or even a linebacker in college. Missouri and others pushed during the process but he stuck with his very early commitment to the Wildcats."
OKLAHOMA: RB ADRIAN PETERSON (No. 1 in 2004)
Career: Peterson's career has matched the high school hype. He broke several Oklahoma rushing records, was a three-time All-Big 12 selection and a unanimous All-American while playing for the Sooners. He also finished second in the 2004 Heisman Trophy voting. Peterson, who left college following his junior season, was a first-round draft pick. He has since won a rookie of the year award, been named NFL MVP and led the league in rushing three times. Peterson was suspended by the NFL for a chunk of the 2014 season after being indicted on child abuse charges. The league reinstated him in February of 2015.
These days: Peterson ran for a league-best 1,485 yards to go along with 11 touchdowns last season. He will play the 2016 season for the Vikings, for which he has played his entire professional career.
Farrell recalls: "What can be said about Peterson? He was clearly No. 1 overall in 2004, is the best running back I've ever scouted and in my overall top five of players I've covered in my career. He chose Oklahoma over Texas and pretty much every other program in the country. He brought the taller, upright back into the forefront for NFL scouts.
OKLAHOMA STATE: QB ROBBIE REID (No. 41 in 2004)
Career: Reid won the Cowboys' starting spot as a redshirt freshman but saw his season cut short by injury after just five starts. After a 7-6 sophomore campaign, he lost the starting job prior to his junior season. Reid transferred to Texas Southern prior to his senior year. He played the majority of the season before injuring his knee. Reid played one season in the Arena Football League.
These days: Reid is pursuing a career in coaching. He currently works for SMU in a graduate assistant role.
Farrell recalls: "Crazy it's not Dez Bryant, right? Don't blame me as I had Dez as a surefire five-star and amazing, freakish talent. Reid wasn't shabby either back in the day as a big, physical dual-threat quarterback who could hurt a defense in many ways. Reid was one of the best-looking quarterbacks on the hoof you'll ever see. Ohio State made a strong late push but Oklahoma State held off the Buckeyes in the end."
TCU: ATH LADARIUS BROWN (No. 53 in 2011)
Career: Brown never became the star he was supposed to become at TCU. He appeared in all 12 of the horned Frogs' game as a sophomore but was dismissed from the team prior to his junior season following being arrested for marijuana possession. He finished his career at Sam Houston State, where he caught 99 passes for 1,645 yards yards and 16 touchdowns in two seasons with the Bearkats.
These days: It seems Brown last played football for Sam Houston State, as online records of his post-college career are scarce.
Farrell recalls: "A big, athletic kid, Brown was one of the commits that started TCU trending up in state and helped lead to the Horned Frogs' current recruiting success. It was unheard of for a kid to choose TCU over offers from Oklahoma, Notre Dame and others but this came down to Gary Patterson against Texas A&M and Baylor in the end."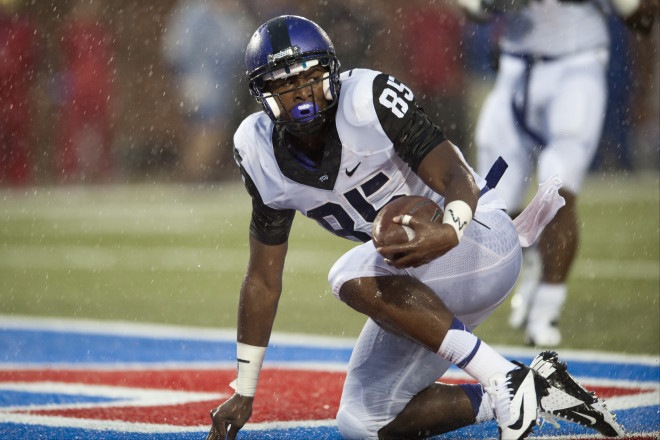 TEXAS: QB Vince Young (No. 1 in 2002)
Career: A two-time Rose Bowl MVP and one of the most celebrated players in college football history, Young led Texas to a national title in 2005, a season in which he was named a consensus All-American. Young was 30-2 as a starter at Texas. The Longhorns retired Young's jersey in 2008. The Tennessee Titans selected Young with the third pick in the 2006 NFL Draft. The Associated Press named Young as the 2006 rookie of the year and he was selected to the Pro Bowl on two occasions. Young played six NFL seasons that saw him battle injuries and inconsistent play. He was 31-19 in 50 starts and 0-1 in the playoffs. Young announced his retirement in 2014.
These days: The University of Texas' Division of Diversity and Community Engagement hired Young in 2014. He remains employed by the University.
Farrell recalls: "Young was one of the most dynamic prospects I've ever seen in person and could have easily been an All-American safety if he decided to pursue defense. While his mechanics were off, his ability to run, extend the play and throw over defenses that had to stay close to the line of scrimmage to account for him was off the charts. Texas was always going to be his team from what I can remember."
TEXAS TECH: TE JACE AMARO (No. 52 in 2011)
Career: Things panned out well for Amaro, who, as a junior, set the FBS single-season record for receiving yards by a tight end. Amaro was a unanimous All-American during his final season at Tech and was selected by the New York Jets in the second round of the 2014 NFL Draft. Amaro played in 14 games as a rookie before missing last season with a labrum injury.
These days: Amaro is preparing to play the 2016 season for the Jets, but how much he'll be used in an offense that didn't look to the tight end much a year ago is in question.
Farrell recalls: "Amaro was a huge, long tight end who could stretch the field and was a perfect fit for a passing offense. He chose Texas Tech over offers from Arizona, Baylor, Duke, Missouri and Texas A&M. Despite missing most of his junior season, we loved his potential."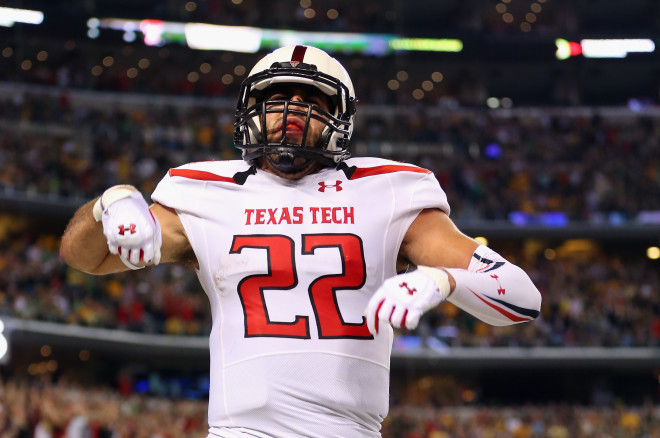 WEST VIRGINIA (TIE): RB JASON GWALTNEY (No. 15 in 2005)
Career: Gwaltney found early playing time at West Virginia but he played just six career games at the school because of a mixture of injuries and academic issues. After leaving WVU, he landed with two separate non-Division I programs. In January of 2013, Gwaltney was arrested on burglary charges in connection with a home invasion.
These days: After originally entering a not-guilty plea, Gwaltney eventually accepted plea deal in the summer of 2013. What's become of him since is unclear.
Farrell recalls: "Gwaltney chose West Virginia over Ohio State and others and followed his half-brother, Scooter Berry, to Morgantown. He was a bust despite his amazing talents and size/speed combination."
WEST VIRGINIA (TIE): RB NOEL DEVINE (No. 15 in 2007)
Career: The undersized Devine found early playing time at West Virginia. He ran for 4,300 yards in his three-year college career despite struggling with a toe injury during his final season. He went undrafted in the 2011 NFL draft but caught on with the Eagles' practice squad for a handful of days. He has since played in the now-defunct UFL and in the Canadian Football League.
These days: The last online record of Devin playing football was a 2014 stint with the CFL's Edmonton Eskimos
Farrell recalls: "Devine's dream offer was Miami, but it never came. He felt comfortable with the West Virginia staff and offense. He had a solid career, but I expected Heisman buzz from the most exciting player I've ever seen at running back."