Inside look at top recruit ever for each Pac-12 school
National Signing Day is just the start. When a player puts his name on a letter of intent, his ranking matters not. What he does on the college field is ultimately how he's judged.
All week, Rivals.com is examining the post-high school careers of highest-ranked prospect to sign with every major conference school during the Rivals Era. We'll look at the career path of each player, check in on where each is now and get a memory or two from Rivals.com National recruiting director Mike Farrell. Only high school prospects have been included. Transfers from junior colleges or other four-year institutions were not considered.
Today, we examine the Pac-12.
ARIZONA WILDCATS: CB Devin Ross (No. 71 in 2006)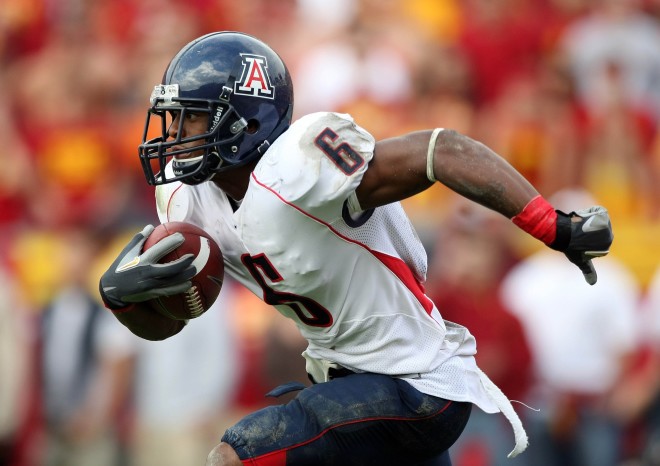 Career: Ross saw the field as a true freshman and played in more than 40 games during his four years at Arizona. He made five career interceptions and contributed in the return game, earning All-Pac 12 Second-Team honors as a junior. He went undrafted in the 2010 NFL Draft after attending the NFL combine with a minor injury. He landed on the Philadelphia Eagles through a free agent contract for a short time but never made the team's active roster.
These days: Ross was released by the Eagles in June of 2010 without making the team.
Farrell recalls: "Ross was a smooth and fluid cornerback that could cover bigger receivers but also come up and tackle. He was coveted by almost everyone on the West Coast. Arizona pulled a surprise here over longtime favorite Oregon and USC, who came in very late."
ARIZONA STATE SUN DEVILS: LB Vontaze Burfict (No. 9 in 2009)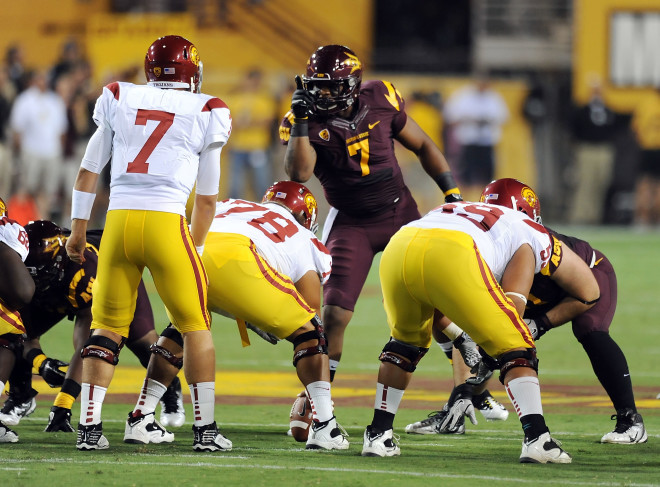 Career: Burfict showed flashes of absolute greatness at Arizona State. He earned All-American honors as a sophomore in 2010. He struggled to find consistency as a junior in 2011 and declared for the NFL draft after an ordinary season. Minor off-field issues combined with a poor performance at the NFL combine caused Burfict to go undrafted. Still, he managed to make the roster of the Cincinnati Bengals, which he led in tackles as rookie.
These days: Burfict is in the midst of a solid NFL career. He signed a four-year contract extension with the Bengals in 2014 and recorded 57 tackles and two interceptions last season. He's currently suspended and will miss the first three games of the 2016 season for multiple violations of on-field player safety rules.
Farrell recalls: "Burfict was one of the biggest and most physical linebackers I covered in high school. He would hit so hard at times you worried about the competition. Arizona State won this one, but USC fans still point to academics as the reason he flipped at the last moment. He was so good, he missed his entire sophomore year of high school football due to academic issues and was still a five-star."
CALIFORNIA GOLDEN BEARS: ATH Keenan Allen (No. 5 in 2010)
Career: Allen set a school record with 205 career catches and landed on the All Pac-12 team as a sophomore. That season, he caught 98 passes for 1,343 yards. Allen left Cal after his junior year and was selected by the San Diego Chargers in the third round of the 2013 NFL Draft. He garnered rookie of the year honors from a handful of publications, including The Sporting News.
These days: Allen has battled injury the last two seasons. He played in just eight games last season before seeing his year cut short by a kidney injury. Allen was off to a fast start last season and figures to play a large role in the San Diego offense this year.
Farrell recalls: "Smooth is always the word I use the most with Allen because he did everything with apparent little effort yet was better than everyone on the field. Originally committed to Alabama, he flipped late to Cal to play with his brother. He was one of the best safeties I've seen, and yet he turned out to be an even better wide receiver."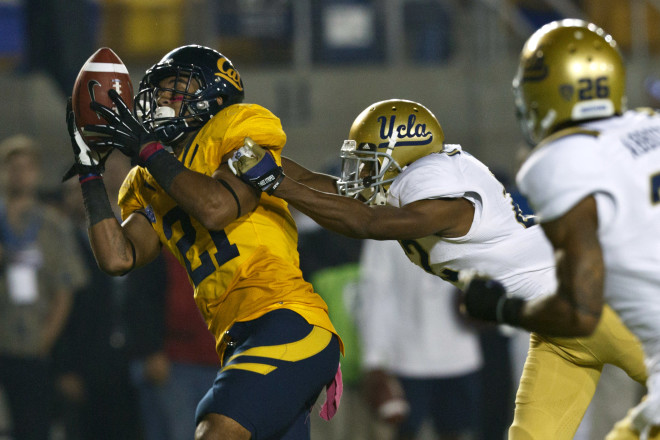 COLORADO BUFFALOES: RB Darrell Scott (No. 6 in 2008)
Career: Scott found some semblance of playing time as a true freshman at Colorado and finished the year with 347 yards. Unhappy with his playing time, he transferred to USF following his sophomore season. There, he earned second-team All-Big East honors as a junior. Scott skipped his senior season in favor of entering the NFL draft but went undrafted.
These days: Scott never played in an NFL game but was a member of the Dallas Cowboys during the 2012 season, after which he was released.
Farrell recalls: "Scott had it all -- size, power, speed, vision. He was hard to take down and he was hard to check in space even being a bigger back. He chose Colorado in a surprise to many over offers from everyone, including USC and UCLA."
OREGON DUCKS: DT Haloti Ngata (No. 2 in 2002)
Career: Ngata found playing time as a true freshman before losing his sophomore season to injury. He rebounded nicely, however. Ngata was a consensus first-team All-American and the Pac-10 Defensive Player of the Year his senior year. He was selected 12th overall in the 2006 NFL Draft. He became a starter immediately and was a mainstay on the Baltimore Ravens' defensive line for the better part of nine seasons. A five-time Pro Bowl selection and member of the Ravens' Super Bowl XLVII Championship team, Ngata was traded to the Detroit Lions in March of 2015.
These days: Ngata recently signed a two-year contract worth $12 million with the Lions.
Farrell recalls: "The best prospect ever out of Utah? Yep, at least in our history. And before Rashan Gary came along, he was the best defensive tackle I've seen when it comes to the size-power-athleticism combination. He originally committed to Nebraska but then de-committed and committed to BYU before finally flipping to Oregon."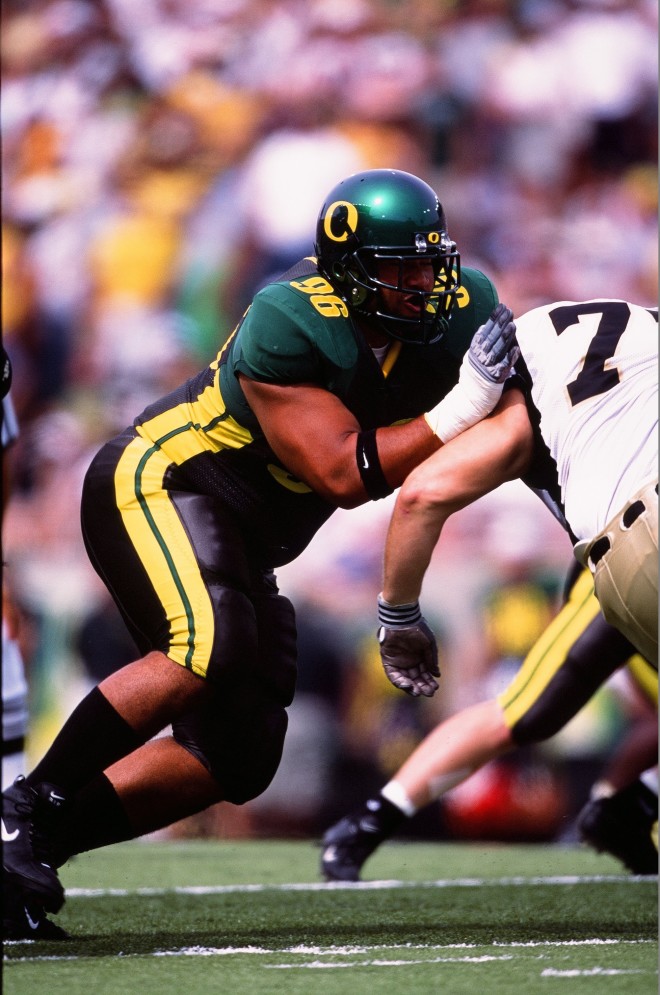 OREGON STATE BEAVERS: Isaac Seumalo (No. 52 in 2012)
Career: Seumalo's Oregon State career got under way quickly, as he started at center as a true freshman. He was named a freshman All-American by a handful of publications before earning Second-Team All-Pac 12 honors as a sophomore. He redshirted the 2014 season because of injury but returned a season ago and garnered All-Pac-12 Honorable Mention honors.
These days: Seumalo skipped his final year of eligibility and declared for the 2016 NFL Draft. He recently attended the NFL Scouting Combine. He's projected to be selected in the fifth or sixth round.
Farrell recalls: "Seumalo was an aggressive lineman who could dominate you as a guard or as a defensive tackle. He loved to knock opponents around in tight spaces. He could handle double teams, was a great solo blocker and chose the Beavers over Oregon, Stanford, Washington, UCLA and a late push from USC."
STANFORD CARDINAL: OL Kyle Murphy (No. 19 in 2012)
Career: Murphy played in 14 games, starting two, as a true freshman but didn't come into his own until later in his career. He was a second-team All-Pac-12 selection as a junior in 2014 and a first-team All-Pac-12 selection as a senior last season.
These days: Murphy is eligible for the 2016 NFL Draft and is likely to be selected. Most mock drafts project him as a third-round pick.
Farrell recalls: "Murphy had it all coming out of high school, except the bulk and power he now has. He had a great frame to fill out, exceptional feet and was part of an amazing 2012 Stanford offensive line class that featured Andrus Peat (NFL first-rounder) and Joshua Garnett (early rounder in this year's draft). He chose Stanford over USC in the end.
UCLA BRUINS: QB Josh Rosen (No. 2 in 2015)
Career: A season ago, Rosen became the first UCLA true freshman to start a season at quarterback. He set several of the school's freshman passing records and was named Pac-12 Newcomer of the Year by the Associated Press.
These days: Rosen is preparing for his second season at UCLA. Barring something unforeseen, he'll be the team's starter. He enters his second campaign as a Bruin with sky-high expectations and is thought to be in for a big season.
Farrell recalls: "The best and most college-ready quarterback I've scouted in my entire career, Rosen had it all – arm strength, accuracy, footwork, mechanics, the ability to extend the play and throw on the run and a knack for winning games late. He chose UCLA over early favorite Stanford, which never offered because it allegedly didn't like his cocky attitude. Smart move, Cardinal."
UTAH UTES: OL Jackson Barton (No. 70 in 2014)
Career: Barton redshirted his freshman season at Utah but saw the field in spurts in 2015. He's yet to blossom into the star he was at the high school level, but has three years of college eligibility remaining.
These days: Barton is currently thought to be the surefire starter at right tackle for the Utes and should debut as such this fall. He's been working with the top unit during Utah spring practices.
Farrell recalls: "Barton was an absolute giant who looked thin at times despite weighing in at over 280 pounds because he was so tall and long. He used his arms well to push opponents outside the passing zone and played with good leverage despite being a taller kid. He committed to Utah early and never wavered. He was not a fan of the recruiting process."
USC TROJANS (Three-way tie): RB Reggie Bush (No. 2 in 2003), WR Patrick Turner (No. 2 in 2005), RB Joe McKnight (No. 2 in 2007)
Career: It hasn't been a bad run for Bush, to say the least. He won a Heisman Trophy (that the NCAA later stripped because of impermissible benefits). He also won a national title, was selected second overall in the 2006 NFL Draft and won a Super Bowl. He finished his college career 10th in FBS history with 6,541 all-purpose yards. Bush racked up more than 10,000 all-purpose yards in his first 10 NFL seasons. In 2008, ESPN ranked Bush 24th on its list of 25 greatest players in college football history.
These days: Bush played in five games for the San Francisco 49ers last season before seeing his season cut short by a meniscus tear. Bush is currently a free agent.
Farrell recalls: "Bush was No. 2 in 2003 but should have been No. 1 in my book. Not only did he have one of the best highlight tapes you'll ever see, but he also backed it up in person. Famously, UCLA never offered him but it didn't matter as he was destined for USC from the beginning. Washington made a late push, but it was clear he was headed to USC."
Career: Turner served in a backup role during his freshman year at USC but found spurts of playing time. He developed during his time as a Trojan and finished his four-year college career with 138 catches for 1,752 yards. He was a Second-Team All-Pac 12 selection as a senior but never became the superstar for which Trojan fans had hoped. The Miami Dolphins selected Turner in the third round of the 2009 NFL Draft. He played a total of 23 NFL games in four seasons, recording 10 career catches and a touchdown.
These days: Turner has not been on an NFL roster since he was a member of the New York Jets in 2012. Turner recently returned to USC to pursue his degree.
Farrell recalls: "Turner had the size of a tight end but the skill of a wide receiver and was a can't-miss recruit. He chose USC over in-state Tennessee and never developed the way I expected. His lack of desire was something that wasn't clear out of high school, but he was simply so dominant when he wanted to be. There was no way to predict an average career."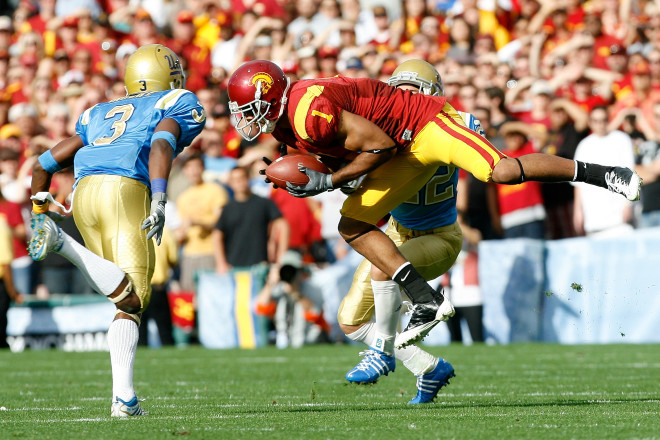 Career: McKnight had an up-and-down career at USC. He played as a true freshman and came on near the end of the season, as he recorded more than 200 all-purpose yards in the 2008 Rose Bowl. McKnight was held back by injuries during his three seasons in college, but still managed to contribute on a fairly regular basis. The New York Jets selected McKnight in the fourth round of the 2010 NFL Draft. He's since played in 41 games in four NFL seasons.
These days: McKnight continues to struggle with injuries. He suffered a torn Achilles' tendon in late 2014 and has not played in the NFL since. He signed with the CFL's Edmonton Eskimos in February of this year and is preparing for his first season with the team.
Farrell recalls: "Like Turner, McKnight was a dynamic athlete who left his home state and never lived up to expectations. He chose USC because he was supposed to be the next Reggie Bush due to his dynamic speed and ability to impact as a runner, receiver and special teams star. When he chose USC over LSU, it stunned many."
WASHINGTON HUSKIES: DB Shaq Thompson (No. 4 in 2012)
Career: Thompson's Washington career got started quickly, as he was named a second-team Freshman All-American and developed nicely from there. He turned in a massive junior season in 2014 and was named an All-American by multiple publications. Thompson left Washington after his junior year and was selected by the Carolina Panthers in the first round of the 2015 NFL draft
These days: Thompson recorded 50 tackles and a sack as a rookie in 2015 as the Panthers reached the Super Bowl. He's currently preparing for the second season of his four-year, $8.8 million contract.
Farrell recalls: "Thompson was a beast in high school, a massive safety prospect who hit like a defensive end and could also run over you on offense. He played some quarterback, running back, receiver and numerous positions on defense as well as being a baseball and track star. He was originally committed to Cal but followed super recruiter Tosh Lupoi to Washington in the end."
WASHINGTON STATE COUGARS: WR Michael Bumpus (No. 77 in 2004)
Career: Bumpus found early playing time at Washington State and was named to The Sporting News' Pac-10 All-Freshman Team at the conclusion of his first season. He enjoyed a steady four years in college and still holds the Washington State record for catches in a career with 195.
These days: Bumpus was recently hired as the head football coach at Washington's Monroe High School. He will coach his first season this fall.
Farrell recalls: "Bumpus was a dynamic receiver out of high school who was a late-bloomer, but was so naturally talented he was recruited by numerous powers. An original commitment to USC, he flipped at the last moment to Washington State, It was one of the more exciting moments in the Cougars recent recruiting history."