How things stand for top five uncommitted offensive linemen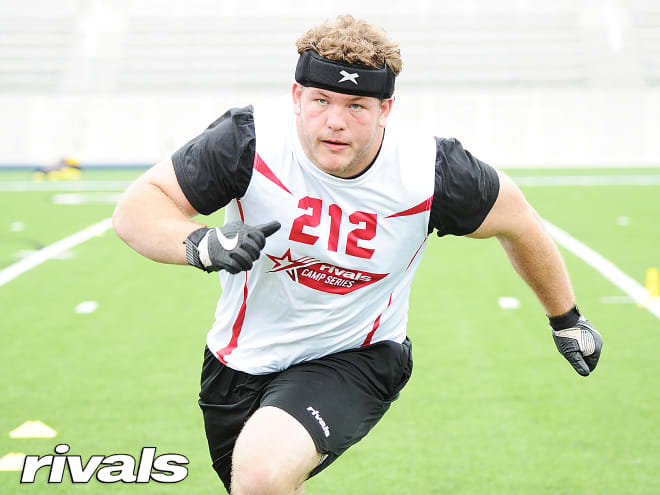 Top contenders: Oklahoma, Texas A&M, Oregon, Texas, LSU
Recruiting outlook: For a long time it's looked like an Oklahoma and Texas A&M battle for Foster, and that hasn't changed of late. He really does like Oregon, but it's unlikely he ends up choosing the Ducks when he does announce his commitment. Texas and LSU have been involved and remain in this race, but they have fallen back a bit.
Farrell's take: Oregon is making a run here and Texas A&M is in there but I've had Oklahoma for a long time and there's no need to change that now.
*****
Top contenders: Oklahoma, LSU, Ohio State

Recruiting outlook: Leigh's official list of contenders may include more than just these teams but his recruitment is really boiling down to Oklahoma, LSU and Ohio State. At this point it looks like Oklahoma has the edge for the five-star tackle, but this recruitment isn't over just yet.

LSU still is a major contender for Leigh because of his comfort level with the coaches, but the recruiting efforts of Oklahoma five-star quarterback commit Caleb Williams has really helped the Sooners here. Leigh missing his trip to Ohio State really hurt the Buckeyes, and it's unlikely they're the choice when he does commit unless he's able to get up there for a visit.
Farrell's take: I have Oklahoma here as well over LSU as he feels more comfortable with the staff and Williams is helping recruit him.
*****
Top contenders: Boston College, Stanford, Michigan
Recruiting outlook: Kendall's recruitment is really coming down to Boston College and Stanford. He took a trip to Palo Alto very recently with his father (who played at BC) and toured the campus to get a feel for the environment. They really enjoyed that experience, but without having a true visit to Stanford it's hard to see him ending up on the West Coast. Michigan was involved as well and the Wolverines seemed like the favorite at one point, but Boston College has really picked up steam and the Eagles are doing a great job recruiting local talent in this recruiting class.
Farrell's take: Kendall finally took a visit to Stanford and loved it, so I have them slightly over Boston College - even with the family ties.
*****
Top contenders: LSU, SMU, Oklahoma
Recruiting outlook: It seems like Byrd is having a really difficult time making his decision. At this point LSU, SMU, and Oklahoma are his top schools and his relationships at SMU are very strong, so it wouldn't be surprising to see the Mustangs be the choice. He has visited for a couple of games so far this season, but early playing time at LSU and Oklahoma could be very big for him. Byrd would like to visit both LSU and Oklahoma again before making a decision, if possible.
Farrell's take: Again, I have the Sooners here after SMU had the big early lead.
*****
Top contenders: Michigan, Michigan State, Penn State, Kentucky
Recruiting outlook: Benny was scheduled to commit this past Sunday, but he postponed his decision. The Wolverines are the favorite at the moment and it still seems like they will be the choice unless the push that Michigan State is making changes his mind. Penn State has done a good job with Benny's family and Kentucky is also in this race, but the Wildcats have ground to make up.
Farrell's take: This one is Michigan, even with Kentucky being a true threat.