How things stand with top five uncommitted TEs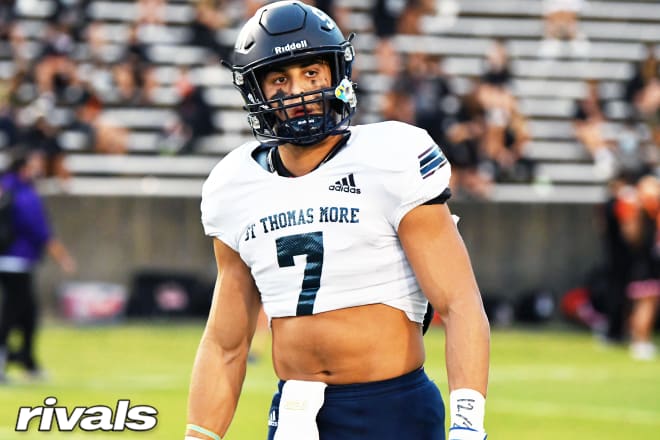 The Early Signing Period is less than two months away and there are still plenty of impact players that haven't committed yet. With college football underway in almost every corner of the country, now is the time to take a look at the top uncommitted prospects at each position. Next up are the tight ends.
Top contenders: LSU, Mississippi State
Recruiting outlook: This one really hurts for Vanderbilt because Bech has been committed to the Commodores since March, only to have LSU and Mississippi State offer him last week. Bech decommitted from Vanderbilt on Wednesday and all signs point to LSU because of his many connections there. The Mississippi State offer is intriguing and there are good relationships there, but Bech's uncle played for LSU in the early 2000s and LSU commit Walker Howard is his best friend.
Farrell's take: This is all LSU as he decommitted from Vandy after the Tigers offered. They like him as a flex TE and he's a matchup problem.
*****
Top contenders: North Carolina, South Carolina, Ole Miss, UCLA, Virginia Tech
Recruiting outlook: A South Carolina legacy prospect, Nesbit is relatively new to football and is taking his time with his decision. He wants to possibly visit all the schools in his top five so a February decision is possible. He is less familiar with Ole Miss and UCLA than the other programs on his list, and really wants to visit them to learn more. As of now, North Carolina and South Carolina are the two teams with the best chances of landing his commitment.
Farrell's take: I have the Gamecocks heavy here unless he's able to take those visits. His comfort level at South Carolina is too great to pass up.
*****
Top contenders: Purdue, Kentucky, Louisville, Vanderbilt
Recruiting outlook: Dingle doesn't have a lot to say publicly about his recruitment but Purdue and Vanderbilt seem to be the two likeliest destinations. Purdue has put in a lot of time and effort into recruiting him and they worked hard to overcome Vanderbilt's early lead. The Commodores aren't out of this race yet but they have ground to make up. Kentucky is still involved and so is Louisville.
Farrell's take: Purdue is the pick here as they have really come on strong and have a recent tight end they placed in the NFL in Brycen Hopkins.
*****
Top contenders: Cincinnati, Kentucky, Central Michigan, Purdue, Toledo, Louisville, Temple, Rutgers, Kent State
Recruiting outlook: Nelson doesn't do many interviews so it's hard to nail down where his recruitment really stands at the moment. He released a list of top programs at the end of March but many of those have filled their need for a tight end in this class. Earlier this month Nelson did tweet that he would be committing soon but it's anybody's guess as to which school will land his commitment.
Farrell's take: Your guess is as good as mine here as I can see him in the MAC at Central Michigan or someplace like Buffalo.
*****
Top contenders: Iowa State, Michigan State, UCF, Iowa, Pittsburgh
Recruiting outlook: Gillette is in a really tough spot because he committed to Arizona State so early and stopped talking to other programs only to have the Sun Devils drop him just over a week ago. Prior to committing to Arizona State he was in touch with Iowa State, Michigan State, UCF, Iowa and Pittsburgh but some of those options may have dried up. Now that he is back on the market, Gillette is still feeling out programs to see which teams are seriously interested in adding him to their recruiting class.
Farrell's take: Gillette is in no man's land right now after the Sun Devils dropped him and he could end up outside the Power Five. It wouldn't surprise me to see Pitt or Michigan State to jump back in.