How things stand for top five uncommitted DTs
The Early Signing Period is less than two months away and there are still plenty of impact players that haven't committed yet. We have now switched over to the defensive side in our two-week series looking at the top uncommitted prospects at each position. Next up are the defensive tackles.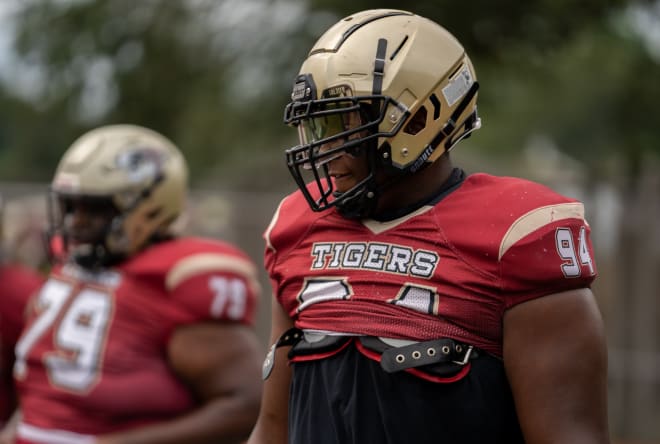 Top contenders: LSU, Georgia, Alabama
Recruiting outlook: Smith has been laying low lately, but his recruitment is the topic of constant discussion. LSU seems as if it could be the favorite and the hometown school has been working hard to keep him from leaving the state. It seems as if Smith is going to end up playing with five-star Korey Foreman in college and the Tigers are a good bet to land both of them. Georgia and Alabama are pushing hard but it's hard to see either pulling Smith out of state.
Farrell's take: Despite their defensive struggles, I still have LSU here and it will be very hard to lure him out of Louisiana. It's clear he could make an immediate impact.
*****
Top contenders: Ole Miss, Tennessee, Florida State, Texas A&M, Rutgers, USC
Recruiting outlook: Malone hasn't tipped his hand at all and his interest in playing baseball along with football in college is an added wrinkle. Ole Miss and Tennessee have a slight leg up on the competition but the Vols firing their defensive line coach Jimmy Brumbraugh mid-season can't help their efforts.

Florida State and USC are hoping to get Malone on campus at some point and neither have much of a chance of landing his commitment if they don't. Texas A&M hosted Malone last season and he's been to Rutgers a number of times, but both teams still need to make up ground before they're at the top of Malone's list of contenders.
Farrell's take: This is anyone's guess right now because he's quiet and the baseball factor comes in as well. I have Ole Miss winning this one right now.
*****
Top contenders: Texas A&M, Penn State, Virginia Tech
Recruiting outlook: Schools are flocking to Bradley's inbox after he decommitted from Maryland over the weekend. He wasn't a fan of the new defensive scheme the Terps are running, so he is looking for a new home. Texas A&M, Penn State and Virginia Tech were the first schools to reach out to him, but he'll need a couple days to see which schools are interested and which of those he likes. Bradley wasn't talking to other schools while he was committed but he still expects he'll be committed by the December Signing Day.
Farrell's take: Fresh off his decommitment from Maryland, it's anyone's guess where Bradley will end up, but I will go with Penn State because of the way it recruits Maryland.
*****
Recruiting outlook: Lusk was injured at the end of last season and the pandemic has made it very difficult for him to show off the progress he's made recovering. Austin Peay offered this spring but offers from Mississippi State, Florida and Tennessee don't seem to be options anymore. Look for Lusk to explore the Group of Five or other FBS options later in the recruiting process once he can put together more quality senior film.
Farrell's take: It all comes down to which school he is a take for late but I can see a school such as Memphis or Southern Miss perhaps in his future.
*****
Top contenders: Arizona, Arizona State, Nebraska, Utah State, UNLV, San Diego State, Hawaii
Recruiting outlook: Sotelo is in a bit of a holding pattern right now. With the football season delayed until January, he's behind the eight-ball when it comes to trying to raise his stock with college coaches because he can't showcase the progress he's made in the offseason. Arizona, Arizona State and Nebraska were just a few of the teams that were very interested in Sotelo a couple months ago, but there hasn't been much movement for him lately.
Farrell's take: Because of the postponed season this is also a tough one to read but I predict he hits the mainland and ends up at Utah State.