Frost, Huskers will be factor in central Florida recruiting scene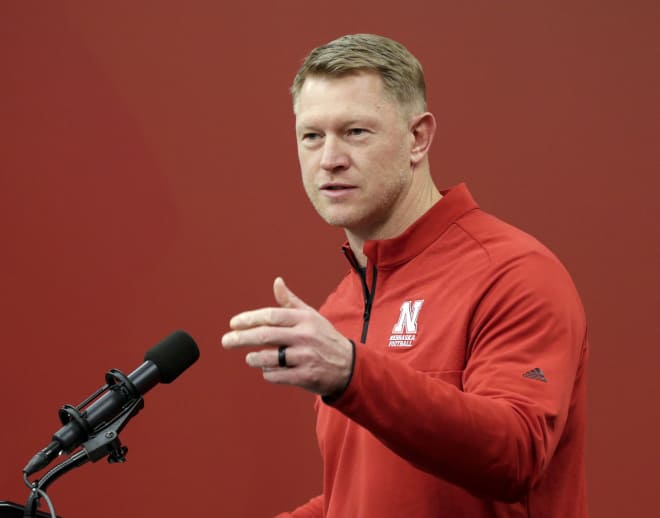 TAKE TWO: Can Frost deliver at Nebraska?

MORE RCS ORLANDO: Cassidy's Awards | Prospects earning their stripes | Hot teams in Orlando | Full schedule | Cassidy's takeaways | Updates
CELEBRATION, Fla. – Tones of Husker Red were sprinkled throughout the weekend that was in Orlando.
One prospect donned a bright red jumpsuit complete with the Nebraska logo across the breast to Saturday's adizero Combine. Reporters that cover the school found themselves roughly 1,500 miles away from home to cover a recruiting event that would have provided absolutely no value for them months ago. And while it wasn't exactly a Cornhusker takeover of Central Florida, nobody had to squint to see signs of such a possibility.
The landscape here is changing. To what extent is unclear. But despite new Husker head coach Scott Frost being hundreds of miles away from the event, he was present in spirit. The former UCF coach's name nor that of the Nebraska team he leads were never far away during Rivals 3 Stripe Camp registration. Often times, they came up in the same sentence of in-state powers Miami., Florida and FSU. Even players not likely to end up in Lincoln for college shouted out the Huskers, many times without prompt.
Miami commit Leonard Manuel is one of such prospects. Will the touted class-of-2020 wide receiver land in Lincoln? Probably not, but Sunday saw him name the city as a place he'd like to visit down the road. Every movement has a start. And the weekend in Orlando felt like the lead to a larger, unwritten story.
"It's the same coaching staff that did everything here," Manuel said of the Huskers. "Of course they have a great chance to recruit here. It's the same coaches just at a better school now. I think the expectations are going to be set higher but that's a good thing because everyone knows him. I think he's going to get a lot of big-time guys down here."
But the coach's cache in this town spreads miles beyond the field on which top prospects gathered for camp. A banner hanging over Orlando's nightlife-centric Wall Street reads "UCF: 2018 National Champions," and while you can argue about the claim's veracity, the existence of such a campaign serves as a reminder of the region's feelings on its departed coach.
Frost's reputation didn't vanish when he cleared out his personal effects following the program's 14-0 season. Nebraska's 2018 recruiting class, Frost's first at the school, included six players from Florida. That group featured three four-stars, but the movement isn't just about his pull with the prospects. When you turn a 0-12 team into a 14-0 juggernaut over the course of just three seasons, the area's entire football community morphs into a legion of believers.
"[Getting my Nebraska offer] was pretty nice," said Brandon River High School athlete Knowledge McDaniel. "My coaches like it a lot, too. My coaches are really familiar with Coach Frost so they encouraged me to look more into it. It's a nice school."
A year ago, Frost was the keynote speaker at Lakeland High School's football banquet. Months prior to the perfect season, his appeal had begun to cement itself. The halls of a school that consistently produces a handful of major recruits each year isn't a bad place to be revered.
"Coach Frost has a genuine way of connecting with the kids," said Lakeland offensive coordinator Will Bahler. "It doesn't come across as a well-conditioned or rehearsed speech. He spoke at our banquet and his words resonated with the kids. Obviously, his college career speaks for itself and he's still able to mix it up with them, as we saw last year with him serving as scout team QB before their game against a triple-option team. Him taking his entire staff with him to Nebraska was not overlooked either in a society bent on loyalty."
Defensive end Chatz Williams is from Jacksonville, not Orlando, but the junior holds a Nebraska offer and is familiar with Frost's reputation just the same. His take on the situation sums up the feeling as a whole. No top prospect is ready to blindly follow Frost 1,500 miles away to a landlocked state known for corn just yet, but they're certainly not ruling such a thing out completely.
if the stars continue to align, there's no limit to the recruiting shakeup.
"I know the Nebraska coaches from UCF," said Williams, who holds offers Nebraska, Florida, Florida State and Miami. "We all like what we did there. We were all surprised at first, but at the same time I'm not surprised anymore. Coach Frost being [at Nebraska] makes me consider Nebraska just because I know how good of a coach he is. I've seen it. I know what he can do because I saw it up close."