Cassidy's Takeaways: Stars shine at RCS Orlando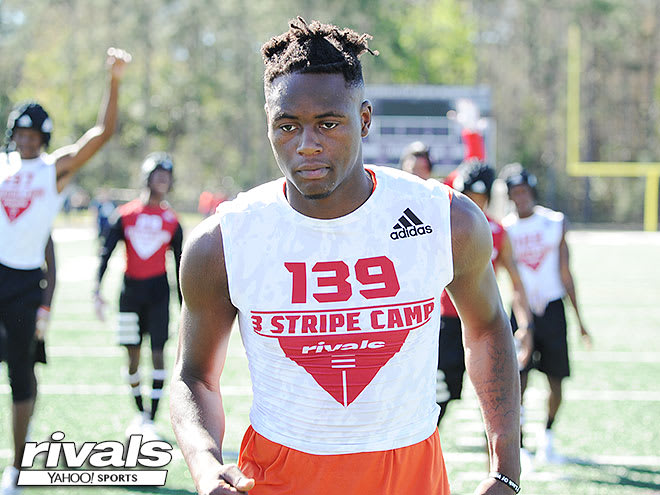 CELEBRATION, Fla. – Stop two of the 2018 Rivals 3 Stripe Camp Series presented by adidas took place in the Orlando area on Sunday, as nearly 200 college-bound prospects from Florida and beyond competed for awards, rankings and bragging rights. Dozens of players mad their respective marks on camp, but below are five of the major takeaways from the event.
RELATED: Full Rivals 3 Stripe Camp schedule | Updates from Orlando
LEONARD MANUEL IS AS COMPETITIVE AS HE IS TALENTED 
Miami commit Leonard Manuel is one of the top wide receivers in the class of 2020. His talent is widely known, so it's not as though he needed to play through a shoulder injury on Sunday. But after emailing the night before saying he'd show up to camp but not participate, his competitive nature took hold. Manuel arrived camp with the intention of just doing interviews, but ended up going through the full workout and making his presence known during one-on-one drills. Manuel's toughness was rewarded with an invite to the Rivals100 Five-Star Challenge, where he'll be granted the opportunity to test himself against the best in 2019 and beyond.
SMALL WIDEOUTS SHINE
Tampa (Fla.) Jefferson High School wide receivers Joe Hodge and Ahmarean Brown, a pair of undersized prospects with impressive speed, both showed well on Sunday. Brown was one of the fastest players at the event and routinely created separation during one-on-one drills. Meanwhile, Hodge made the day's most highlight-worthy play, when he snagged an underthrown ball over Alabama defensive back commit Brendan Gant. Both Hodge and Brown lack elite length but possesses Power Five athleticism and quickness. So while size will always hold them back a bit, there's no reason they can't help any number of major conference programs.
LAKELAND LINEMEN MAKE STATEMENT
Tre Huntley and Latrell Jean turned in standout performances, with Jean nearly winning MVP honors before being narrowly bested late in the camp. Jean, who already holds offers from programs such as South Carolina, Kentucky and Temple, should see his recruitment continue to expand in the year ahead. Huntley, who won more reps than he lost on Sunday, holds offers from Tulane and Syracuse. Both prospects should have plenty of options before they start their senior seasons at Lakeland High School. Both seems a bit under-recruited.
JACKSONVILLE DUO MAKES GOOD
There's no shortage of young defensive backs in the Jacksonville area, and a pair of them went head-to-head for MVP honors with each other. Jacksonville (Fla.) Trinity Christian defensive back Fred Davis edged out his high school teammate, Miles Brooks, to take home the trophy, but both made their individual marks on the camp. Davis and Brooks are names to know in the class of 2020. Brooks has been offered by Florida, South Carolina, Nebraska and others. Davis hold offers from nearly every major college program in the country.
OUT OF STATE SURPRISES
In a camp stocked with Florida talent, two out-of-state prospects left the camp with MVP trophies. Tight end Simon Dellinger made the trip from Indiana and earned an invitation to the event through Saturday's Rivals Adizero Combine. Dellinger was as a consistent a target as there was at the event. Nigerian import Chris Akporoghene, who recently moved to Florida from Tennessee, won the day's offensive line MVP award.