Five-Star Spotlight: Tyre West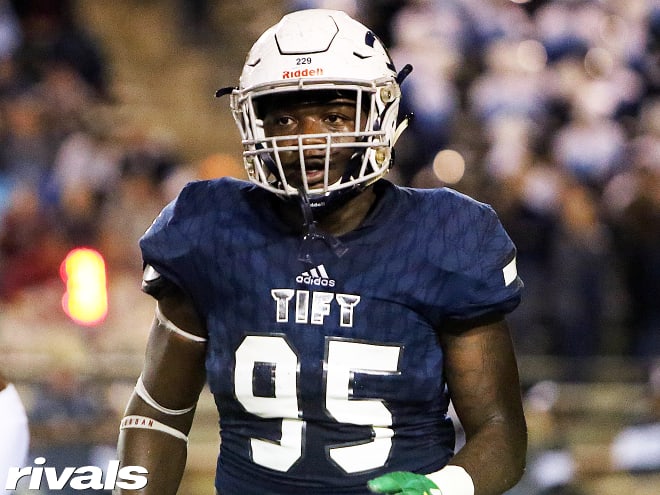 *****
SCHOOLS TO WATCH  
Contenders: Alabama, Auburn, Florida, Florida State, Georgia, Kentucky, LSU, Nebraska, Oregon and Tennessee.
West is still in the very early stages of his recruitment. He has no ties or connections to any major college program and he was just starting to get out for visits. His most recent offer is from Alabama and he has yet to visit Tuscaloosa. Florida State and LSU offered last week, too. He grew up a fan of the Georgia Bulldogs and he has visited Athens close to 10 times. The in-state school is definitely one to watch early. Auburn and Florida have also hosted West on visits, and the Tigers and Gators are high on his list, too.
His offers started coming in his freshman year. Kentucky, South Carolina and Tennessee were the first three schools to offer and he is closing in on 20 total. If he was around Atlanta somewhere, he would have 40 offers already. West is that good. West also grew up a fan of Michigan.
ANALYST'S TAKE  
When you see West in person, you think he is already a college-level defensive lineman. He is a very imposing figure for just a sophomore in high school. He was identified early, and was seen numerous times by Rivals as a freshman.
He had a big freshman season on the varsity level, then became a household name across the state of Georgia as a sophomore. West was facing double teams every play, and teams were already scheming against him just two years into high school. He is naturally strong and tough to handle in the trenches. He moves with agility and quickness for his size. He can crash down the line, he wins at the point of attack and he can get after the quarterback.
Depending on the defensive front, West is likely either a five- or three-technique on the next level. In the region where he plays, he goes against top-level talent each week, and most of the time he leaves as the top prospect on the field. West is very humble, he works hard and he is on track to be not only the No. 1 player in Georgia but one of the top players in the country.
ODDS AND ENDS  
He started out in high school playing football, running track and playing basketball. He has since dropped hoops and is focusing mainly on football. He still throws the discus and shot put in track.