Five-Star Spotlight: Luther Burden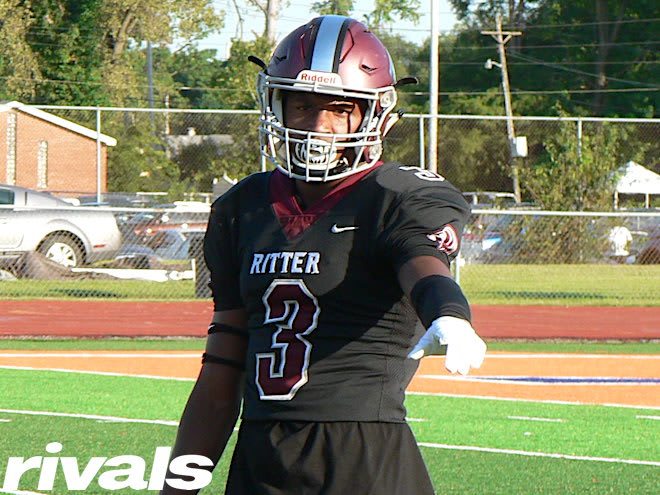 We continue our look at the first five-stars in the 2022 class with Luther Burden, a wide receiver from Cardinal Ritter High School in St. Louis. Burden has totaled more than 2,000 receiving yards already in his high school career, and his offer list includes more than 30 college programs.
*****
PROGRAMS TO WATCH
Alabama was a dream school for Burden growing up, and the Crimson Tide recently became offer No. 30 for the newly-minted five-star. However, there is a long way to go in this recruitment and a lot of programs are expected to contend.
Oklahoma has recruited the St. Louis area well for several years and the Sooners are off to a strong start with Burden. The in-state Missouri Tigers are definitely going to contend here, as is Georgia. Burden has struck up a friendship with Michigan 2021 quarterback commit J.J. McCarthy, so the Wolverines have a connection. Ohio State has not offered yet, but the Buckeyes have been in contact and have former Cardinal Ritter wide receiver Jameson Williams on their roster, so expect them to be a contender in the future as well.
ANALYST'S TAKE
Now measuring 6-foot-2 and 185 pounds, Burden already looks the part of a college wide receiver even though he is not yet halfway through high school. This past season he caught 45 passes for 855 yards and 14 touchdowns in just seven games. The previous season, as a freshman, he had 48 receptions for 1,191 yards and 14 touchdowns.
Burden reminds me of another Midwest five-star receiver in Laquon Treadwell because he plays the position with power that is not usually seen. He has the burst and the speed to separate, but he also is a top match-up physically for defensive backs and an outstanding downfield blocker, just like Treadwell was.
ODDS AND ENDS
Football is not the only sport in which Burden excels. In fact, when he came into high school most expected Burden's future was on the basketball court. The son of former St. Louis University star guard Luther Burden Jr., the younger Burden is still garnering accolades on the basketball court along with being a five-star football prospect. His most recent hoops feat was leading Cardinal Ritter to the Class 3 state championship on March 14, scoring 18 points in the win.
Burden knows football is his future, but he spends the winter playing for his high school basketball team, and then plays AAU basketball in the spring and summer. Considering he only focuses on football for one season, Burden is just beginning to explore the upper tiers of his abilities. He wears the No. 3 because he is Luther Burden III.