Five-Star Spotlight: Kam Dewberry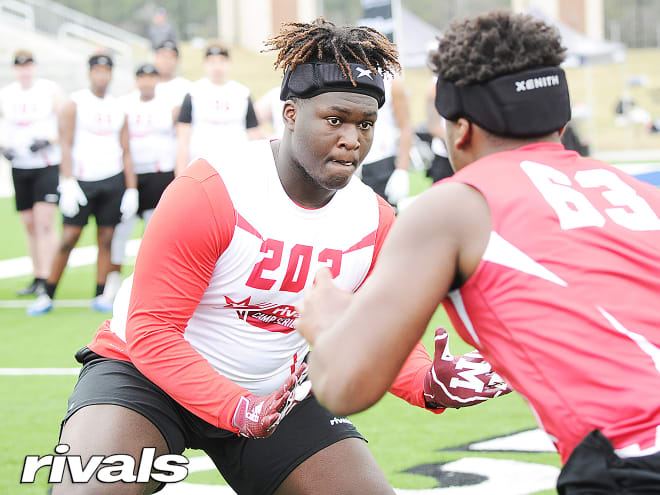 JUST THE FACTS
Attributes: 6-foot-4, 313 pounds
Top schools: Offers from Alabama, Georgia, LSU, Texas, Oklahoma State, Texas A&M, Ohio State

Scouting report: At 6-foot-4 and 315 pounds, Dewberry plays offensive tackle and sees snaps on both the right and left sides of the formation. Regardless of where he lined up, Dewberry is tasked with pulling and effectively plows over defensive linemen when left in space.

Dewberry plays with a block-to-the-whistle mentality and routinely pancakes the opposition. While he is a little short to be a prototypical left tackle, Dewberry is only 15 years old and there's a belief he could continue to grow. As a run-blocker, Dewberry could slide in at right tackle or guard where he's a dominant run-blocker that uses good hand placement paired with elite raw strength and the ability to block to the second level. Dewberry flashes in pass pro with fluid hips and good arm extension.
ANALYST'S TAKE
Dewberry bubbled up on college coaches' radars around this time a year ago and Baylor was the first to extend an offer. Quickly after, regional schools of note took notice as Texas and Texas A&M both made their move and got Dewberry on campus early on.
Last summer, Dewberry made visits to both Alabama and LSU. Oklahoma offered last fall, which caught his attention in a big way and the Sooners got the five-star on campus earlier this spring. Ohio State also recently offered and the Buckeyes have asserted themselves as real contenders for the Houston-based lineman.
ODDS AND ENDS
Dewberry will turn 16 years old at the end of April. As a sophomore varsity starter, he saw action as both left and right tackle for Atascocita High and could certainly slide inside at guard, too. Atascocita is a Houston-area powerhouse high school that most recently produced former five-star offensive tackle Kenyon Green (Texas A&M). Dewberry is built in the same mold as Green as a versatile lineman capable of playing multiple positions, which bodes well for his chances of making an early college impact.
PLAYER COMPARISON