Five Pac-12 players who need to step up down the stretch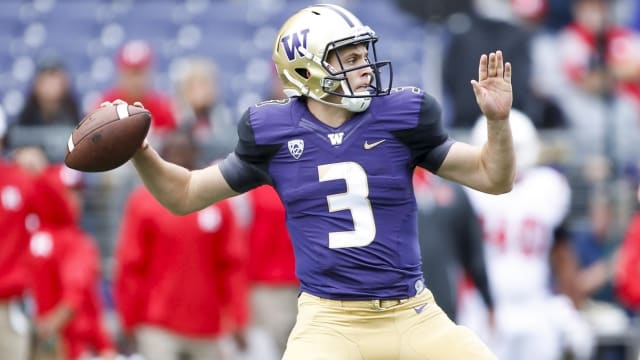 Mark Pszonak contributed to this report.
There are only a few games left in the college football season, but it's never too late for players to step up their games. Here are five guys in the ACC who could use a strong finish.
MORE: Big Ten players | SEC | ACC
Recruiting: Browning committed to Washington over Alabama, Oklahoma State, Utah, Boise State, Colorado and California in late March after taking several visits during the winter and spring.
Current situation: Coming back for his senior season, Browning was considered a dark horse candidate for the Heisman this fall by some, but that has never materialized. With only 13 touchdown passes, along with eight interceptions this fall from Browning, the Huskies have a huge game against Washington State looming next weekend. But can they upset the Cougars if Browning doesn't play like many expected him to this season?
Farrell's take: What happened to Browning, who was so good a couple of years ago? Is it a lack of confidence or is it mechanical or is there something else going on? Whatever it is, it needs to be fixed and soon. He's already been benched this season and really needs to put it together for Washington to play spoiler here. Washington State is looking for a playoff bid and Browning could ruin that and much more for them.

Recruiting: Carr committed to USC during the spring after his sophomore season. Despite taking official visits to UCLA and Arizona State in January, plus getting a late push from Oregon, he stuck with the Trojans on National Signing Day.
Current situation: With Ronald Jones moving onto the NFL, the assumption by most was that Carr would make a name for himself this fall. However, that has yet to happen, and is one of the reasons that the USC has struggled at times. Despite being outrushed this fall by both Aca'Cedric Ware and Vavae Malepeai, there is still time for Carr to step up, especially with UCLA, Notre Dame and a possible bowl game on the horizon.
Farrell's take: There have been questions about Carr's overall health and that could be contributing to his decline, but big things were expected and a strong finish would be nice. Carr was highly regarded out of high school and was a all-purpose threat as a runner and pass catcher. Much pressure was put on him this season and so far he hasn't been able to respond.

Recruiting: Holmes committed to UCLA at the U.S. Army All-American Bowl over Ohio State, USC, Michigan and Nebraska. This really came down to the Bruins and Buckeyes, but at the end Urban Meyer was not able to pull Holmes out of California.
Current situation: With eight losses, there are plenty of players who haven't played up to their potential this fall. With Holmes, it is more about consistency. He does have big-play ability, as proven with his two interceptions, two forced fumbles and five pass break-ups, but at the same time he is one of several defenders who gets caught out of place, takes the wrong angle and/or misses a tackle. The talent is there, but can the former five-star begin to play like a veteran during the last two weeks?
Farrell's take: Holmes is an important part of the defense and needs to be a consistent leader as the team prepares for next season with these last few games. He has so much talent and was one of our highest rated corners in the 2017 class as a five-star that you can see he's close to breaking through. Perhaps these last couple of games will be the difference.
Recruiting: Love took a fall official visit to Virginia and then January visits to Stanford and North Carolina before committing to the Cardinal a few days before National Signing Day.
Current situation: In a season that has been slowed a bit by injury, Love has failed to meet the lofty expectations that surrounded him this summer. And overall the season has been disappointing for the Cardinal, who do have winnable road games remaining against Cal and UCLA. Can Love return to the form he had the last two seasons, or remain the back who has only rushed for 580 yards and five touchdowns in 2018?
Farrell's take: What a disastrous season for Love, who came back after nearly winning the Heisman and has been plagued with injuries. If he can return to the form that made him such a highly valued recruit and such a star last year, Stanford should finish strong and he really needs a few big games to get NFL scouts back on board.

Recruiting: Montez earned his offer from Colorado during a summer camp and committed to the Buffaloes soon after. He also had offers from UTEP, New Mexico and Air Force at the time of his decision.
Current situation: It is not often that a team goes from 5-0 to 5-5, but that is the situation that Colorado is currently in. While their defense has been an issue during this stretch, the Buffaloes have also had an issue closing games in the fourth quarter. And that should lie with their quarterback, who despite an overall productive season has failed to make the big play on a few occasions during critical points. Now with Utah and Cal still remaining, can Montez lead the Buffaloes to a bowl game?
Farrell's take: With his coach rumored to be on the way out, how will Montez react down the stretch? The Buffs and Montez got off to a great start but have fallen short lately and he needs to step up his game and become more of a leader. He's a talented kid, always has been, but hasn't been playing to his potential in the second half of the season.