Five 2020 DEs with the most interesting recruitments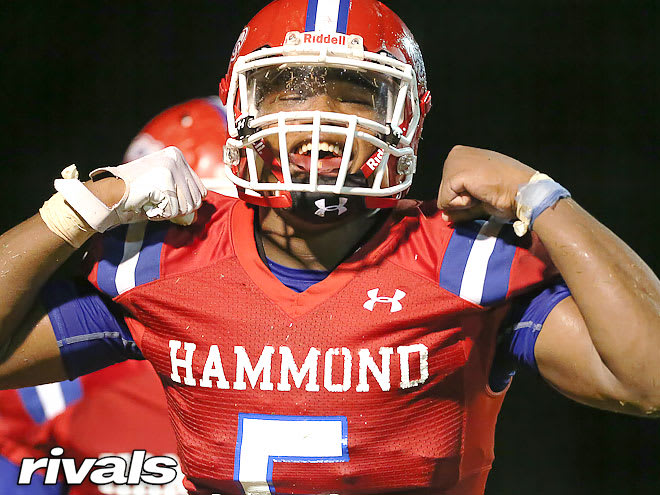 Here we are nearly at the midpoint of the football season and some important storylines on the recruiting trail are playing out. Players that have been committed for some time are now seriously considering switching to another school, while others continue to build suspense leading up to their commitments. Let's take a look at the five most interesting recruitments by position. Today, we take a look at the defensive ends.
RELATED: Five QBs with the most interesting recruitments | RB | WR/TE | OL | ATH | DE
CLASS OF 2020 RANKINGS: Rivals250 | Position | Team | State
JORDAN BURCH
Contenders: Clemson, South Carolina, Georgia
Recruiting outlook: Burch is well-known for his outstanding play on the field and staying silent off it. Clemson looks to be the favorite here as he has visited their campus more of late and he seems to be pretty close with those coaches and recruits. South Carolina and Georgia are still in this race and the head coaches for both just went to his game over the weekend.
Farrell's take: This could come down to an in-state battle between South Carolina and Clemson and I still think Clemson has the edge with the winning on the field and development of their defensive linemen. You can never count Georgia out for any recruit either, but I'm going with Clemson in this one.
JACOLBE COWEN
Contenders: Georgia, North Carolina, Ohio State, Tennessee, Clemson
Recruiting outlook: Cowan has been on the scene for a long time, but his recruitment will come to an end this coming Friday. These five teams are at the forefront of his recruitment and there are a few ways this could go. Georgia has a great relationship with Cowan through their defensive line coach Tray Scott. The Tar Heels have a commitment from one of his teammates and are one of his childhood favorite teams. Ohio State has done a great job building a strong connection with him through defensive line coach Larry Johnson and showing off their development program. Tennessee has sold early playing time. Clemson is a hot destination right now for defensive linemen and he has great relationships with a lot of players at Clemson.
Farrell's take: Ohio State is the pick here as they do a great job developing defensive linemen and he has a great relationship with Johnson. Cowan has taken his time with the process and has some great relationships but the one with the Buckeyes is the strongest.
Contenders: North Carolina, South Carolina, Virginia Tech
Recruiting outlook: Perhaps the worst kept secret in the recruiting world is Evans and his interest in North Carolina. The Tar Heels are the prohibitive favorite but for some reason Evans hasn't announced his commitment yet. Evans is supposed to take an official visit to Virginia Tech when they host North Carolina in three weeks, but most people don't believe the Hokies to be a real threat. South Carolina is the only other school that could challenge North Carolina here but the odds of that are dwindling.
Farrell's take: This appears to be all UNC and Mack Brown's job against Clemson this past weekend can only help as it was a great atmosphere and they showed they can play with the elite in the country. The Hokies will give it a good shot and South Carolina won't give up and the longer this goes the better it is for each program but I'd be stunned if he didn't end up at UNC.
Contenders: South Carolina, Alabama, Tennessee
Recruiting outlook: The Alabama legacy just took his official visit to Tuscaloosa a couple weeks ago and it remains to be seen how much of an option the Tide will be for him. South Carolina is the betting favorite right now. He's visited the Columbia campus a number of times and he is really close with the coaching staff. No decision date is set right now but there will surely be some additional visits before he make a commitment.
Farrell's take: Grimes is a legacy recruit for Alabama, but it's unclear how badly they want him so South Carolina is the team to beat as they've done a great job recruiting him and building a relationship. Tennessee has to be included here as well as he's an in-state kid, but the Vols rough start could hurt them.
Contenders: Texas A&M, Florida, Miami, Tennessee
Recruiting outlook: With his reclassification from 2021 to 2020, Harris's recruitment has changed drastically. Miami and Florida remain at the forefront of his recruitment but it seems like Texas A&M has the edge right now. He is scheduled to take a visit to Texas A&M month but with no official decision date set, Harris is one to keep an eye on.
Farrell's take: This is a tough one to call because we thought we had another whole year to worry about his recruitment but now things have sped up. Jimbo Fisher is making him a priority for the Aggies but Florida or Miami will end up keeping him in state. If Alabama wanted him, the Tide would have him by now but the Tide and a few other schools don't have room in 2020 for him.