Five 2020 DTs with the most interesting recruitments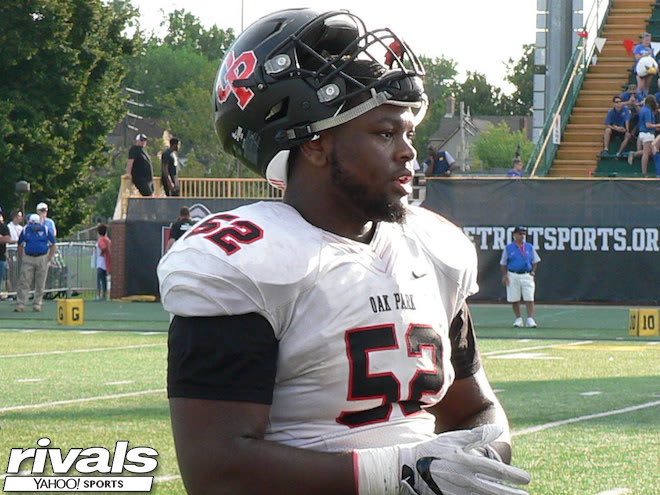 Here we are nearly at the midpoint of the football season and some important storylines on the recruiting trail are playing out. Players that have been committed for some time are now seriously considering switching to another school, while others continue to build suspense leading up to their commitments. Let's take a look at the five most interesting recruitments by position. Last week we looked at the offensive side of the ball and this week will be the defensive side, starting with the defensive tackles.
Committed to: Florida
Recruiting outlook: For a little while it looked like Dexter would end up flipping to Georgia. The Bulldogs really wanted him on their defensive line and that would fill one of their needs, but it seems like Florida may have smoothed things over with Dexter. He visited Gainesville again over the weekend but this will be a recruitment to track as the season rolls on.
Farrell's take: Dexter is a really hard kid to gauge and he could do anything, including flipping to Georgia. However, he committed to Florida for many reasons and those reasons will end up winning out and he'll stay with the Gators.
Contenders: LSU, Alabama, Texas, Texas A&M, Georgia
Recruiting outlook: Guillory is set to commit in the Early Signing Period in December and LSU has the best chance of being the beneficiary. Alabama got him on campus in the offseason and the two sides remain close, but it seems like LSU has the upper hand. Texas, Texas A&M, and Georgia are still involved as well.
Farrell's take: I've always thought LSU was the team to beat here and that hasn't changed. I like the Tigers here in a big way.
Contenders: Ole Miss, Alabama, LSU, Texas A&M
Recruiting outlook: A former LSU commit, Jackson is making sure he doesn't make a quick decision again without doing more research. He has visits set with all four of his major contenders and spent plenty of time at each, but right now the team with the momentum is Ole Miss. The Rebels are definitely in the driver's seat and if they can keep it up they will eventually get him to be a part of this class.
Farrell's take: Ole Miss has been the team to beat since the summer and that hasn't changed. He stays in-state and ends up with the Rebels.
Committed to: Kentucky
Recruiting outlook: As a committed five-star that has taken official visits to three other programs, Rogers had to make this list. The Wildcat commit has since reaffirmed his commitment to Kentucky but Tennessee, Georgia, and Alabama would still love to add him to this recruiting class. Alabama was his last official visit back in June, but he doesn't have any plans to visit any other school.
Farrell's take: I'm sticking with Kentucky here even though other teams will continue to push and Kentucky isn't having a stellar season. They were the school that liked him as a defensive tackle more than anyone else and he's a loyal kid who will stick to his commitment.
Contenders: Tennessee, Texas A&M, Auburn
Recruiting outlook: Thomas is still being patient with his recruitment. He was schedule to take a visit to Auburn over the weekend and that relationship is one to continue to watch over the next few months. Tennessee and Texas A&M are working to get Thomas on campus but it there hasn't been much movement just yet.
Farrell's take: I like Auburn here because of the play of their defensive line and the fact that they can sell him on being the next Derrick Brown more than others can sell their elite players. This is a tough one to call though.