Five 2020 OL with the most interesting recruitments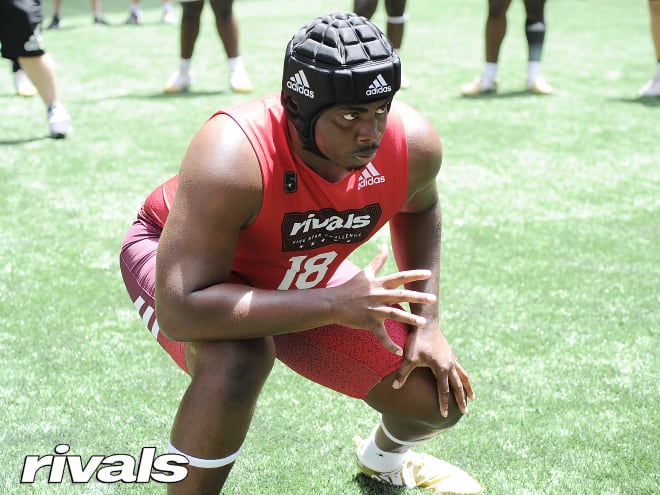 Here we are nearly at the midpoint of the football season and some important storylines on the recruiting trail are playing out. Players that have been committed for some time are now seriously considering switching to another school, while others continue to build suspense leading up to their commitments. Let's take a look at the five most interesting recruitments by position. Today, we feature the offensive linemen.
Contenders: Florida, Oklahoma, Louisville, LSU, Alabama
Recruiting outlook: Florida remains confident Dumervil will eventually sign with the Gators but it's far from a slam dunk. He is going to return to Louisville for an official visit later this season and he's already visited LSU and Oklahoma for official visits. Dumervil hasn't set up his last official visits yet, but Alabama is a candidate to receive one of them. With no end to his recruitment in sight, there are still a lot of twists and turns this can take.
Farrell's take: Florida is the leader here after a very good unofficial visit recently and the fact that his teammate Derek Wingo is in his ear constantly. LSU was thought to be on top and will be tough to beat and Oklahoma is in there as well, but Florida gets an official visit this fall and pushes way ahead.
Contenders: Michigan, Stanford, Virginia, BYU
Recruiting outlook: Michigan is in good position with Gentry but Stanford is very much in this race. He is expected to visit Ann Arbor for the Notre Dame game at the end of October and Stanford has a chance to get him on campus again. Virginia could also get him for a visit but the major X-factor here is that Gentry is expect to take a mission and that's why BYU is such a big player for Gentry. There is still a lot that could play out with Gentry as the season wears on.
Farrell's take: I'll go with BYU for Gentry mainly because he is still likely to take a two-year mission and has religious ties to BYU. Michigan and Stanford are two programs to keep an eye on, but this seems like a BYU lock to me.
Contenders: Texas A&M, Arkansas, TCU, Ole Miss, Oklahoma, Baylor
Recruiting outlook: Hayes doesn't speak to the media much, but in the last update he gave he wasn't sure if he will commit in December of February. The Aggie legacy really enjoyed his last visit to Texas A&M and the same could be said for his time at Arkansas. TCU has made Hayes a priority with coach Gary Patterson taking a helicopter to see him play earlier this season. Ole Miss and Baylor are on the outside right now but he still mentions them as contenders.
Farrell's take: Arkansas is making a nice run at Hayes but I think Texas A&M lands him if the Aggies push hard enough. It's been a battle between these two programs for awhile but the Aggies appear to have the edge and could be the more attractive program based on how the season plays out.
Contenders: Texas A&M, Tennessee, Georgia
Recruiting outlook: Morris is one of the best offensive linemen still uncommitted and he looks to be headed to the SEC. Tennessee and Georgia were bigger factors earlier in the process but things have slowed between them and Morris. Texas A&M is going to host Morris for a visit during the Alabama game the second weekend of October and all signs point to the Aggies landing his commitment unless something changes.
Farrell's take: I still think Texas A&M is the choice for Morris in the end but he's a very unpredictable prospect and he could end up at one of many schools. But the Aggies have done a great job with him so far and have been his leader for awhile.
Committed to: Texas A&M
Recruiting outlook: Now on his second commitment to Texas A&M, Ogunbiyi says he is solid to the Aggies. Their proximity to his home and mother that suffered a stroke when he was a freshman was a big reason for why Jimbo Fisher and his staff got Obunbiyi back in the fold. Still, Georgia, who once held a commitment from Ogunbiyi, isn't backing off and there is a good chance Alabama gets him on campus for an official visit. The draw to stay close to home is strong, but it's not a done deal yet.
Farrell's take: Ogunbiyi has been all over the map so far with a commitment to Georgia and another to Texas A&M. While he is an Aggies commitment now, he will take visits to Alabama and perhaps some others and if Georgia pushes again they could sway him back. I'll stick with Texas A&M for now, but this kid is unpredictable.