Farrell 50: Nos. 21-25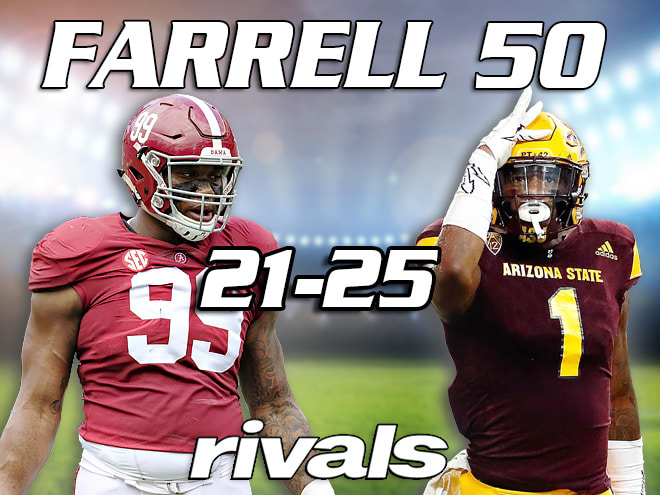 Mark Pszonak contributed to this report.
It's that time of year again, time for the updated Farrell 50, the top 50 players in college football. Today we look at Nos. 21-25, led by some talented big men.
FARRELL 50 COUNTDOWN: Nos. 26-30 | 31-35 | 36-40 | 41-45 | 46-50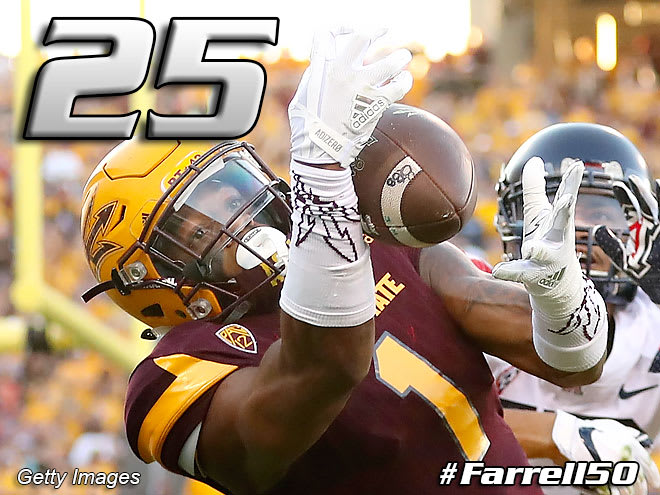 The skinny: Harry considered Texas A&M, Washington, Oregon and USC, but despite never taking an official visit to Arizona State he still committed to the Sun Devils due to their proximity to home.

At Arizona State, Harry has produced since the first game of his true freshman season. That has continued this fall with 42 receptions for 572 yards and five touchdowns through the first half of the season.
Farrell's take: The first time I saw Harry at one of our Rivals Camp Series events in Vegas, I knew he was a five-star. He was big, strong and very fluid, and he had an extra gear rare for a 200-pound high school receiver, which allowed him to gain great separation. The No. 1 wideout in the 2016 class, he has adjusted to college very well and one can only imagine the numbers he would have at Arizona State with an above-average quarterback.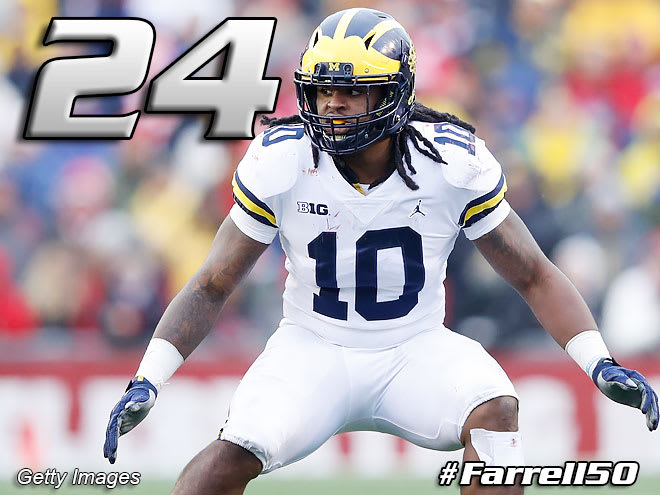 The skinny: Despite being a legacy to Florida State, Bush always thought of Michigan very highly. So after taking official visits to Tallahassee, Ann Arbor and also Auburn, Bush committed to the Wolverines. Bush surprised some with his breakout season in 2017, and in 2018 has proven that it was not a fluke. With 35 tackles, five tackles for a loss and three sacks, Bush has become a vital piece to Michigan's dominant defense.
Farrell's take: We had Bush ranked in the Rivals250 and as a top 10 inside linebacker, but I never expected him to be as dominant as he has been at Michigan. He's a much bigger hitter at the college level than I expected, and his lack of length – something we worried about – hasn't hurt him at all. He explodes to the football, arrives with a thump and has been a huge key for Michigan's defense.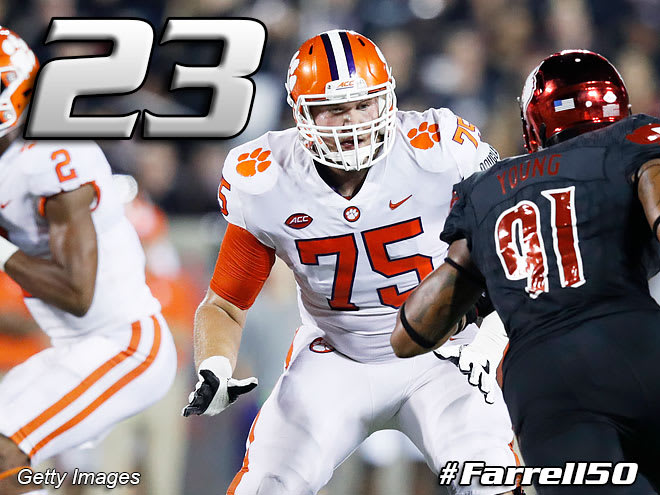 The skinny: After taking multiple visits to Clemson, Hyatt committed to the Tigers during the spring after his junior season. Georgia and Ohio State were also in the picture and continued to push Hyatt until the signed with the Tigers. Hyatt surprised some by becoming an immediate starter in Death Valley. Now in his third season, he has refined his game and become one of the top offensive linemen in the country.
Farrell's take: Hyatt was a longtime five-star, but was downgraded at the end of the process because of concerns regarding his ability to fill out his frame and add strength in his lower body. Oops, I'll take the blame for that one. His technique and footwork have helped him overcome a frame that is still filling out. Hyatt seemed to get stronger game by game each of his first two years and has been solid this season as one of the best linemen in college football.

The skinny: Little was initially committed to Texas A&M, but re-opened his process during the summer leading up to his senior season. After taking official visits to LSU, Auburn and Alabama, he committed to Ole Miss before solidifying his plans with an official visit to Oxford in late January. Little's game, both run and pass blocking, has continued to improve during his time at Ole Miss. This has continued this fall, as he has also positioned himself to become one of the first offensive linemen drafted next spring.
Farrell's take: Little was a two-time participant at the Five-Star Challenge, making back-to-back solid performances in Baltimore in 2014 and 2015 and always impressed me. He's a special prospect with light feet, the ability to re-set quickly and a nice punch. I fully expected him to be a star in college and beyond and his improvement from year one to year two at the Five-Star Challenge shows how much he learns from facing top competition. Now he's improving year to year in college and is easily one of the top offensive linemen for this season.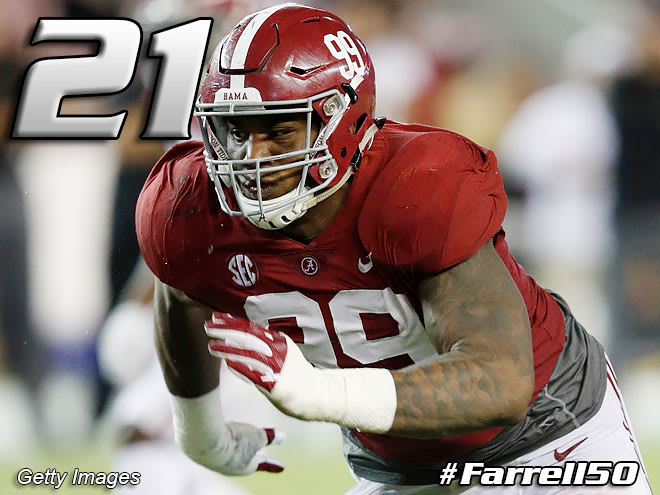 The skinny: Davis committed to Alabama prior to his junior season, but then took an official visit to Mississippi State in January. Drama then ensued when he supposedly flipped to the Bulldogs, but later claimed his Twitter account was hacked. He ultimately stuck with the Tide. After a huge 2017 season, Davis has firmly entrenched himself as a team leader on the defensive line this fall for the Tide. Anchoring the interior, he has totaled 27 tackles and three tackles for a loss.
Farrell's take: Davis was a monster defensive tackle and the rare 6-foot-7 defensive interior lineman who could consistently play low and be effective out of high school. He had an amazing frame to build on and played with power and surprising athleticism. He is a key to the Alabama defense with his ability to take up blockers.