Farrell 50: Nos. 41-45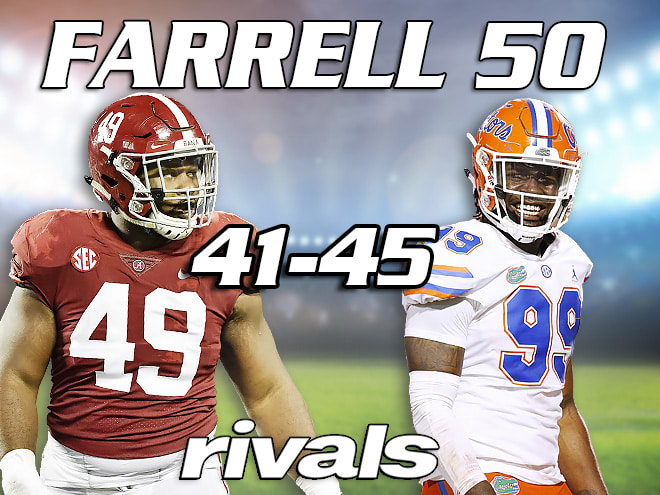 MORE: Week 8 in review | Five weird things from Week 8
Mark Pszonak contributed to this report.
It's that time of year again, time for the updated Farrell 50, the top 50 players in college football. Up next is Nos. 41-45, led by some big-time defenders.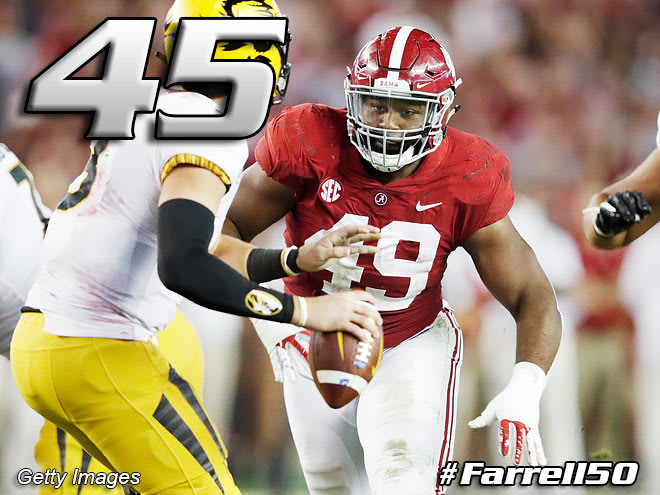 The skinny: Originally from Louisiana, Buggs took the JUCO route before seeing his recruiting process explode. Finally trimming his list to Alabama, LSU, Auburn and Ole Miss, Buggs committed to the Tide in mid-December. After a productive, yet unspectacular, first season in Tuscaloosa, Buggs has raised his game to the next level this fall with 24 tackles, 7.5 tackles for a loss, seven sacks, two forced fumbles and one fumble recovery.
Farrell's take: Buggs was the No. 1 JUCO prospect in the country and a can't-miss prospect in 2017 for Alabama. He has amazing size, strength and quickness so it's no surprise to see him on this list. He's a huge part of the best defense and is a surefire NFL prospect.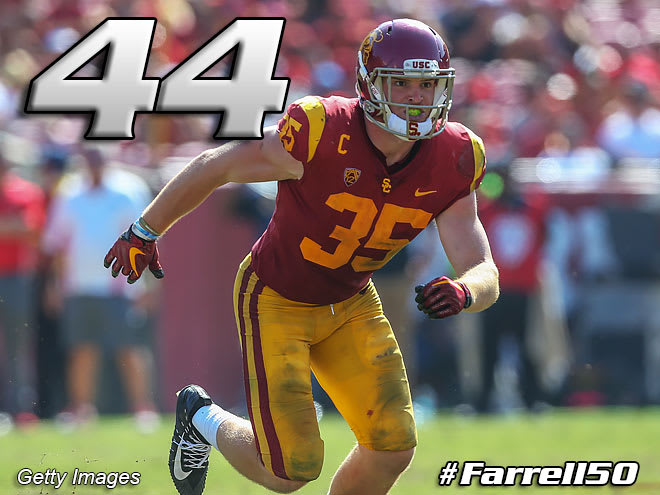 The skinny: Smith initially planned to wait out his recruitment, but after some reflection he committed to USC in late May. UCLA, Oregon and Wisconsin were other schools that he considered. Smith has had a very productive career with the Trojans, and is finishing in style with 47 tackles, five tackles for a loss, one sack and three pass break-ups despite missing some time due to a hamstring issue.
Farrell's take: Smith had a very strong freshman season and hasn't looked back since, showing off excellent instincts and pure form tackling. He was just outside the Rivals100 for us, mainly because of questions about his lateral ability and quick-twitch athleticism. But he takes such good angles, he's so physical in shedding blocks and he diagnoses plays so well that he overcomes any lack of natural speed. He's a great example of a guy who struggles in camp settings but dominates with pads.

The skinny: Sills has had a very unique high school and college career. Initially he committed to USC at the age of 13 as a quarterback prodigy, but eventually re-opened his recruitment and signed with West Virginia. He, however, was moved to wide receiver, which led to his transfer to a junior college. After one season at El Camino C.C. he found his way back to Morgantown, where he decided to embrace his move to receiver. He has continued his amazing relationship with quarterback Will Grier this fall, especially in the red zone, with 32 receptions for 390 yards and seven touchdowns.
Farrell's take: Sills is an amazing talent, a kid who was recruited as a quarterback out of high school and showed no signs of being able to play another position but has become one of the best wide receivers in the country. I can't think of another player who has re-invented himself more or better than Sills.

The skinny: Mississippi State and Ole Miss battled for Simmons throughout his recruitment with the Bulldogs winning out at the end, even though many thought the Rebels were his leader heading into National Signing Day. Simmons continues to establish himself as one of the top defensive line playmakers in the country. Currently with 26 tackles and 9.5 tackles for a loss, he and Montez Sweat have become a dynamic defensive line duo for the Bulldogs.
Farrell's take: Simmons was an exceptional talent coming out of high school, a kid with size, explosion, a nasty edge and someone who could rush the passer and play the run. He was a five-star prospect and No. 1 at his position for a reason and he's continuing to put it all together. He was expected to have a huge year this season and he's getting a lot of attention.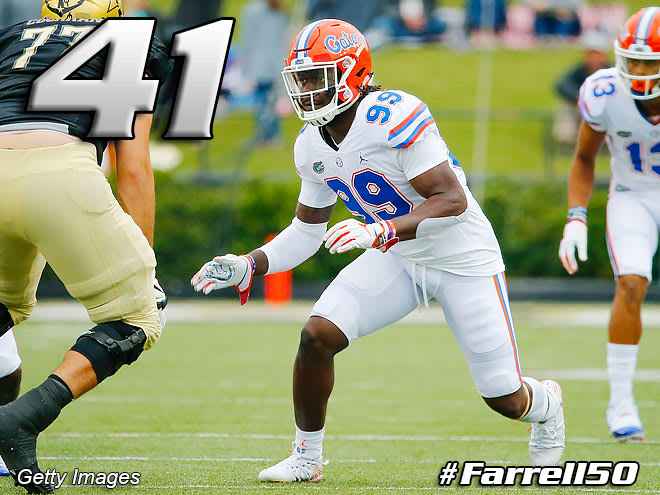 The skinny: Polite was initially seen as a lean to Miami, but after earning an offer from Florida at a Gators' camp, he gradually turned more of his focus on Gainesville. This led to his commitment in November. While he did take an official visit to USC in late January, he stuck with his word on National Signing Day. Polite, who has improved his level of play each season in Gainesville, is leading the Gators' defense this fall with 26 tackles, 9.5 tackles for a loss, seven sacks, four forced fumbles and three pass breakups.
Farrell's take: Polite was a mid-level three-star coming out of high school who had average size and wasn't overly explosive but made big plays when needed. He was moderately recruited and a kid with a good frame to add size and strength, but he has outplayed his ranking. He always had a good motor but his ability to pursue increased in college.