Farrell 25: College football's top players, Nos. 6-10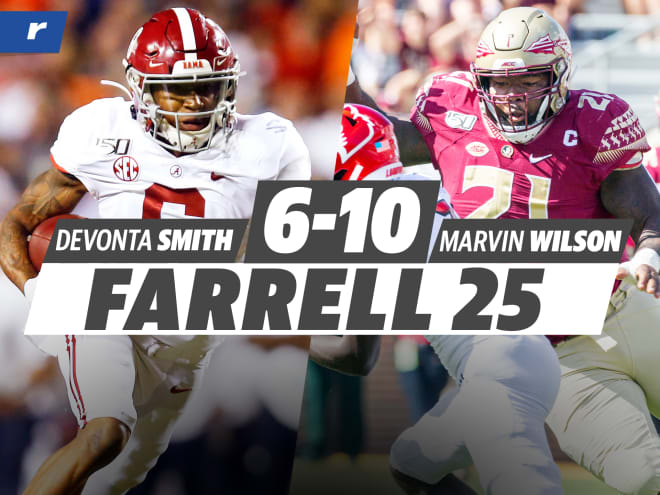 Every year in August I roll out the Farrell 50, a ranking of the top 50 players in college football. But this year is different, as it's almost mid-September and only three Power Five conferences are getting ready for football this fall. So this year, I am doing a Farrell 25, continuing today with Nos. 6-10.
Mark Pszonak contributed to this report.
*****
FARRELL 25: Nos. 11-15 | 6-20 | 21-25
CLASS OF 2021 RANKINGS: Rivals250 | Position | Team | State
CLASS OF 2022 RANKINGS: Rivals250 | Position | Team | State
COVERAGE: Rivals Transfer Tracker | Rivals Camp Series
*****
10. DT Marvin Wilson, FSU  
The skinny: On National Signing Day, Wilson chose Florida State over LSU, Ohio State and others. LSU was considered the slight favorite leading up to his decision, but the Seminoles won out. Over the last two seasons, Wilson has reached the five-star potential many expected from him when he arrived in Tallahassee. Coming off a 2019 season with 44 tackles, 8.5 tackles for loss, five sacks and a forced fumble, will he continue to improve his level of play in 2020?
Farrell's take: Wilson's motor stood out for sure as he rarely took a play off and at camps and events he took rep after rep. His work ethic was awesome and his skill set was rare as he had light feet and great athleticism. He was our No. 1 overall player at one point. He was that special. Now he's the best DT in the country.
*****
9. CB Patrick Surtain, Alabama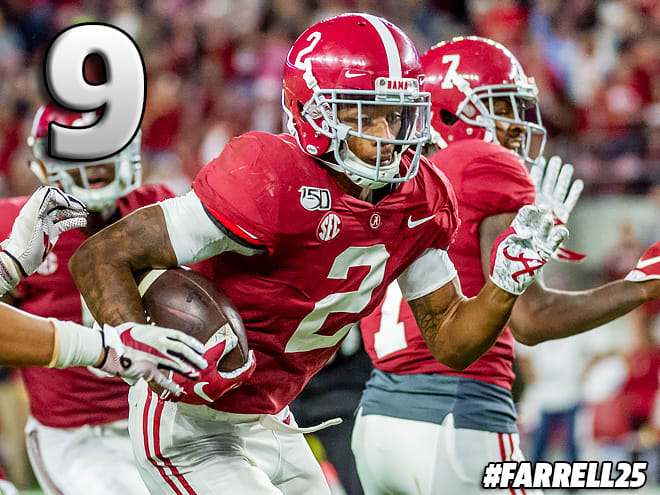 The skinny: The five-star prospect committed to Alabama over LSU, Miami and many others. Throughout his recruitment, the Tigers were considered the front-runner, but the Crimson Tide won out. With the Tide, Surtain has become one of the top cover corners in the country. Having totaled 79 tackles, three interceptions, four forced fumbles and 15 passes defended over the last two seasons, NFL scouts will be keeping a close eye on Surtain this fall.
Farrell's take: Surtain was a five-star with length, size and great instincts, so it's no surprise to see him have so much success at Alabama. Out of high school, it was clear he had great bloodlines, was well-coached and knew the position very well. He filled a need right away at Alabama and is now considered a first-round corner.
*****
8. QB Sam Ehlinger, Texas
The skinny: Ehlinger committed to Texas during the summer before his junior season and never wavered on his word. About to begin his final season in Austin, Ehlinger has had a dynamic career with the Longhorns. Having totaled 8,870 yards and 68 touchdowns through the air, plus 1,526 yards and 25 touchdowns on the ground, will his finale be a memorable one?
Farrell's take: I had Ehlinger in my Commit Fit after National Signing Day when he came out of high school because he had the skill set that a Tom Herman offense covets. His injuries during his high school career, from his knee to his wrist, led to some question marks, but he was still so prolific as a stat-stuffer that there was no question he was in the Rivals100 range. He wasn't the tallest quarterback, but he had a good arm, compact release and was powerfully built, which helped his running ability and ability to bounce off tackles. Ehlinger has lived up to his ranking so far and then some, and he has improved each season. Many think a run at the Heisman could come this season.
*****
7. QB Sam Howell, UNC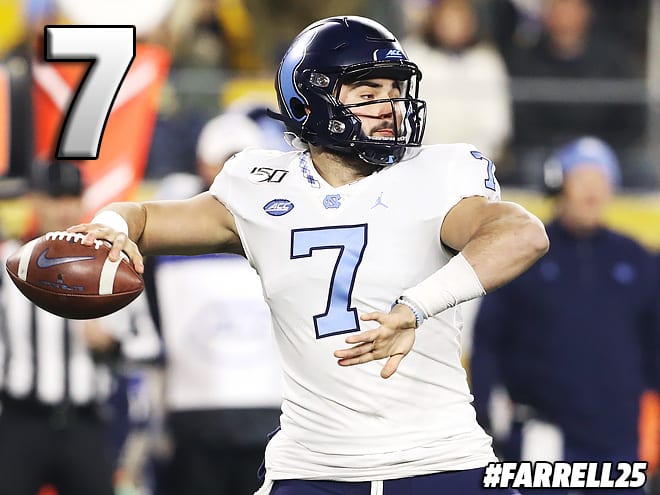 The skinny: Howell had been committed to Florida State since the spring of his junior year, but in the Early Signing Period he flipped from the Seminoles to North Carolina. The departure of then-offensive coordinator Walt Bell to Massachusetts and the arrival of Mack Brown in Chapel Hill helped Howell make his decision. Not many people expected Howell's 2019 performance as a true freshman. Finishing with 3,641 yards, 38 touchdowns and only seven interceptions, his encore performance will be closely watched.
Farrell's take: Howell was a Rivals250 prospect who was considered for the Rivals100 many times and always had a strong arm and a great pocket presence. He isn't tall, but he does a great job changing his launch points and finding seams to throw in when things become congested. He's off to an amazing start to his college career, and he looks to be the next star QB in the ACC.
*****
6. WR Devonta Smith, Alabama
The skinny: Smith took January official visits to Alabama, Miami, Florida State and LSU before committing to the Tide on National Signing Day. Alabama was considered the heavy leader for quite some time, but both the Seminoles and in-state Tigers made a charge at the end. Smith began to showcase his game-breaking skills in 2018, but he truly exploded onto the national scene in 2019 with 68 receptions for 1,256 yards and 14 touchdowns.
Farrell's take: We had Smith as a top 50 player in the nation coming out of high school, and he's living up to that. Let's not forget he caught the game-winning touchdown to win a national title as well, and last season he was a huge part of the best group of wide receivers I've seen in the many years I've covered college football. Smith was always a smooth route-runner with breakaway speed, and teams learned he's a hard one to check.