Farrell 25: CFB's top players, Nos. 16-20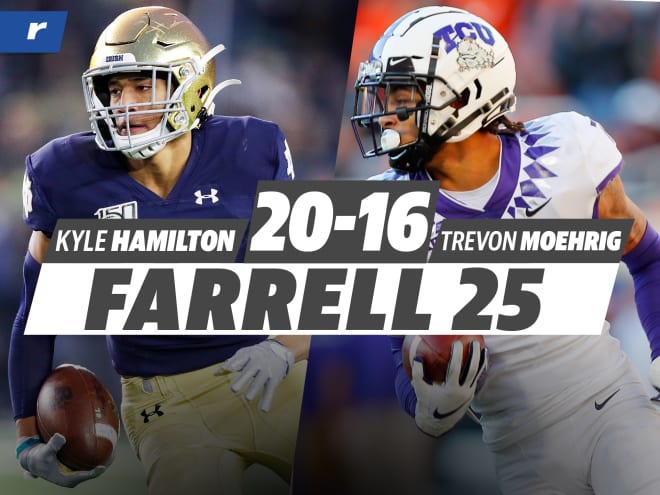 Every year in August I roll out the Farrell 50, a ranking of the top 50 players in college football. But this year is different as it's almost mid-September and only three Power Five conferences are getting ready for football this fall. So this year, I am doing a Farrell 25, continuing today with Nos. 16-20.
Mark Pszonak contributed to this report.
20. DB Kyle Hamilton, Notre Dame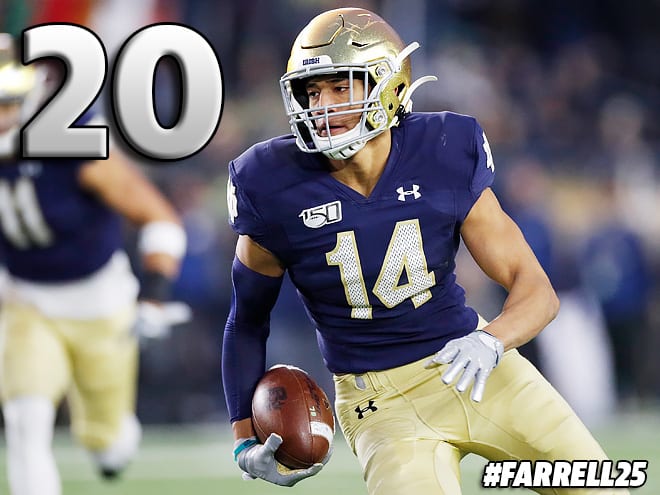 The skinny: While Hamilton took spring official visits to Georgia and Michigan, his two previous trips to Notre Dame were enough for him to commit to the Irish in late April. It did not take long for Hamilton to earn significant playing time with the Irish. As the season progressed so did his level of play, as he finished with 41 tackles, four interceptions and six passes defended.
Farrell's take: Hamilton was a prospect I really liked out of high school, better than most, and he ended up in the Rivals100 after starting off as a three-star. He was a big, rangy safety who closed on the ball well and had excellent ball skills and he's been all over the field for Notre Dame. He's now the leader of the defense already and one of the country's elite talents.
19. OL Sam Cosmi, Texas
The skinny: Cosmi's recruitment was flying under the radar, with offers from TCU, Houston and Memphis, until Texas swooped in with an offer in late January. He took an official visit to Austin the following weekend and committed to the Longhorns soon after. Cosmi had previously been committed to Houston. After redshirting in 2017, Cosmi began to show his potential in 2018. He then took his game to the next level in 2019 as he has also established himself as one of the top offensive linemen in the 2021 NFL Draft.
Farrell's take: Cosmi was a mid-level three-star and a late offer for Texas and now he's one of the best tackles in all of college football. He was a skinny lineman out of high school who could handle speed but had trouble with bull rushes and bigger linemen. That's not an issue now and he's a potential first-rounder.
18. QB Kyle Trask, Florida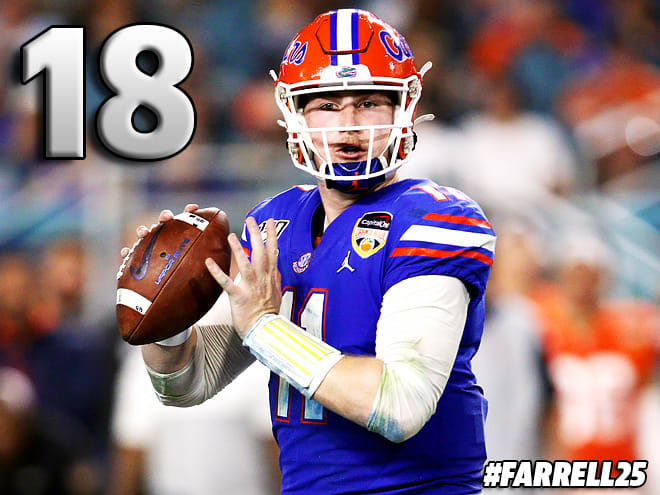 The skinny: Trask earned his offer from Florida while attending their summer camp. He committed to the Gators a day later. His only other offer at the time of his commitment was from Houston Baptist. Earning the starting job in Gainesville in preseason camp last year, Trask responded by completing almost 67 percent of his attempts for 2,941 yards, 25 touchdowns and only seven interceptions.
Farrell's take: Trask was a two-star out of high school and a backup and Florida simply took a chance and it paid off. He's developed very well and has become an efficient quarterback who could take the step to stardom soon.
17. WR Tu-Tu Atwell, Louisville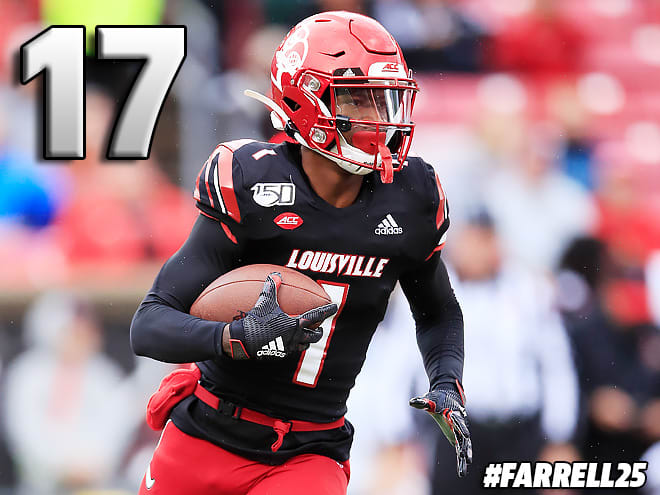 The skinny: Soon after receiving an offer from Louisville, Atwell took an official visit which resulted in his commitment. He also considered Illinois, USF, Marshall, Florida Atlantic and FIU. After showing some potential in 2018, Atwell proved himself as a big play threat in 2019 with 69 receptions for 1,272 yards and 11 touchdowns while averaging 18.4 yards a grab.
Farrell's take: Atwell was a tiny receiver out of Florida who had great speed and was very dynamic but lack of size kept him as a high three-star. He could have played offense or defense and we knew he could impact on special teams as well and now he's arguably the best slot in the country.
16. DB Trevon Moehrig, TCU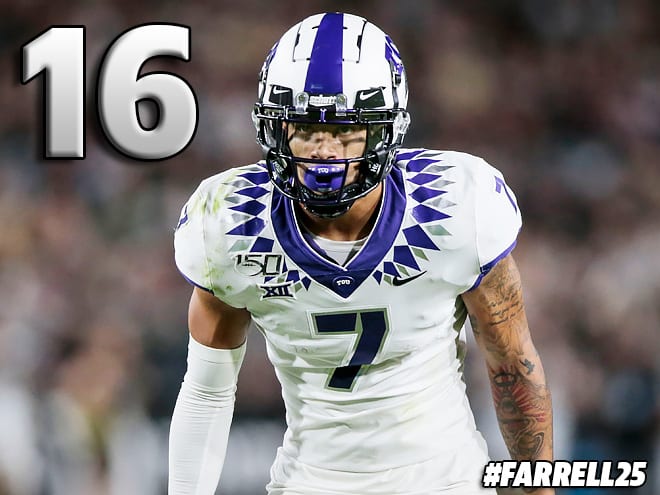 The skinny: Moehrig committed to TCU during the spring after his junior season over offers from Ole Miss, Stanford, Georgia, Tennessee, Baylor, Texas A&M and Arizona. He had a breakout season in 2019 and became one of the top safeties in the country. With 62 tackles, four interceptions, 11 passes defended and two forced fumbles, even more will be expected from him this fall.
Farrell's take: Moehrig was a big three-star athlete coming out of high school who could play corner of safety or even grow into a linebacker. He developed fast under Gary Patterson and his football instincts were way beyond what we thought projecting him to college.