Fact or Fiction: Can Texas Tech sign a top 10 class in 2023?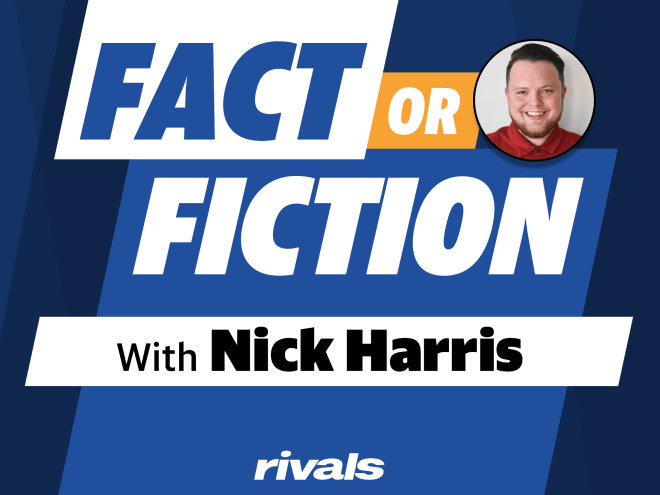 1. Texas Tech will have a top 10 class in 2023.
Harris' take: FICTION. While Texas Tech has been red hot on the recruiting trail since the hiring of Joey McGuire, especially within state borders, there are only so many spots that the Red Raiders can take in 2023. Already at 15 commits this cycle, Texas Tech is one of just two schools nationally with double-digit commits, so it will only be a matter of time before other teams overtake Texas Tech with five-star talent in numbers. That being said, Texas Tech's ceiling is still high in 2023. If I had to pin it, I would say Texas Tech finishes around 20 to 25 in the team rankings after National Signing Day in February.
Golan's take: FICTION. McGuire has gotten off to a great start in 2023, and Texas Tech currently sits at No. 2 in the Rivals team recruiting rankings. Four-star prospects such as Isaiah Crawford, Calvin Simpson-Hunt, Daniel Sill, Brenden Jordan and Jmaury Davis are all great additions and the type of prospect Tech hasn't been able to land in recent history. However, Tech's class is bolstered by numbers – the Red Raiders have more commits than any Power Five program. As others start to fill up, they will likely pass the Red Raiders in the rankings. This is still going to be a great class, and Texas Tech will almost certainly end up in the top 25 with a good shot at top 20. But top 10 is asking for a lot in McGuire's inaugural class, even if they are able to close strong with top targets such as TJ Shanahan and Avion Carter.
*****
2. After a recent visit, Virginia is a legitimate contender for Arch Manning.
Harris' take: FICTION. There was some buzz that Virginia might actually have a shot in Manning's recruitment following a visit to Charlottesville. And yes, his sister currently attends the university, but don't fall for the clickbait. This recruitment is staying in the SEC with schools such as Texas, Georgia, Alabama and Ole Miss standing out. There's always room for surprises in recruiting, but this one is a bit farfetched.
Gorney's take: FICTION. There are a lot of connections to Virginia, but there's a slim-to-none chance that Manning ends up there. That's no knock on Virginia or what Tony Elliot is trying to build there, but Manning's focus is mainly on Texas, Georgia and Alabama, and he's not going to play games in his recruitment.
*****
3. Jayvon Thomas committing to Texas A&M all but secures the Aggies' chances of landing Malik Muhammad.
Harris' take: FICTION. While I do see Texas A&M as a runaway leader at this point (hence a FutureCast prediction in favor of the Aggies put in on Thursday), this recruitment has always been seen as a bit of a wildcard. A large group of other schools – including Alabama, Florida, Michigan and Miami – remain in contention. And while the Aggies do hold the advantage, nothing is surefire in this recruitment until a commitment is made or pen is put to paper.
Passwaters' take: FACT. It's not just getting Thomas that helps the Aggies here, even though that's a big part. It's the overall haul at corner, which could also include five-star Javien Toviano. In 2022, the Aggies stacked one top defensive linemen after another because they sold them on the vision of playing together and winning in the SEC. Right now, it looks like history is repeating itself with cornerback prospects.