Day carries reputation as ace recruiter to top job at Ohio State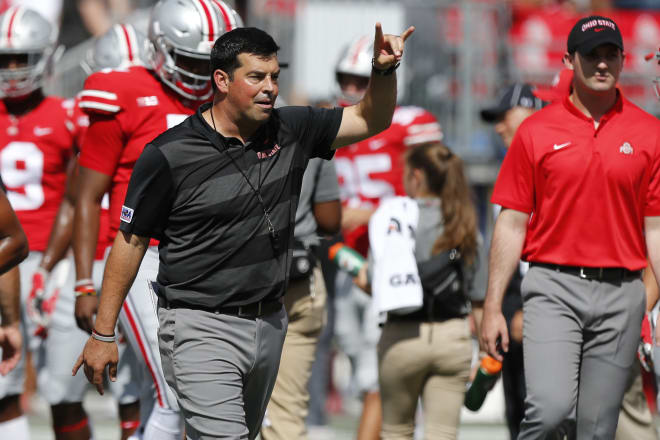 The retirement of Urban Meyer has opened the door for 39-year old Ryan Day to take over the Ohio State football program. After 15 years coaching in college and two in the NFL, Day gets his first permanent head coaching job.
MORE: Mind of Mike on Meyer | Potential landing spots | Recruits react | Top recruits of Meyer era | Meyer tops list of best head coach recruiters
The Buckeyes' offensive coordinator over the last two seasons, Day has also been a key recruiter on Meyer's staff. The importance recruiting will have as part of Day's duties as head coach may have been exemplified by his actions in the immediate aftermath of being named Meyer's successor. Following the 2 p.m. press conference in Columbus, Day was in the air to Springfield, Ill., where he watched a basketball game featuring Nick Broeker, a three-star offensive lineman the Buckeyes have been trying to flip from Ole Miss.
Day's recruiting pace has been swift over the last few days, with personal appearances in Texas on Wednesday to see four-star wide receiver commit Garrett Wilson and Atlanta on Thursday to check in with four-star offensive line commit Harry Miller. While filling Meyer's shoes as a recruiting head coach is going to be difficult, Day has a proven track record as a top recruiting assistant coach.
In 15 seasons as a college assistant coach Day, a New Hampshire native, spent the most amount of time at Boston College, where he worked under each of the Eagles' last four head coaches: Tom O'Brien, Jeff Jagodzinski, Frank Spaziani and Steve Addazio.
Day was a graduate assistant for O'Brien during the 2003 and 2004 seasons. He came back to Chestnut Hill in 2007 to coach wide receivers, first for Jagodzinski and then for Spaziani. Following a year at Temple, where he got his first opportunity to coordinate an offense, Day was brought back to Boston College as offensive coordinator and quarterback coach in Addazio's first season of 2013. Pennsylvania and Florida were two of Day's primary recruiting territories during his tenure with Boston College.
"(Day) has learned under some really good recruiters," Rivals.com national analyst Mike Farrell noted. "He was a young guy at Boston College when Al Golden was there and Mike London was there and those guys were very, very good recruiters. He obviously learned a lot when he was under Urban Meyer."
Two years spent in the NFL did not diminish Day's recruiting touch. Meyer hired him away from his mentor, Chip Kelly, to replace co-offensive coordinator Tim Beck shortly after the 2016 season concluded. At Boston College, Day was often looking for diamonds in the rough, but when he got to Ohio State there was little acclimation needed to start courting the four- and five-stars the Buckeyes primarily target.
Day was hired at Ohio State a month before National Signing Day for the 2017 class. He immediately went to work reassuring blue chip quarterback recruit Tate Martell on his commitment and also assisted with a late commitment from four-star wide receiver Jaylen Harris.
Before Day was hired, Ohio State had already received a commitment from a 2018 quarterback prospect in Georgia native Emory Jones. When Jones' commitment started to soften and he began visiting other schools, Day identified and landed four-star signal caller Matthew Baldwin out of Texas, who became the only quarterback commit in the class when Jones eventually de-committed.
Maybe the most notable recruiting effort from Day in that 2018 class, however, was identifying wide receiver Chris Olave as a guy the Buckeyes wanted. Day was at Mission Hills High School in California to scout four-star quarterback Jack Tuttle when he saw Olave. Ohio State would add Olave as one of its last commitments in the 2018 class, and turned him into an immediate contributor this past season for the Buckeyes' offense.
Day continued to build recruiting momentum in the 2019 class, flipping Rivals100 quarterback Dwan Mathis from Michigan State and also getting Wilson out of Texas and Miller out of Atlanta. That trio of prospects currently accounts for three of Ohio State's four highest-ranked commitments in the 2019 class. And, Day has also secured his quarterback of the future in 2020 four-star Jack Miller out of Arizona.
"He's a good offensive mind, but I think an underrated recruiter," Farrell added. "A lot of people don't realize how good he is when he is recruiting top kids. He is very well prepared, he is good in living rooms, he's got definite connections in Florida, which I think is going to help a lot as the head football coach at Ohio State, he's recruited Georgia before, most of the Northeast, so he's been around."
Meyer was known as a dynamite living room recruiter, and he also came to the Ohio State job with plenty of connections to the state of Florida. Day has his own personality and own strengths and weaknesses as a recruiter, however. He is following one of the greatest head coach recruiters the game has seen, but being a carbon copy of Meyer seems unrealistic.
Ohio State has won eight straight Big Ten team recruiting titles, but has dug itself a pretty big hole in a quest for nine straight. If Day is able to resurrect this 2019 class it would be a bleak omen for the rest of the conference. Who Day is as a recruiting head coach, however, will be best judged after his first couple classes in Columbus are signed.