Top 10 recruiters of the Rivals.com era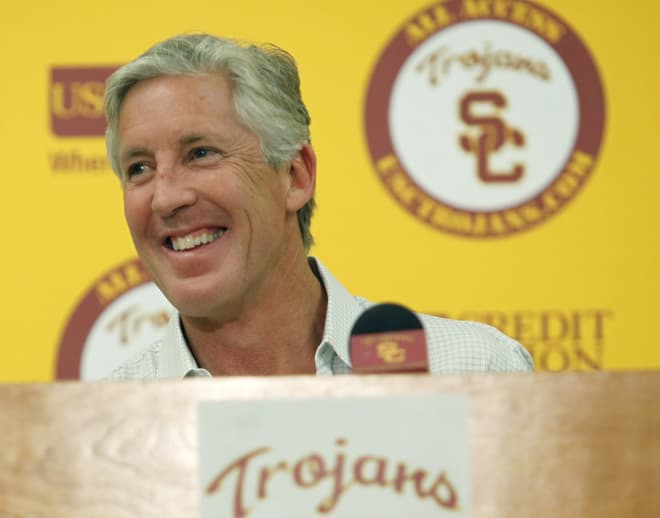 1. URBAN MEYER 
Meyer gets the nod over Nick Saban and all his national recruiting titles? Yes he does, because he's done a better job recruiting nationally than Saban has and was better in living rooms. He only finished first once in his career and that was in 2007, but he's finished twice numerous times and has pulled some of the most amazing recruiting upsets I've seen over the years. The job he did in 2010 was simply amazing when he retired and changed his mind and still reeled in a slew of five-stars down the stretch. However, the job he did at Ohio State is what makes him No. 1 here.
2. NICK SABAN  
How many recruiting titles do you need to win to be No. 1? Saban has won nine of them in the Rivals era, and is clearly an elite recruiter. So how does he finish No. 2? Meyer is just the more dynamic personality in living rooms and has recruited better nationally, especially at Ohio State. However, Saban is essentially 1B here instead of No. 2, and he does an amazing job. Had Meyer stayed in the SEC this would be an even more interesting discussion.
3. PETE CARROLL 
Carroll's run wasn't as long as Meyer's or Saban's current run, but it was beyond impressive. He was one of the best national recruiters I've ever seen, and his 2004 class was especially amazing, as he pulled the top players in the country from California, Florida, Ohio, New Jersey and Colorado, as well as the top JUCO prospect in the world. Carroll rivals Meyer when it comes to being as prepared and slick as possible in living rooms. USC won recruiting titles in 2004, 2005 and 2006 under Carroll.
4. MACK BROWN 
Brown didn't have to recruit out of state as much as the others on this list, but he sure did lock down the state of Texas for years and years. He finished with a recruiting title in 2002, thanks to Vince Young and some others and was consistently in the top 10 nationally for Texas. In fact, for years and years Texas was always No. 1 to start each class because Brown was so good at getting early commitments and they would slide backwards a bit as others closed. Brown was great with kids, and always took an interest in recruiting from the beginning, and his junior days are still legendary when it comes to commitments.
5. BOBBY BOWDEN 
Bowden was essentially the anti-Mack Brown, as he always closed strong and finished his classes late. However, that doesn't take away from his recruiting ability, as he was one of the best closers I've seen in the recruiting game. Florida State was always in the national top 5 or 10 under Bowden, and he was excellent in living rooms as well. The closest he came to winning a recruiting title was in 2005, when he finished second to Pete Carroll's USC class. That class was hit or miss, but on paper it was pretty amazing, led by Fred Rouse, Callahan Bright and Antone Smith. Bowden's folksy approach was a big hit with parents, especially.
6. DABO SWINNEY 
You might be surprised at Swinney being on this list, but the job he has done at Clemson is beyond impressive. Last year is a great example, as he went into Alabama and took Justyn Ross from Saban and went into Ohio and took Jackson Carman away from Meyer. His family approach is amazing and really pulls in kids that otherwise might not be as interested in Clemson. He provides one of the best unofficial and official visit atmospheres in the country. He's made the Top 10 numerous times, and usually only falls outside the top 10 when he has a smaller class. He's made Clemson as much of a threat as Alabama and Ohio State these days.
7. BOB STOOPS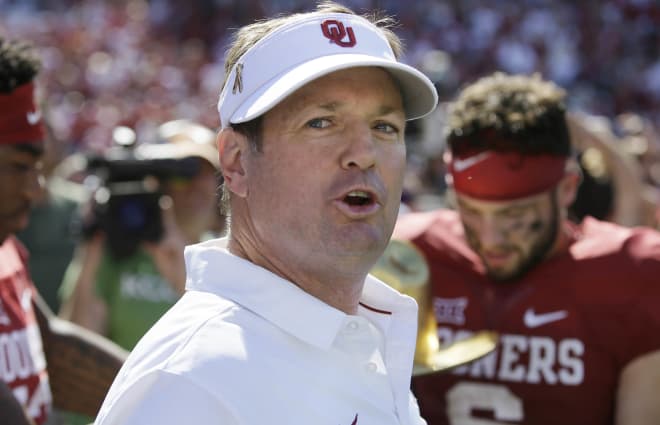 When you talk about recruiting consistency you have to talk about Stoops. For years he had Oklahoma in the national top 10 despite having a geographical disadvantage and without a lot of elite players in state. He obviously did a great job recruiting Texas, and his work in California - landing stars like Kenny Stills and Joe Mixon - can't be underestimated. From 2002 to 2006 he had Oklahoma in the national top 10 and put together one of his best classes in 2017 - led by CeeDee Lamb and some others - before stepping down.
8. LES MILES 
OK, no one had a bigger in-state advantage than Miles at LSU, but that doesn't take away from his ability to recruit. He had his team in the national top 10 nearly every year when he was the head coach at LSU, and the only coach who effectively invaded Louisiana under his watch was Saban. Few coaches did a better job of keeping talent home. Miles was up there with Mack Brown in that respect. Miles was an eccentric guy, but his quirky nature went over well with recruits and parents.
9. MARK RICHT 
People like to slam Richt because he underachieved at Georgia on the field, but in recruiting he was very consistent, for the most part. Georgia was a staple in the national top 10 for years and years under Richt, and his high character and religious approach went over well. He has also done a nice job at Miami, especially last recruiting cycle where he had the 'Canes back in the top 10.
10. JIMBO FISHER 
This last spot is a tough one, but don't sleep on Fisher as a recruiter. He finished second in the nation two different times in recruiting and currently has Texas A&M No. 2 in the nation for the 2019 class. He did a great job recruiting in-state, but was also able to pull talent like Jameis Winston away from Alabama and others. He could recruit in any state and is underrated in this respect as a national recruiter.