Five teams set to benefit from Meyer's departure from Ohio St.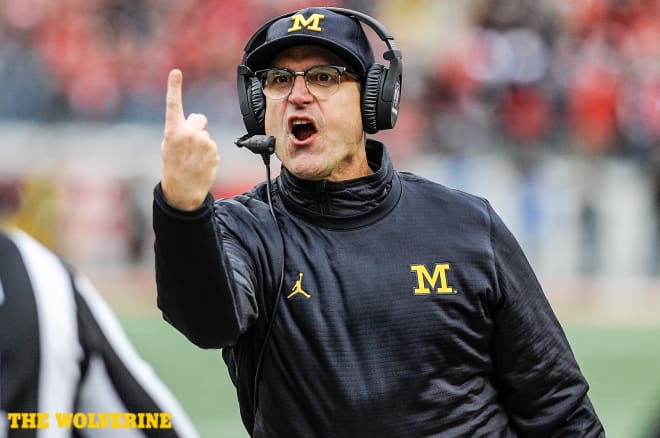 Urban Meyer's impending announcement that he is stepping down at Ohio State after the Rose Bowl with offensive coordinator Ryan Day replacing him is sure to cause reverberations in recruiting offices across the country. Meyer is one of college football's top recruiters in the past 20 years, and with his departure, other teams will surely try to take advantage.
Here are five programs that should benefit on the recruiting trail from Meyer stepping down.
MORE: Yahoo reports Meyer to step down | Tracking the coaching carousel

1. MICHIGAN
No team clashes with Ohio State more often than its bitter rival, a program that has long felt close to breaking through if Jim Harbaugh can just get over the Buckeye-shaped hump in the road. Ohio is a wildly important recruiting ground for the Wolverines and now it's one that could open up a bit with a twinge of uncertainty taking hold in Columbus.

Michigan currently holds commitments from six Ohio-based prospects and could now get involved with any number of current Buckeye pledges. Harbaugh and company should see this as good news as it relates to uncommitted five-star lineman Zach Harrison, for whom they are battling it out with their rival.

TEXAS
It seems at least possible that a changing of the guard at Ohio State could open the door for the Longhorns to find their way back into the recruitment of Austin-based wide receiver Garrett Wilson, an Ohio State commit.

The bigger picture is even more encouraging for Texas, a program that just played for its first Big 12 title since 2009. The Buckeyes pulled a pair of highly regarded prospects from the Lone Star State a year ago and signed five Texas-based players in 2017. Tom Herman's program traditionally dominates recruiting in their own state and will certainly see a boost there if a national power that mines local talent takes a step or two in the wrong direction. The change at Ohio State comes at a good time for the Longhorns, which are now once again seen as a nationally competitive team with a bright future.

3. MIAMI
The Hurricanes are in need of some good recruiting news and this could be just that. The Buckeyes' 2019 class includes a pair of players from the state of Florida, including running back Marcus Crowley, who recently flipped to Ohio State from Miami. It's also conceivable that the Hurricanes could find themselves alive in the race to sign touted Ohio State commit Jordan Battle, though that still seems at least somewhat unlikely.

The bigger picture is more important here, however, as Meyer's recruiting ties to Florida have been a pain in UM's side for years. Meyer's departure could provide some relief on that front, as big-time 2020 recruits such as defensive backs Miles Brooks and Fred Davis, both of whom seemed to favor Ohio State, are now likely to take a step or two backward.

4. PENN STATE
Penn State is one of the teams battling Ohio State for five-star lineman Zach Harrison, so the Nittany Lions will be pleased with how Meyer's decision will impact things there. The situation in Happy Valley is one of the more stable ones in the conference these days, so it seems logical that Penn State will reap a number of rewards should Day go through some growing pains for even a season or two.

Regardless of what happens, however, this will give James Franklin and his staff a nice added advantage in the fertile recruiting ground of New Jersey, from which the Buckeyes spot recruit.

5. NOTRE DAME
No team in the region has more momentum than playoff-bound Notre Dame, so the Meyer news comes at a perfect time for a program that has plenty to sell. Irish and Buckeyes aren't frequent recruiting rivals, but this may open things up in the future. If the Buckeyes take a step back on the field, it's definitely an advantage in any recruiting tilt between the two midwestern programs. This won't have much of an effect on Notre Dame's 2019 class, but 2020 and 2021 could yield a different story.