Mind of Mike: Ohio State loses all-time great on field, on recruiting trail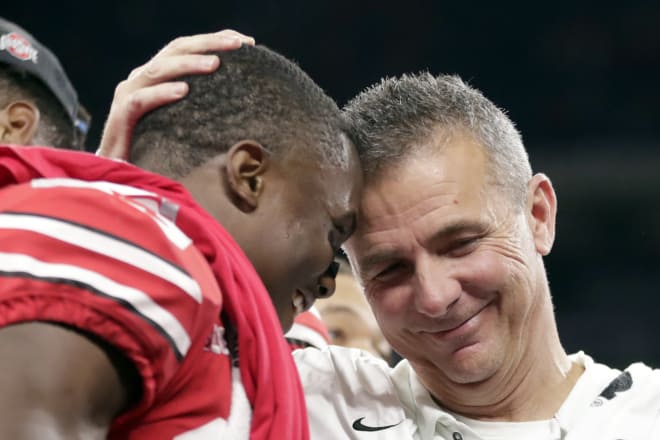 • First off, only the departure of Nick Saban could match the impact of Meyer stepping down. Meyer has won three national titles, two at Florida and one at Ohio State, and has been regarded as one of the top two coaches in college football for the longest time. His 65-15 record and 36-12 in conference record in the SEC after he took the job at Florida after a successful stint at Utah is clearly impressive, but his work at Ohio State might have been his best. As the Buckeyes coach, Meyer went 82-9 overall and 54-4 in conference and never finished worse than a tie for first place in his division. He won the national title in 2014 and took the team back to the playoff during the 2016 season as well. Few can claim as much success at the collegiate level as Meyer can.
• Meyer is known as a great recruiter as a head coach and always ranked No. 1 on every list I ever complied. People would complain that Meyer was first, especially with the success Saban has had at Alabama, but the fact that Meyer was able to recruit at a high level at Florida in a favorable geographical location AND at Ohio State where he had to lure kids from around the country to a cold weather location, gave him the nod in my book. Meyer could sell ice cubes to an Eskimo and was the best head coach in living rooms down the stretch I've ever covered. His recruiting rankings at Florida and Ohio State clearly speak to this.
Meyer's first class at Florida ranked No. 15 in the country as he took over for Ron Zook but after that it was blue chip class after blue chip class. In his time at Florida he finished No. 2 in 2006, No. 1 in 2007, No. 3 in 2008, No. 11 (with a small class of 17) in 2009 and No. 2 in 2010 before he left the game with health issues. When he popped back up at Ohio State, his first class was rated No. 4 in 2012 and he finished No. 2 in 2013, No. 3 in 2014, No. 9 in 2015, No. 3 in 2016, No. 2 in 2017 and No. 2 in 2018. This year, 2019, he had Ohio State at No. 18 with ninth highest average star ranking in the country. In his full recruiting seasons at the Power Five level, Meyer never finished below No. 11 and was in the top 10 an amazing 10 of 11 recruiting cycles. He not only took Florida to new levels on and off the field but he did the same for Ohio State especially in recruiting.
Meyer's most amazing recruiting year, at least to me, was in 2010 when he still secured five star players like Matt Elam, Ronald Powell, Sharrif Floyd and Dominque Easley after announcing he was stepping down as head coach. Meyer changed his mind one day later, but despite negative recruiting and questions about his health, he was still able to close on one of his best classes ever. It is still, to this day, the best recruiting job I have seen in my career by a head coach.
• At Ohio State, Meyer knew he had to recruit the Southeast to be successful and ended up reeling in some amazing talent. Among those from the Southeast he reeled in at Ohio State were five-stars Vonn Bell (Georgia), four-star Joey Bosa (Florida), five-star Raekwon McMillan (Georgia), four-star Johnnie Dixon (Florida), five-star Nick Bosa (Florida), four-star Binjimen Victor (Florida), five-star Trevon Grimes (Florida), five-star Shaun Wade (Florida), five-star Nick Petit-Frere (Florida), five-star Tyreke Johnson (Florida) and others.

He also had success in Texas with prospects like JT Barrett, Mike Mitchell, Dontre Wilson, Demetrius Knox, Jeffrey Okudah, Baron Browning, Kendall Sheffield and others. Meyer was a master at recruiting nationally while at Ohio State and also hit the national scene well at Florida.
• At Ohio State, Meyer became known for producing first round draft picks. The following players – Ryan Shazier, Bradley Roby, Joey Bosa, Ezekiel Elliott, Eli Apple, Taylor Decker, Darron Lee, Marshon Lattimore, Malik Hooker and Gareon Conley – were drafted in the first round after playing under Meyer.
• Meyer changed the way the Big Ten recruited immediately upon his arrival, rustling the feathers of fellow coaches in the conference. Why? Because he aggressively recruited prospects that had been long-time verbal commitments and flipped a few of them like Kyle Dodson and Taylor Decker in his first recruiting class at Ohio State. He made recruiting in the conference much more cutthroat and raised the bar for all schools, something the conference sorely needed. It is the reason the Big Ten is now one of the most competitive recruiting landscapes in college football.
• So who can replace Meyer? The simple answer is no one. I don't care who you name, including Saban, Dabo Swinney and other great current coaches, there is no one who can do the same job he did at Ohio State. This is a huge blow to the Buckeyes football program and they lost an irreplaceable coach. Offensive coordinator Ryan Day is a young and promising coach, but he'll be stepping into some of the biggest shoes in college football history.
• Day is an elite recruiter and will do a good job at Ohio State. The program is such a brand name that I believe they will continue to reel in four- and five-stars in the immediate future. The big question is whether they can win those national battles, especially in the Southeast, that Meyer became known for. That is a challenge I think few understand.
• Will Meyer return once again like he did after he left Florida? That is unknown and probably unlikely. Notre Dame would be an interesting landing spot down the line if he did decide to come back but they are obviously in great shape under Brian Kelly. My hope is that Meyer does return because college football with Urban Meyer is a better sport to cover.
• Jim Harbaugh had his last shot at Meyer this year and Meyer once again got the last laugh. However, Michigan benefits greatly from Meyer retiring and should be even more of a recruiting factor not only in the state of Ohio but in the Midwest overall.