College Fantasy Football: Five Pac-12 tips for your draft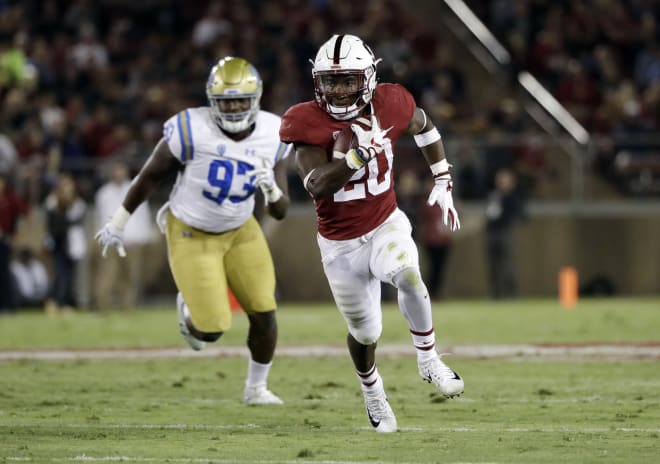 The college football season is right around the corner which means it's almost time to play college fantasy football, too. In some ways, that takes a different perspective when drafting teams and considering who to put on your squad. Here are five thoughts on the Pac-12 with weeks to go before the season.
1. CAREFUL HOW MUCH LOVE YOU GIVE BRYCE
Bryce Love rushed for 2,118 yards and had 12 100-yard rushing games, both school records, last season. He ran for 19 touchdowns and averaged eight yards per carry. In every game, the Stanford running back ran for a 30-yard gain or more and in 10 games he had a 50-yard gain or more.
All those numbers make fantasy owners salivate. But will his production - and his opportunities - be the same this year?
Stanford coach David Shaw said at Pac-12 Media Days that the team is not going to worry about Love's stats as much this year and it sounds a whole lot like the plan for Christian McCaffrey from his sophomore to junior year where his carries and his total yards dropped significantly.
Love is still a top fantasy running back. He's still going to put up really impressive numbers. But maybe expecting stats like last season is just unreasonable at this point.

2. CHIP KELLY WON'T BE LIGHTING UP SCOREBOARDS IN YEAR 1
UCLA was fifth in the Pac-12 in scoring last season at 32.5 points per game but that was with quarterback Josh Rosen and receivers Jordan Lasley and Darren Andrews. This is a new offense that needs to find a starting quarterback and some go-to wide receivers. The running backs are talented but the offensive line needs a lot of work to be effective at a high level.
New coach Chip Kelly is an offensive genius but it might take some time to get things rolling in Westwood. Plus, the schedule isn't exactly friendly. Going to Oklahoma in Week 2 is tough. Fresno State is a solid team and then Washington opens the October schedule.
If Kelly can get this offense to put up a lot of points, he deserves even more money. He'll get UCLA going, but it might not be right away.
3. HERBERT SHOULD BE SPECIAL
Justin Herbert threw for only 1,983 yards and 15 touchdowns last season, but that was in eight games, so if he continues that pace a huge year could be ahead for the Oregon quarterback. According to Athlon Sports' preseason magazine, when Herbert played last season the Ducks averaged 52.1 points per game.
There are some question marks at running back and receiver - and coach Mario Cristobal's offense might be a little different than then-coach Willie Taggart's last season - but Herbert should be a really safe pick to put up impressive numbers.

4. LOOK AT ASU'S RECEIVERS, AND WILKINS
No one really knows what Arizona State is going to look like under first-year coach Herm Edwards, but a few things seem close to certain: Quarterback Manny Wilkins could throw the ball a whole lot and receivers N'Keal Harry and Kyle Williams know how to put up huge numbers.
Wilkins, who threw for 3,270 yards and 20 touchdowns last season, should have even more opportunities to air it out this season. Harry (1,142 yards, eight scores) and Williams (763 and seven) form one of the best receiving duos in the conference and the Sun Devils are looking for new leadership at running back.
Edwards' style and system is a wild card but Wilkins, Harry and Williams should be safe options.

5. WASHINGTON'S 'D' WILL BE STELLAR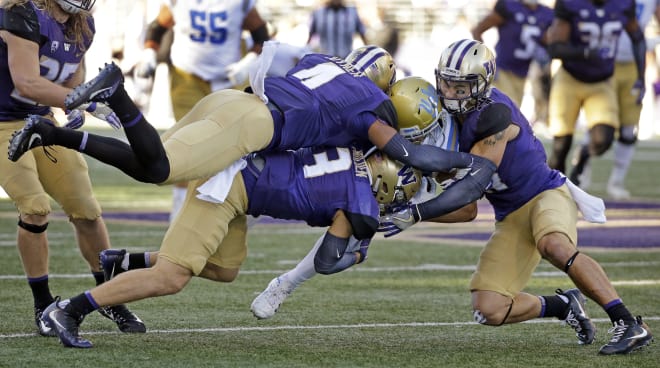 Washington led the Pac-12 in scoring defense last season at 16.1 points per game and the Huskies could be even better this season. Massive defensive tackle Vita Vea is gone but the secondary is so loaded, no teams are going to have much luck throwing on them.
Watch Washington in the season-opener against Auburn. If the Huskies can hold down that offense and quarterback Jarrett Stidham, then large portions of the Pac-12 schedule should be a piece of cake. The Huskies are the favorites to win the conference - and could earn another berth in the College Football Playoff - and the defense is a big reason why.