Big 12 Spotlight: Ranking the QB situations
The Big 12 is the country's top scoring conference, with eight of 10 teams last season averaging at least 31 points per game (only 3 of 14 Big Ten teams could say the same). Much of that has to do with the quarterback play, obviously. Five of the league's top passers are returning for another season, and should continue to keep the conference's reputation of eye-popping offensive numbers alive. Here is a look at the order of which quarterback situations are the most favorable, from top to bottom.
RELATED: Ranking the Big Ten QB situations | SEC | ACC | Pac-12

1. OKLAHOMA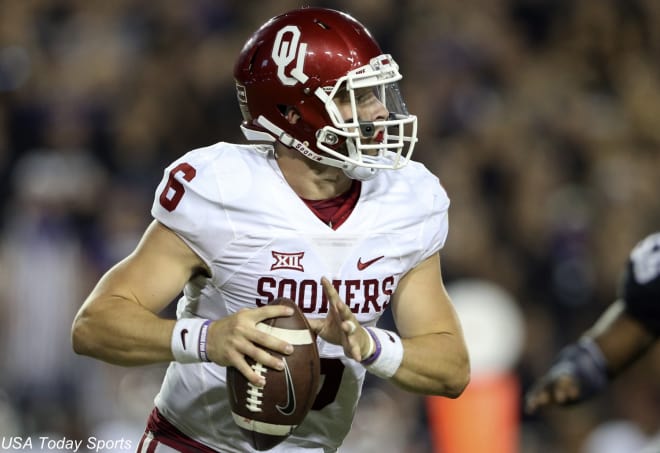 Breakdown: Baker Mayfield was the conference's top quarterback last season, and returns for a final go-round under new head coach Lincoln Riley, who was promoted from his offensive coordinator position following Bob Stoops' resignation. Mayfield is the latest example of a supremely successful college quarterback that may not stand as tall as most prototype passers, but can extend plays with his legs, make gutsy throws downfield and play with an 'it' factor that others simply don't have. Even with 2017 signee Chris Robison's removal from the team this week, the Sooners still have a former Rivals100 quarterbacks in Kyler Murray and Austin Kendall.
Coach Lincoln Riley: "There's no doubt, I think [Mayfield] has gotten more comfortable as a quarterback in our system, more comfortable as a quarterback with our current players, and obviously having great quarterback play in big-time games is always such a huge part of it. So we're really thrilled about his progress and I think that he really took some huge strides this spring."

2. OKLAHOMA STATE
Breakdown: An argument could be made that Oklahoma State could be 1B, rather than 2 as NFL teams are now licking their chops at the possibility of drafting Mason Rudolph next season. Where Mayfield is arguably a more exciting college player, Rudolph fits the bill of what professional teams desire from a college prospect. He's 6-foot-5, was second in the conference last season in passing yards behind eventual first-rounder Patrick Mahomes, and only threw four interceptions in nearly 450 passing attempts. Personnel behind Rudolph is a little dicier compared to the Sooners' group, but former four-star quarterback John Kolar and Louisiana prospect Keondre Wudtee would be next men up.
Coach Mike Gundy: "We're fortunate that we have an experienced quarterback that our team trusts. They have a lot of respect for him and he's played through injuries his whole career. He's unselfish and we have a group of wideouts that are certainly the best as a group that I've ever been around."
3. TEXAS
Breakdown: Part of the question that surrounded last season's Longhorns team was how effective true freshman Shane Buechele would be as starting quarterback. Texas had issues last season, but he wasn't one of them, as he completed 60 percent of his passes for almost 3,000 yards and 21 touchdowns. Even with Tyrone Swoopes taking snaps away from him and receivers making costly drops downfield at times, he was one of the bright spots in a disappointing season. Now, another true freshman in Sam Ehlinger is trying to win the starting spot away from Buechele after missing much of his senior year in high school with a variety of injuries. Things don't necessarily look to be trending that way at the moment, but it's safe to say that Texas feels it has two capable passers.
Coach Tom Herman: "It would be silly for me to hide the fact that Shane gets more reps with the ones, but he has to know if Sam goes out there and has a good couple of series with the ones, he's probably going to stay in for a couple more and earn that, but I don't know how close it is. Sam's still going to get reps with the ones up until we start preparing for Maryland because if he does better than Shane, he's going to earn more and more reps."
4. TCU
Breakdown: Former Texas A&M quarterback Kenny Hill returns as the presumptive starter following an up-and-down 2016. He completed 61 percent of his passes last season for over 3,200 yards, but only came away with 17 touchdowns to 13 interceptions. Still, his 269 completions last year were the second-most in team history in a single season. Hill is an accomplished runner as well and added another 609 yards on the ground last fall. He'll be backed up by true freshman Shawn Robinson, who spent most of his high school career as a four-star in the Rivals250 before a disastrous week in San Antonio for the Army All-America Game. Expectations for Robinson to be a strong quarterback in the future for the Horned Frogs are still high and he provides a bigger, more physical run threat at the position.
Coach Gary Patterson: "I judge quarterbacks on Saturdays. Obviously, we went through a season where that was [Hill's] first time [as TCU's starting QB.] For me, I think that I've got to do a better job of helping him with his swagger. I was pretty tough early doing things and I think that been done through the coaches."

5. TEXAS TECH
Breakdown: Say what you want about the Red Raiders' defense, would anyone be surprised if anybody that took snaps in Texas Tech's offense was a top-three quarterback in the conference in any given season? Mahomes threw for over 5,000 yards last season and 41 touchdowns but he did miss half of Tech's win over Kansas last season, giving this year's starter, Nic Shimonek the opportunity to shine in extended action. He finished the game against the Jayhawks with 271 yards passing and four touchdowns in less than two full quarters of action. For the year, he totaled 464 yards passing in four games with six touchdowns and just one interception. Even though 2017 three-star quarterback Xavier Martin had a nice spring, he's been moved to wide receiver, clearing the way for redshirt freshman Jett Duffey to likely assume the backup role.
Coach Kliff Kingsbury: "Nic is a fifth-year senior going into his fourth year in our system and he knows it inside-and-out. There was that four-or-five week stretch that Pat didn't practice during the week … and Nic got all those reps. He got some good, meaningful time in games last year and played really well. He had a tremendous spring and with this supporting cast around him, we expect him to play at a high level."
6. KANSAS STATE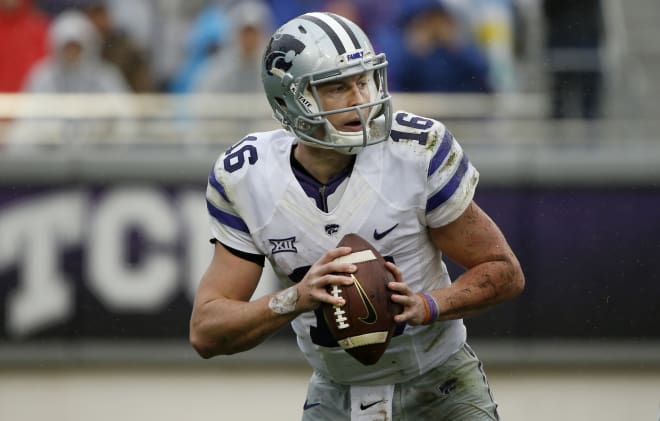 Breakdown: Make no mistake, there is nothing sexy about the numbers Jesse Ertz finished with in 2016 as a passer. Then again, there aren't too many people that would describe Kansas State's style of play as sexy in any regard. Ertz was last in the conference in passing efficiency last season, but his ability to run the ball was every bit as important, and he finished as the Big 12's eighth best rusher overall with 183 carries for 1,012 yards and 12 touchdowns. Through the air, his numbers were slightly less inspiring, as he completed 57 percent of his passes for just 1,755 yards and nine touchdowns, but Kansas State is a sleeper pick as a Big 12 champion and all they need is steady play from him in 2017. Sophomore Alex Delton and redshirt freshman Skylar Thompson - a former four-star recruit - are competing for the backup position.
Coach Bill Snyder: "I'm awful pleased with Jesse in a lot of different ways. First and foremost, Jesse is a tremendous young man. He's another one of those young guys that possesses a great core-value system. He's a hard worker, he's disciplined, he's dedicated, and he cares … I saw him throw in the spring and I thought he came back and threw well. Since then, he's gotten stronger and stronger and I think he readily admits right now that he's throwing the ball better than he ever was."
7. WEST VIRGINIA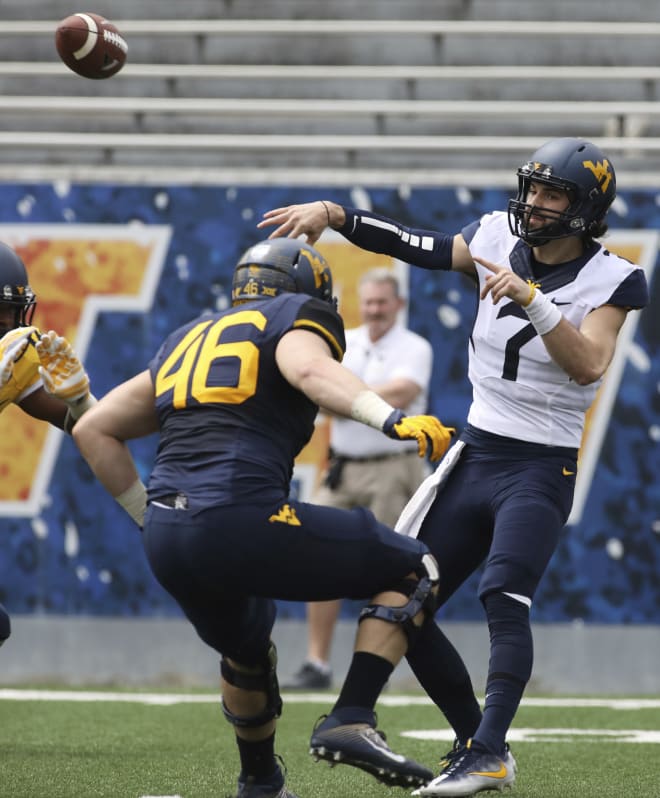 Breakdown: West Virginia was one of the strongest teams in the conference last season, largely on the strength of its defense. Last season's starting quarterback, Skyler Howard, wasn't half-bad either as he finished fourth in the conference in passing efficiency. This season, the Mountaineers' offense will likely live or die on the strength of play it gets from Will Grier, who transferred to the team after an unceremonious end to his career at Florida in 2015 following a suspension for using a banned substance. While there is plenty of optimism that Grier will have a good season, he's only played six games in his career and the first three were pretty forgettable. Behind him, there isn't much to speak of when it comes to the stable of unheralded freshmen filling out the position.
Coach Dana Holgorsen: "I think (new offensive coordinator) Jake (Spavital) has done a great job of coming in and just focusing on quarterback recruitment. That's one thing that I think was overlooked on my part just a little bit when it came to being the coordinator and the quarterbacks coach. (Grier) is a better pocket-passer [than Howard]. He can sit in there, he's tall, he can go through his reads and make every throw."

8. BAYLOR
Breakdown: Sophomore Zach Smith is the likely starter, but new Bears head coach Matt Rhule hasn't committed to him being the guy outright this season. Unfortunately for Rhule, he doesn't have a lot of other good options at the moment, and he openly discussed his concern about the depth along the offensive line this year coming out of spring. Smith looked pretty good after and taking over for Seth Russell when he was unable to play due to injury. If Smith struggles this season, graduate transfer Anu Solomon - who had success as a passer at Arizona - will be the next man up. Freshman Charlie Brewer rounds out the group.
Coach Matt Rhule: "I feel great about all three of them. Anu Solomon has been there; he's been to a Pac-12 championship game and he's got a certain something about him. Zach Smith, I think, has all the talent in the world. He just needs to continue to play. Charlie Brewer from Lake Travis, he should have been at the prom, should have been in math class, but he was out there completing about 70 percent of his passes this spring."
9. IOWA STATE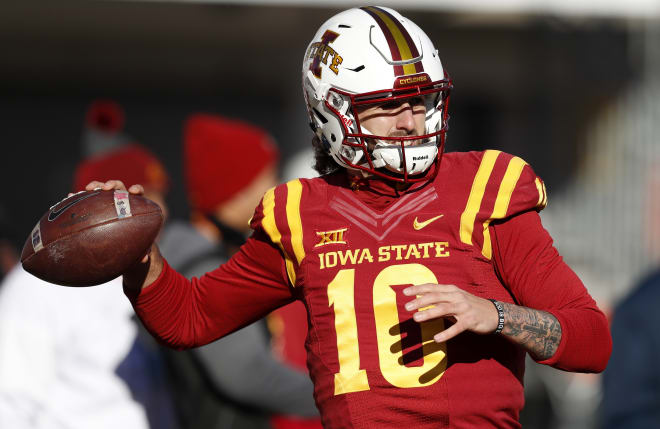 Breakdown: The obligatory joke about last season's starting quarterback, Joel Lanning, being so ineffective that the best thing to do was to move him to defense seems a bit unfair, as he's currently penciled-in as a starting linebacker. The guy that took over for him and leading the offense in 2017, Jacob Park, is an exciting player to watch at times, but hurt himself last season missing on some open receivers in critical moments. Iowa State was a more competitive team than their record suggests, but Park has to be more consistent and able to make throws in big moments this year. Otherwise, freshman Devon Moore could be a name to know down the road.
Coach Matt Campbell: "You talk about managing the football and you talk about making some third-down plays that he needed to make. He was really effective down in the red zone. Again, great to see, and great to see some of the growth that occurred there."
10. KANSAS
Breakdown: Why is KU No. 10? Because there aren't 12 teams in the Big 12. In all seriousness, Kansas had its share of games like Iowa State, where it could have won and were at least competitive had it not been for the Achilles heel of the quarterback position. The Jayhawks platooned a trio of players last season, none of which returned particularly encouraging results. There is more optimism this season after junior college transfer Peyton Bender joined the team following a strong 2016 campaign at Itawamba Community College after leaving Washington State as a redshirt freshman.
Coach David Beatty: "(Bender has) played in our system with Coach (Mike) Leach up at Washington State, so his familiarity was instant when he walked in the door. That gave us a great opportunity to truly evaluate him because he already understood the concepts. The kid's very talented; he's got as nice of an arm as I've been around, unbelievably quick release, and he's a very smart guy."